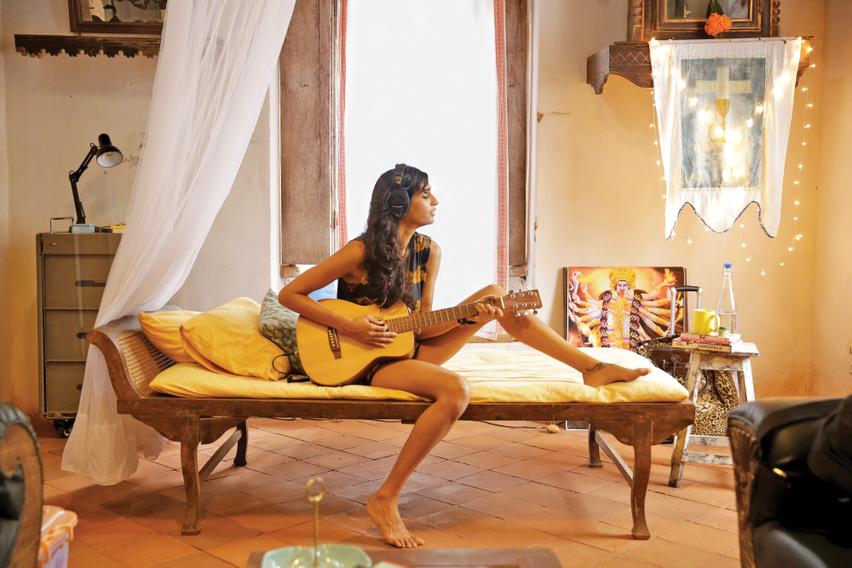 There is a whole new woman in Indian cinema
Saibal Chatterjee, New Delhi
Published: Nov. 25, 2015
Updated: Jan. 25, 2016
Gender sensitivity has never been Hindi cinema's strength. The mainstream Mumbai movie industry has always been notoriously male-dominated. It accords little meaningful space to women, be it before the camera or behind it.
But away from this undeniable reality, a small but steadily growing tribe of independent Mumbai directors is scripting a significant shift. They are turning the spotlight back on stories that look at the world from the point of view of women.
It is of course no coincidence that several of these directors are themselves women. But by no means are these norm-defying films being made only by female directors.
Films such as Neeraj Ghaywan's Masaan, which won two awards in the Un Certain Regard section of the 2015 Cannes Film Festival before being commercially released in Indian multiplexes, and Kanu Behl's Titli, which played in the same segment in Cannes in 2014 and was recently released in India, have real, believable female characters — not Bollywood-style avenging angels or singing and dancing divas — who hold their own in a man's world.
At least two recent major global cinema events — the 72nd Venice Film Festival and the 40th Toronto International Film Festival (TIFF), both held in September — took note of this change and showcased an exciting slate of fiction films from India that could serve to correct the gender imbalance perpetuated by the dominant Bollywood narrative.
In Venice, FTII alumnus Ruchika Oberoi's debut film, Island City, which featured in the festival's Venice Days section, won the FEDORA Prize for the Best Young Director from a jury of European critics.
The film, which deals with the debilitating struggles of ordinary individuals seeking elusive happiness in Mumbai, is made up of three loosely linked short comedies.
The first, Fun Committee, features Vinay Pathak as a listless middle-aged man who is chosen by his office managers to participate in fun activities aimed at brightening up the mood of the employees.
In the second, The Ghost in the Machine, the domineering patriarch is on life support in a hospital and his family makes the most of his absence — television is banned in the house by him. They watch a popular soap opera every night.
The third, Contact, has Tannishtha Chatterjee, an actress who seems to be the link between several of these films, in the role of a slumdweller whose dreary life gets a fillip when she begins to receive mysterious letters.
"Island City is an outstanding film that has the potential to travel across the world," says Chatterjee.
Less than 10 days after Island City was feted in Venice, Pan Nalin's Angry Indian Goddesses registered a singular triumph in Toronto. Pitched as India's first all-out 'female buddy' film, it was voted the second most popular film of the festival by the audience.
The film then went on to win the Audience Award at the Rome International Film Festival, besides being picked up for distribution across several markets around the world.
Angry Indian Goddesses was one of two strongly feminist Indian films in TIFF this year, the other being Leena Yadav's provocative Parched. Both push the gender envelope much further than mainstream Indian cinema is usually known to do.
Markedly different from each other in texture and approach, the two titles have pretty much the same thematic trajectory – imagining a society where women call the shots against all odds and are none the worse for it.
In TIFF's official catalogue, the festival's artistic director, Cameron Bailey, wrote: "This year has seen a cultural shift that puts more women at the active centre of Indian films. At the vanguard of this trend stands Parched."
In his director's note, Nalin puts his intent in a broad perspective: "As a filmmaker who loves women and everything feminine, I have been witnessing an outcry from Indian women for gender equality, respect and dignity. I was compelled to use their fury as my fuel to fire up the film."
Anger and defiance underpin Leena Yadav's Parched, too. The film is set in a desert village of Rajasthan. In contrast, the drama in Angry Indian Goddesses unfolds in salubrious Goa.
But the two groups of women – one rural, the other city-bred — are inevitably up against identical challenges as they navigate a hostile world where the rules are set and enforced almost entirely by men.
In Parched, three ordinary village women — the widowed Rani (Tannishtha Chatterjee), the effervescent Lajjo (Radhika Apte) and dancing girl Bijli (Surveen Chawla) — form a rebellious sorority. They go all out to subvert the age-old traditions that condemn them to servility.
Parched uses a dazzling colour palette, captured in all its intensity and radiance by Oscar-winning cinematographer Russell Carpenter (Titanic), to reflect the raw beauty of the setting. It goes well with the rousing, defiantly irreverent tale of long oppressed women seeking social and sexual liberation in what is the unlikeliest of circumstances by Hindi movie standards.
There is brutality, open and subterranean, all around in this universe. All the women in the story, including Rani's young daughter-in-law (played by former child actor Lehar Khan), are victims of domestic abuse.
When the trio decides to take matters into their own hands, all hell breaks loose, cuss words fly thick and fast, and the women fall back on every trick in the book, fair and foul, to further their fight for liberation.
The characters and their stories, says director Yadav, emerged from conversations and encounters that she and lead actress Chatterjee had before and during a two-week tour of Kutch, an area where two of the latter's earlier films, Road Movie and Jal, were shot. The actress had, during the shoot, interacted with many women who shared their innermost feelings with her.
"We decided to make the trip," says Yadav, "because we felt that ours was an urban perspective and that we might, therefore, get it all wrong. But when we met and spoke to the women of Kutch, I was shocked to learn that I wasn't off the mark."
But Yadav is quick to point out that child marriage and domestic violence are by no means solely a rural phenomenon. "When I shared the script with friends, many said they personally knew victims of these social ills," she says.
She also adds: "City women tend to have inhibitions that village women do not. The latter might not talk about their suppressed sexual urges in public, but they are very outspoken when they open up." And that is exactly what Parched portrays.
It is an angry film, but it is uproariously funny too, in parts. It is disturbing, but its moments of tenderness are filled with warmth.
Chatterjee plays the role of a 30-something widow, Rani, who still nurtures thoughts of escaping the drudgery of her life. Her domestic world revolves around her troubled pubescent son, who she pushes into an early marriage in the hope of curbing his waywardness.
Outside the home, Rani has a special bonding with Lajjo, the childless wife of an abusive man, and Bijli, a popular dancer in an itinerant troupe of entertainers that frequently pitches its tent outside the village.
Yadav decided to shift the setting of her story to Rajasthan (from Kutch) because of logistical reasons, but it wasn't smooth sailing at the new location either, especially to begin with. "The men of the village that we originally chose for the shoot refused to let us film there. They felt that our presence would plant wrong ideas in the heads of their women," reveals Yadav.
Yadav, who previously made Shabd (2005), starring Sanjay Dutt and Aishwarya Rai, and Teen Patti (2010), with Amitabh Bachchan and Ben Kingsley, had gone off the radar for several years in the wake of the films tanking at the box-office.
"Shabd," she says, "was marketed as a love story, while Teen Patti was pushed as a heist film. I felt frustrated. I thought I'd never be able to make a film." With Parched, Yadav is back into her own.
The director avers that Parched isn't directed against men. "I am not suggesting that the onus of bringing about change is on men alone. Women, too, need to change."
"Parched is meant to spark a dialogue, not initiate a blame game," she adds. While Parched is incendiary in parts, it is also playful in the way it takes potshots at misguided masculinity.
NOT ABOUT MALE BASHING
Nalin, too, asserts that his Angry Indian Goddesses "is not an exercise in male-bashing just as all conventional male buddy films aren't about female-bashing".
In the film, six female friends congregate in an old Goa home for an upcoming wedding. It is also about women striking back with a vengeance at a world bent upon painting them into a corner.
Nalin's film addresses multiple themes — gender assertion, violence against women, gay rights, forcible land acquisition, insensitive policing and legal system tardiness — but does so in a manner that blends a light touch with solemn purpose.
Nalin describes Angry Indian Goddesses as "my most commercial film to date" and hopes it will strike a chord with moviegoers in India.
The angry goddesses of the title have to contend with their own demons while battling to ward off threats that their social environment poses. The choices that they make — what they wear, how they conduct themselves, where they are headed — are all questioned, but these girls think nothing of throwing caution to the wind.
Like Parched, Angry Indian Goddesses is invigorated by a clutch of bold, energetic performances. And like Parched, it has Chatterjee in a pivotal on-screen role.
Nalin, who divides his time between Paris and Mumbai, says the idea for the film was born about six years ago. "Some women friends in the Mumbai film industry told me that my films have strong women characters and so I should be making more films about women."
There were, however, no takers initially for the concept. "We shopped around for funds for four years. Almost everybody suggested that the idea would be more viable if we were to add at least one strong male character to the story," says Nalin.
Then the commercial success of Sujoy Ghosh's Kahaani (2012) and Vikas Bahl's Queen (2014), both women-centric films made within the Bollywood mainstream, boosted interest in the genre.
So, despite failing in his attempts to find financial backing, Nalin, co-writer and casting director Dilip Shankar and co-producer Gaurav Dhingra decided to go ahead with the project.
Recent Mumbai cinema history is replete with successful male bonding films such as Dil Chahta Hai, Rang De Basanti and Zindagi Na Milegi Dobaara. But nobody in the industry has ever given the genre a shot with women taking centrestage.
The Angry Indian Goddesses storyline, jaunty and full of surprises, allows the actresses — Chatterjee, Sarah Jane Dias, Anushka Manchanda, Sandhya Mridul, Rajshri Deshpande, Amrit Maghera and Pavleen Gujral — to improvise all the way through. "The cast underwent a month-long workshop before the shoot got underway," Nalin reveals.
Inside male territory
The TIFF lineup this year had another Indian film and this, too, was made by a woman — Meghna Gulzar's Talvar. The director's first film in eight years, it is a fictionalised reconstruction of the investigation into the Aarushi Talwar murder case. On its release on October 2, the film turned out to be a commercial success.
Scripted and co-produced by Vishal Bhardwaj, Talvar juxtaposes the past and the present and presents conflicting perceptions to piece together multiple scenarios that may have led to the 2008 double murder in a Noida neighbourhood.
Talvar is marked by a measured approach to the sensational theme and is aided by fine performances from the principal cast, led by Irrfan Khan and Konkona Sensharma.
The screenplay, structured like a straight police procedural, turns the spotlight on the workings of India's law enforcement and investigating agencies, outfits hobbled by callous ineptitude, internal contradictions and archaic methods of functioning.
"It was traumatic," Gulzar says of the experience of bringing a shocking true story to the screen. "Trying to maintain objectivity without compromising the truth was difficult." Talvar is an unusual film in so much as it is helmed by a woman director — whodunits are male territory.
Gulzar admits to facing a degree of scepticism at the outset. She was coming out of a hiatus and all eyes were on her to see how she would fare. "The naysayers suggested that I had chosen a sensational real story for my comeback film because it would get me instant publicity," she says. Talvar has achieved much more than just pre-release media play.
The challenge before a filmmaker like Gulzar is that she is not an independent director in the strictest sense of the term, but neither is her sensibility wedded to the predilections of the Bollywood dream factory. "No matter what I do as a filmmaker, I have to remain true to my moorings,'' she says. The balancing act isn't easy.
Mercifully, in the multiplexes of the country, audiences are increasingly warming to films that defy the conventional rules of the movie industry. Films like Masaan and Titli may not have been blockbusters — they were never intended to be — but they did not go unnoticed either.
The strong female characters in Masaan and Titli are not of the kind that audiences saw in Kahaani and Queen, both essentially commercial Hindi films with somewhat unconventional storylines.
They are neither like the vengeful Vidya Bagchi of Kahaani who returns to Kolkata from London in search of the killer of her husband, or the diffident Rani Mehra of Queen, who sings an old Hindi film song and dances to its tune in the course of a solo honeymoon in Europe that helps her understand better what she wants from life.
Modern minds
"Small town, small minds," the female protagonist of Masaan, Devi Pathak (played by Richa Chadda), mutters to herself in one scene of the critically acclaimed film. The girl is wracked by a sense of guilt and loss after a clandestine sexual adventure in a seedy Varanasi hotel goes awry and ends in tragedy. Her quandary is worsened because the incident lands her ageing father, Vidyadhar Pathak (Sanjay Mishra), into the clutches of a blackmailing cop.
The minds of the men and women in Masaan, caught as they all are in the tussle between tradition and modernity, are anything but petty. Devi feels hopelessly cornered, but she remains defiant. She seeks escape from societal confines, but wants her freedom to come strictly on her own terms.
The Masaan gallery of characters has another equally spirited woman: Shaalu Gupta (Shweta Tripathi), a poetry-loving college-going girl who catches the eye of the film's male protagonist, final-year civil engineering student Deepak Kumar (Vicky Kaushal).
On learning that her boyfriend belongs to a lower caste, Shaalu makes light of the revelation. "Bhaag ke jaana hoga na, toh bhaag bhi lenge (if need be, we will elope)," she assures Deepak. She is clearly unlike standard Bollywood women trapped in a conservative construct in which the right to defy the established order is not unfettered.
Titli, which presents a stark and disturbing portrait of a rarely seen side of Delhi, is the story of a criminal gang of three male siblings who rob cars for a living. They are part of a dysfunctional family whose inter-personal connections are awry.
The eldest brother, Vikram, is short-tempered and foul-mouthed. The fact that there is no woman in the family shows in everything the boys do — the way they talk, the way they live and the way they deal with the world borders on a state of dehumanisation.
In one scene, Vikram claims that "we respect women". But there is no evidence to suggest that he actually knows what respect really means. His mother is dead. His wife has walked out on him with their daughter.
The youngest of the siblings, Titli (Shashank Arora), wants to escape his criminal family, but Vikram will have none of it. The middle brother suggests that they look for a bride for Titli, hoping that marriage would calm him down, besides adding a lady to the gang and improving its strike rate.
The girl that they find for Titli, Neelu (debutante Shivani Raghuvanshi), turns out to be more than a match for the brothers despite her apparent vulnerability. She comes into the family with her own twisted dreams, which push Titli's hopes of freedom in another direction.
Titli needs money for his proposed car parking business; Neelu is in love with a married builder and is waiting for the latter's divorce to come through. The two strike a deal: Titli promises to help Neelu get the man she wants in return for money.
In this hopelessly benighted world, Neelu is the only figure who represents a streak of positivity. She retains her grace and composure under tremendous pressure and takes both the constant threat of violence and her own aspiration for a better life with equanimity.
The improving climate for cinema of this uncompromising kind is also indicated by the fact that Madhureeta Anand's Kajarya, a hard-hitting film which addresses the theme of female foeticide, is set for release in early December.
Kajarya views the barbaric practice of killing girls in the womb through the eyes of two women — a young Delhi newspaper journalist (Riddhima Sud) chasing a scoop and a Haryana village woman (Meenu Hooda), forced to embody Goddess Kali in a counterfeit religious ceremony with hideous ramifications.
The film had its world premiere at the Dubai International Film Festival in 2013, where it was well-received and reviewed. It has taken Kajarya a while to find takers on the Indian circuit — but the fact that it has augurs well for Indian films that dare to buck the trend and give women their due.