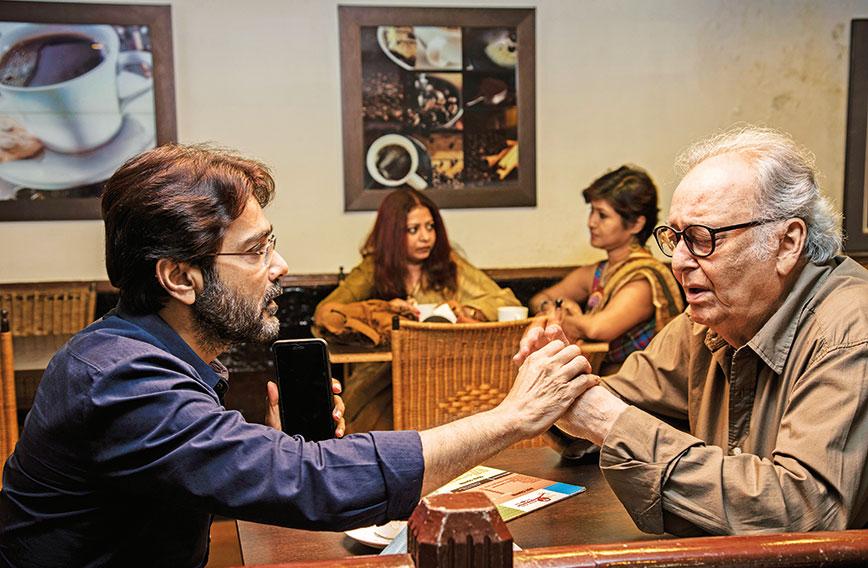 Prosenjit and Soumitra in a cafe scene in Mayurakshi
Small film wins hearts, rivals blockbusters
Saibal Chatterjee, Kolkata
Published: Feb. 02, 2018
Updated: Apr. 03, 2021
On 29 December, the final Friday of 2017, a minimalist father-son drama starring Soumitra Chatterjee and Prosenjit Chatterjee opened in multiplexes in Kolkata and other cities of India. It was a week since the release of the big-budget espionage thriller Tiger Zinda Hai and West Bengal's most expensive film ever, Amazon Obhijaan, based on a popular Bibhutibhushan Bandopadhyay adventure novel.
Amid all the noise generated by the big two, the understated Bengali-language Mayurakshi, a poignant, intense tale of a middle-aged techie who has to rush back to Kolkata from Chicago to be by the side of his ailing 84-year-old father, quietly made its way into the hearts of filmgoers, especially in West Bengal. In the course of its multiple-week run, it held its own against the pair of blockbusters.
The success of the film was a pleasant surprise for many, including writer-director Atanu Ghosh, an experienced Bengali entertainment industry hand. "The film does have two of Bengal's biggest movie stars, yet the response to Mayurakshi was completely unexpected," he says.
"I did definitely hope that the film would earn appreciation but did not imagine that it would pull in the crowds too," adds the filmmaker who has three earlier features to his credit — Angshumaner Chhobi (2009), Takhan Teish (2011) and Rupkotha Noy (2013) — all of which are markedly different in tone and tenor from his latest effort. Just as significantly, the new film is a marked departure from norm in the context of contemporary Bengali cinema as a whole, which is dominated by detective thrillers, adventure yarns, wordy melodramas and pedestrian comedies.
"I am aware that Mayurakshi is a film that marks a clear shift in approach and treatment to storytelling in the context of my earlier work," says Ghosh. "It isn't as plot-driven as my first three films. It is far more cinematic." That, however, isn't the only distinguishing feature of the film. The content and the purity of approach to it, too, set it apart from the crowd.
Ghosh harnesses low-key methods to spotlight the workings of the mind of a retired history professor, Sushovan Roy Chowdhury (Soumitra), who is in the first stage of dementia and slips in and out of cognitive dysfunction.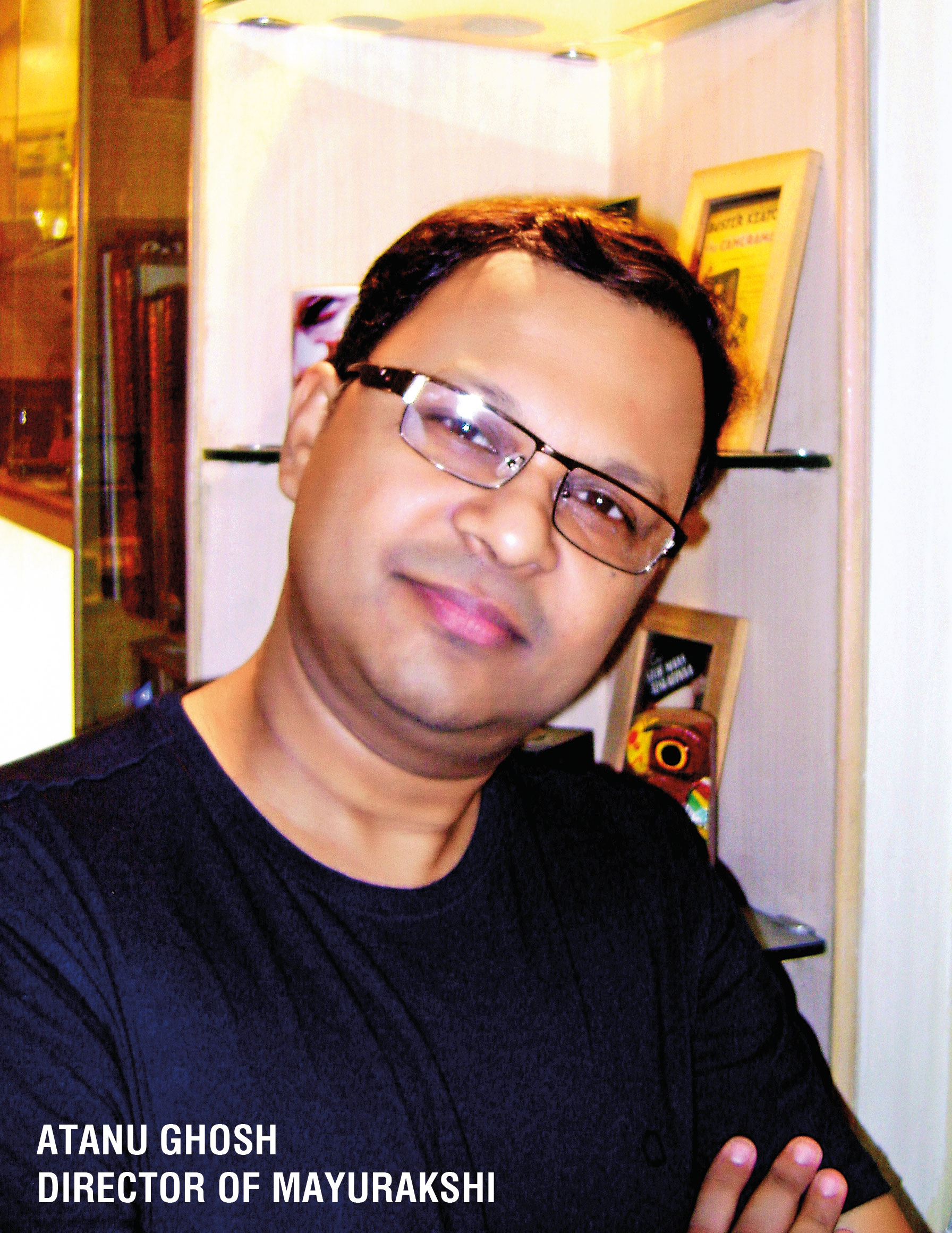 His bewildered and alarmed son, Aryanil (Prosenjit), nursing the emotional effects of two failed marriages, tries, in the course of five days, to come to grips with the old man's fluctuating moods. Although Aryanil has been away from home for a long time, he is deeply attached to his father.
But the long absence has induced a situation in which the old bond is severely tested. As snatches of memory and allusions to past incidents return to the equations, the son reconnects not just with his father but also with his own self. Mayurakshi plays out not as much through external action as through inner tugs and pulls. It works because the director executes a difficult theme with impressive restraint.
What sets Mayurakshi instantly apart from the recent crop of Bengali films is its deliberate pace and subtle narrative style. Neither verbose nor melodramatic, it keeps its focus firmly trained on the layered relationship between a widower who is losing hold of his faculties and his only offspring who is up against a personal crisis that threatens to halt him in his tracks. Aryanil's state of mind is revealed only through the means of nuanced suggestions as he tries to balance his filial duties and the pressing demands of his professional commitments.
Mayurakshi has struck a chord in West Bengal for obvious reasons. In a state where there probably isn't a single middle-class home from where young people have not gone out to other parts of the country and the world in search of greener pastures, it isn't uncommon for ageing parents to be left to fend for themselves or depend on paid housekeepers. It obviously isn't a happy situation — an inevitable fallout of the steady economic decline and shrinkage of opportunities in a part of India that once was a hub of commercial activity.
A housekeeper, Mallika, played by National Award-winning actress Sudipta Chakraborty, is an important character in the story. She is the woman who has looked after the professor in the absence of his son and is aware of his every need and impulse. But the only person the old man seems to remember is a student named Mayurakshi. He still waits for her to return and therein lies the crux of the film. The son's emotional struggles, it becomes clear as the film unfolds, may be linked to the plight of the absent woman.
Ghosh is quick to dismiss the suggestion that there might be autobiographical elements in Mayurakshi. "Yes, my own father, a professor of applied physics, was a victim of dementia, but the character of the son in the film is not me," he says. "I don't believe in telling my own personal stories in a film. It would not only be too self-indulgent, I might also get unnecessarily bogged down emotionally."
Various aspects of the old professor's responses to the stimuli around him have, however, been drawn from real-life experience and knowledge. Ghosh talks in particular about an acquaintance who suffered dementia relatively early, at the age of 62 or 63. He kept insisting that he was a doctor who had to discontinue his medical practice because he had sold the house from which he ran his clinic. "He had indeed sold his house, but he was an engineer, not a doctor," says the director.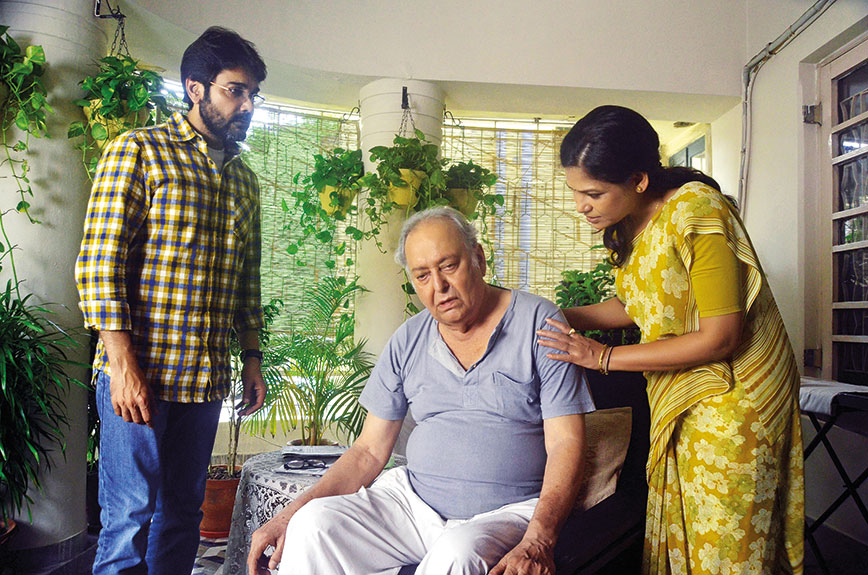 Still from the film
The dementia-afflicted fictional character in Mayurakshi — Soumitra Chatterjee's masterfully modulated performance adds layers to the man on the screen — is somebody who, despite his declining mental health, is in perfect physical condition. "He does not look infirm in any way," says Ghosh. "He is upright and his gait is straight. So there is no way of telling that there is something wrong with him."
So the veteran Bengali actor, famous the world over as Satyajit Ray's alter ego, uses minor facial twitches and a faraway gaze to convey the inner turmoil of the character. The screenplay provides him with the aids he needs to enhance the impact of the interpretation. Prosenjit, in fine fettle, serves as an admirable foil to the seasoned performer.
The two actors hit a high in a standout scene in a cafe. Aryanil asks the father what coffee he would like to order. The older man, instead of specifying his choice, directs his son's attention to a young couple talking animatedly behind a glass partition. He suggests that every moment in life needs a background score. He intones a euphony — he does not need words to convey his exuberant mood. "This moment in the film," says the director, "was conceived by music composer Debojyoti Mishra. "It is minimalist but communicates a whole world of meaning."
That description could well apply to the film in its totality for it does not use music in the conventional way in which songs, instrumental strains and chatter on a radio show underscore the unseen and unarticulated. All the voices and songs in the background are diegetic — emanating from sources that are visible within the scenes or whose existence is suggested by the characters themselves.
"The radio plays an important role in the film because I know for a fact that people slipping into dementia are attracted by it. They are generally repulsed by television because it is too intrusive," explains Ghosh. The old man in the film has no patience for newspapers either because they only carry ill tidings.
"It is one particular voice that is on air for an hour every morning that Sushovan has a preference for. And that is the voice that plays in the background in many sequences and that is the voice that he responds to," says the filmmaker.
Atanu Ghosh possesses a distinct voice and sensibility, the sort that Bengali cinema could imbibe more of in order to break free from its uninspiring ways. Could the success of Mayurakshi be the beginning of something dramatic?