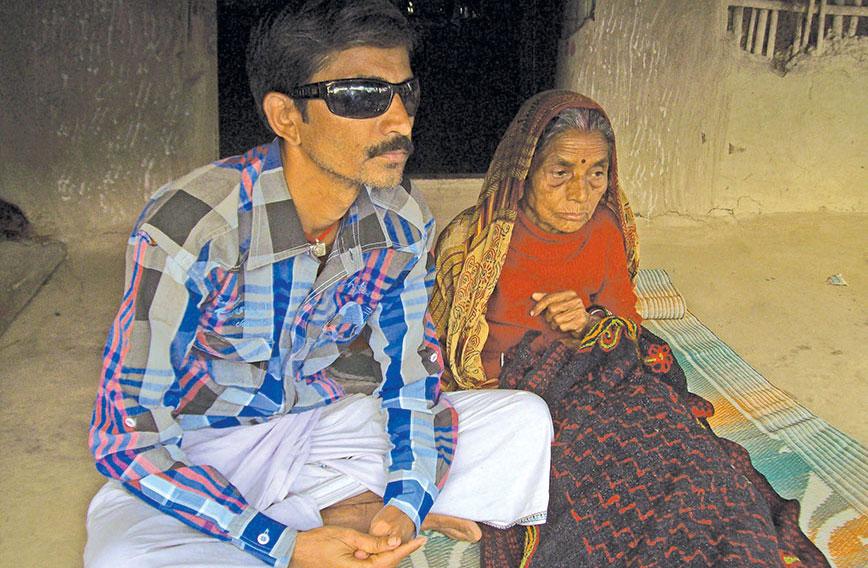 Munna Thakur and his mother in the Eyes of Darkness
How the Bhagalpur blindings inspired more blindings
Saibal Chatterjee, New Delhi
Published: Mar. 27, 2017
Updated: Jul. 11, 2017
Thirty-five years after the grisly Bhagalpur blindings — a case in which a group of policemen pinned down 33 undertrials in their custody and poured acid into their eyes — Delhi-based journalist-turned-filmmaker Amitabh Parashar has returned to the festering heart of darkness to probe the long-term effects of that extra-judicial outrage.
The debutant director's disturbing documentary, The Eyes of Darkness, draws our attention to the shocking but sparingly documented domino effect of the early 1980s blindings of alleged criminals in Bhagalpur, one of Bihar's most backward and socio-politically volatile districts — as well as elsewhere in the state.
Since the Bhagalpur blindings hit the national headlines and received a bafflingly strong groundswell of support among the local population, mob justice has taken barbaric forms in different parts of Bihar, testifying to a breakdown of the rule of law.
"Caste and political rivalry, personal enmity and misguided vigilantism lie at the root of the continuing horror," says Parashar, a Bhagalpur native who was a schoolboy in the district when the local police resorted to blindings as their first line of defence in the fight against crime.
The police showed the way and citizens quickly adopted blindings as a tool of punishment for the pettiest of crimes and acts of intransigence. In a case that occurred as recently as 2016, a 10-year-old girl from Lakhisarai had to pay with an eye for the 'crime' of stealing green peas from a farm.
"I have footage related to this sickeningly repulsive incident but chose not to include it in the film," says the filmmaker. However, in The Eyes of Darkness, we do see Ranjit Sada of Supaul district, who was blinded by his employer when he demanded that he be paid his wages.
The story of Mohammad Shahid of Balchanda village in ...