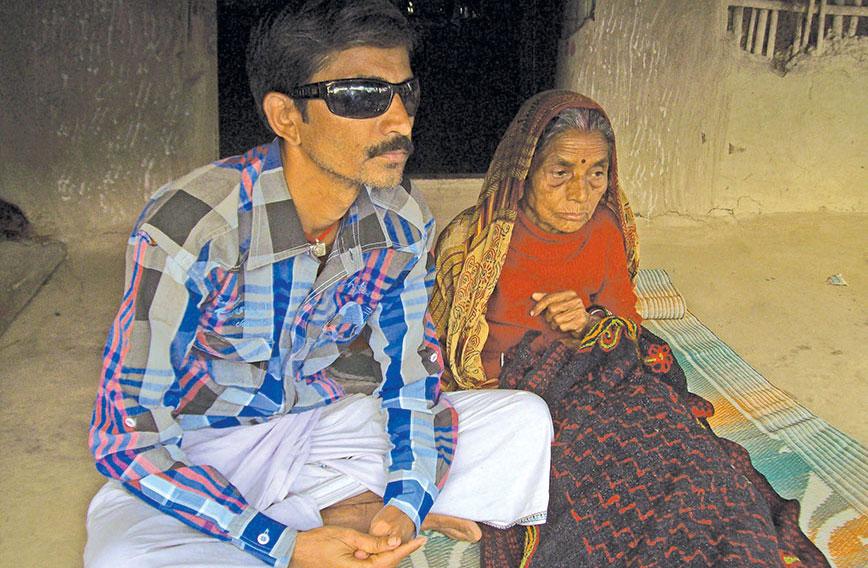 Munna Thakur and his mother in the Eyes of Darkness
How the Bhagalpur blindings inspired more blindings
Saibal Chatterjee, New Delhi
Published: Mar. 27, 2017
Updated: Jul. 11, 2017
Thirty-five years after the grisly Bhagalpur blindings — a case in which a group of policemen pinned down 33 undertrials in their custody and poured acid into their eyes — Delhi-based journalist-turned-filmmaker Amitabh Parashar has returned to the festering heart of darkness to probe the long-term effects of that extra-judicial outrage.
The debutant director's disturbing documentary, The Eyes of Darkness, draws our attention to the shocking but sparingly documented domino effect of the early 1980s blindings of alleged criminals in Bhagalpur, one of Bihar's most backward and socio-politically volatile districts — as well as elsewhere in the state.
Since the Bhagalpur blindings hit the national headlines and received a bafflingly strong groundswell of support among the local population, mob justice has taken barbaric forms in different parts of Bihar, testifying to a breakdown of the rule of law.
"Caste and political rivalry, personal enmity and misguided vigilantism lie at the root of the continuing horror," says Parashar, a Bhagalpur native who was a schoolboy in the district when the local police resorted to blindings as their first line of defence in the fight against crime.
The police showed the way and citizens quickly adopted blindings as a tool of punishment for the pettiest of crimes and acts of intransigence. In a case that occurred as recently as 2016, a 10-year-old girl from Lakhisarai had to pay with an eye for the 'crime' of stealing green peas from a farm.
"I have footage related to this sickeningly repulsive incident but chose not to include it in the film," says the filmmaker. However, in The Eyes of Darkness, we do see Ranjit Sada of Supaul district, who was blinded by his employer when he demanded that he be paid his wages.
The story of Mohammad Shahid of Balchanda village in Araria district, among others, finds mention in the film. The ageing man had acid poured into his right eye by villagers over a minor dispute in late 2014. For him, it was a case of history repeating itself. Shahid had been subjected to similar treatment 22 years ago, when he lost his left eye.
Says Parashar: "I was returning from school one day. I saw a man crying for help. He had holes in his eyes with blood oozing out of them. He was one of the 33 Bhagalpur blinding victims. That grisly sight has haunted me ever since."
The Bhagalpur outrage seems to have seared itself irrevocably into the soul of Bihar. "This January alone, at least three new incidents of forcible blinding have been reported from Bihar, including one in which an angry trainee teacher pierced a student's eye with a cane," says Parashar, who researched and filmed The Eyes of Darkness over three years.
The film owes its genesis to a "personal trip" that Parashar made to Forbesganj in 2013. "I stayed in Aurahi Hingna, the village of famed litterateur Phanishwar Nath Renu," he says. "I was there to meet the late writer's family. I came to know of two villagers who had lost their eyesight in a mob attack. The victims were Munna Thakur and his friend, Kanhaiya Thakur."
The Eyes of Darkness is principally the story of Munna Thakur, a one-time criminal who decided to come clean, surrendered to the police and spent nearly four years in jail. While focusing on one hapless victim's struggle for justice, the film also probes the larger phenomenon of villagers frequently taking the law into their own hands and getting away with it.
"As I delved deeper into Munna's plight, I realised that he was by no means the only one to have fallen prey to an irate mob and lost his eyes, that there were numerous similar cases that had occurred over the years," says Parashar. Not a month passes, he says, without a blinding taking place somewhere in Bihar.
Munna Thakur earned the ire of members of a higher caste when he had the temerity to field his wife, Indu Kumari, in the village sarpanch election. The husband of her rival, Ranjana Devi, demanded that Munna withdraw his wife from the contest. He refused.
Ranjana's infuriated husband and his associates decided to teach Munna a lesson. On December 23, 2012, three days after his wife lost the election, a gang of assailants waylaid Munna and injected acid into his eyes with a syringe.
Life has been a massive struggle ever since for Munna, his wife, two sons and aged mother. The compensation promised by the state and central governments hasn't materialised and the perpetrators of the attack on him are not only roaming free but are also continually threatening his family.
From what we witness in the film, Munna is under pressure to leave the village. His mother is brutally attacked for refusing to withdraw the case. And his son is scared to go to school because among his teachers is one of the men who assaulted Munna.
Munna's battle for justice receives active support from Ram Kumar Mishra, a lawyer and activist who runs a free legal aid outfit in Bhagalpur. The lawyer is hard-pressed to convince Munna that justice will eventually be done. Patience is the key, he keeps telling the man, more in hope than
with conviction.
In one sequence that Parashar's camera captures, the audience gets a sense of how desperately lawless this landscape is. An upright police officer arrives in the village in his official vehicle to arrest the sarpanch's husband and an accomplice. But he has to beat a hasty retreat in the face of protests by village women who rally around the sarpanch.
"It's not that mob justice is uncommon in other parts of India," says Parashar, "but nowhere is blinding used as a method to punish suspected criminals and settle personal scores on the scale and with the impunity that it is in Bihar."
It is obviously the lure of instant justice that drives these atrocities, he says. With the law enforcement agencies abdicating their responsibility to ensure due process of law, the powerful are free to bypass the complexities of lodging complaints and waiting for investigations to take their course.
As Patna-based social scientist Shaibal Gupta, who figures in the film (and puts the phenomenon in perspective), says, the State supports these acts by keeping quiet and not doing anything.
Talking about Munna's case after a meeting with the victim arranged by Mishra, he adds: He has been punished for defying the unwritten social code: how dare a lower caste man put up a candidate in an election! The blindings, he suggests, are an extension of many divides: rich-poor, powerful-oppressed, higher caste-lower caste…
The blindings do not get the kind of play that they merit in the media because, Gupta points out, the media is controlled by the powerful and it isn't in their interest to highlight the social fault lines from which they derive their clout.
The film hinges on Munna's agony. At one point, the sheer hopelessness of his lot gets to him. He hopes that his son will avenge him one day. But his fury and frustration ebb thanks to Mishra and Gupta's assurances, and he looks at life with greater equability. He resolves to educate his son so that he can lead a better life and work his way out of the unending cycle of violence.
The Eyes of Darkness offers a glimmer of hope in Munna's transformation, but the film's optimism is tempered with the stark awareness that this is an area of darkness that cannot be willed away. Here, justice is not only blind; it is elusive too.