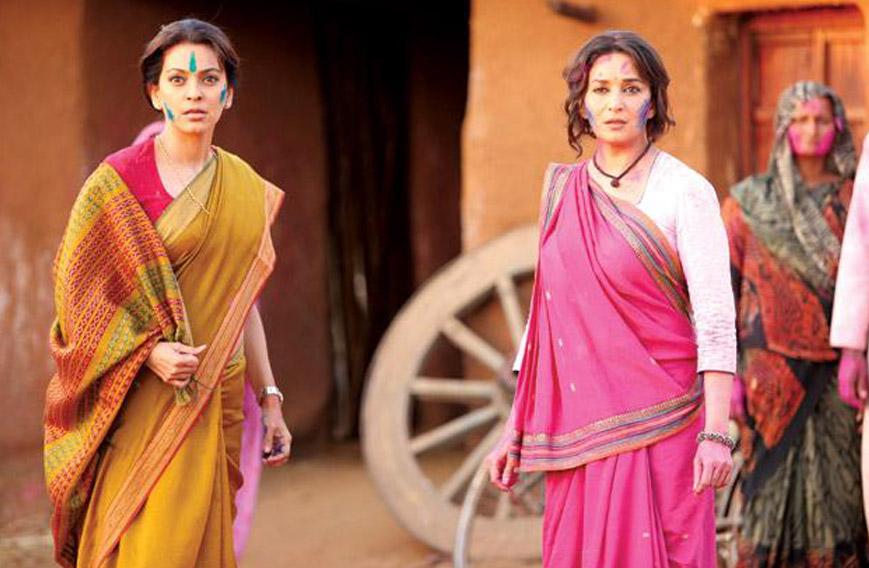 How three social films also set out to entertain
Saibal Chatterjee, New Delhi
Published: Oct. 13, 2015
Updated: Mar. 27, 2017
The Mumbai movie industry works with safe narrative templates. It rarely, if ever, tells real stories that are crying out to be told. As a norm, it opts instead for saleable feel-good yarns or crowd-pleasing thrillers aimed at maximizing box office returns.
It is therefore never easy for a Hindi film director working within the mainstream parameters of the industry to take up uncomfortable themes.
The challenge is two-fold. One, producers do not see 'activist' films as commercially viable. And two, the multiplex audience usually views with suspicion any film that contains a 'message'.
It is this undeniable reality of Indian cinema that makes it imperative for non-conforming filmmakers to look for ingenious ways of employing familiar storytelling devices to articulate contemporary social concerns.
Nila Madhab Panda's just released Babloo Happy Hai, Soumik Sen's upcoming Gulaab Gang and Nagesh Kukunoor's Lakshmi are three current Hindi films that are seeking to bridge the gap.
Each of these films deals with an urgent social issue of the kind that star-driven Bollywood productions usually turn a blind eye to.
OLD HAND AT THE GAME
New Delhi-based Panda is an old hand at this game. He made his directorial debut in 2010 with I Am Kalam, a national award-winning and commercially successful children's film that went well beyond the genre.
It tells the story of a village boy who works in an eatery off a north Indian highway and dreams of going to school one day.
Panda followed it up with the critically acclaimed Jalpari – The Desert Mermaid (2012), a children's adventure tale that critiqued the skewed gender ratio in parts of India.
Babloo Happy Hai, his third film, is a breezy comedy targeted at the youth. At first blush, it seems far removed from the spirit of social activism that underlined his first two ventures.
Yet, this film about barely-out-of-their-teens city slickers on a life-altering voyage isn't all that different from Panda's past work.
Babloo Happy Hai is the tale of three affluent Delhi boys who go on a road trip to a snow-wrapped Manali ahead of the impending wedding of one of the friends.
The coming-of-age story contains an AIDS awareness message, but the film conveys it without making heavy weather of the exercise. Says Panda: "I wanted to tackle a serious issue but in a lighter vein."
In fact, the Odisha-born filmmaker asserts that he could not have made the statements that he does in Babloo Happy Hai had he adopted a straightforward and sombre documentary approach to the theme of young people confronting a harsh fact of life.
"When I first came to Delhi, I found it very tough to blend in, so I tried to enter this world of the young and restless and see it from close quarters," says Panda. "I realised how awfully hollow it was."
Babloo Happy Hai, which provides a refreshingly non-judgmental portrait of the bubble that a certain segment of the urban young exists in, was released across the country on 7 February to largely positive reviews.
Babloo Happy Hai has all the trappings of a mass entertainer. However, given Panda's filmmaking moorings, it inevitably veers into dark narrative terrain in the second half.
No matter how laboured the conscious effort to strike a balance between frothy romance and social relevance might seem, the film does succeed in getting its point across.
A REAL LIFE STORY
Gulaab Gang, produced by Anubhav Sinha (whose directorial credits include the Shahrukh Khan starrer, Ra.One), is a commercially-oriented film that deals with the theme of women's empowerment.
The makers of Gulaab Gang are alleged to have drawn inspiration from the real-life story of Bundelkhand vigilante Sampat Pal Devi, who leads a band of pink sari-clad women in a crusade against domestic violence in a male-dominated rural community.
In fact, a documentary film titled Gulabi Gang and made by Nishtha Jain, is being released two weeks ahead of Gulaab Gang. But first-time director Sen denies that his film is a fictionalised account of Sampat Pal Devi's campaign.
"I am aware of the Sampat Pal story, but Gulaab Gang is not at all about domestic violence," he asserts. "It is about women's education and empowerment and is located in a larger socio-political context."
"My film tells a story of confrontation between good and evil set in a vast, wide, beautiful landscape," says Sen, a screenwriter who is an alumnus of St Xavier's College, Kolkata and the Delhi School of Economics.
"Gulaab Gang," he adds, "is the closest Indian contextualisation of the Hollywood western. It is just that both the protagonist and the antagonist in the film are women."
In fact, Gulaab Gang has no major male character. The cast is led by Madhuri Dixit, while the role of the 'villain' is played by Juhi Chawla. The film also features Tannishtha Chatterjee, Priyanka Bose and Shilpa Shukla.
Gulaab Gang revolves around an activist who runs an ashram where she trains a group of rural women not only to weave their own cloth but also wage a battle against the scourge of gender oppression.
"Although I do say things that I want to through the film, the primary aim of Gulaab Gang is to entertain the audience," says Sen, who made his screenwriting debut in 2006 with Anthony Kaun Hai.
He then penned several more scripts (Rubaru, Meerabai Not Out and Hum Tum Aur Ghost). But none of the films made a mark. "When you start out in the industry, you have to write what the market wants. But once you establish yourself, you begin doing the kind of work that interests you," he says.
In Gulaab Gang, both Madhuri and Juhi have been cast against type. "Juhi is pure evil in the film," he says. "Madhuri, too, projects a new screen persona. But while she does her own stunts, she also sings and dances."
The appeal of veteran filmmaker Nagesh Kukunoor's next release, Lakshmi, the story of a girl who is kidnapped at the age of 13 and sold into prostitution, is likely to be more emotional than visceral.
CONVINCING THE CENSOR BOARD
The film's release has been delayed on account of its disturbing theme – human trafficking and the sex trade. Lakshmi was due to open in the multiplexes in January 2014 following its world premiere at the Palm Springs International Film Festival, where it won the Audience Award.
But the Central Board of Film Certification (CBFC) has found certain portions of the film 'objectionable' and sent it to the revising committee. So the release of the film featuring singer Monali Thakur in the lead role had to be put on hold until the censorship hurdle was cleared.
The cast of Lakshmi includes Ram Kapoor, Shefali Shah and Satish Kaushik, who doubles up as a co-producer.
Censor trouble is an inevitable occupational hazard for filmmakers who deal with the ills of society – another reason that often dissuades the mainstream movie industry from attempting films like Lakshmi.
But those that dare carry on regardless. Nila Madhab Panda's next film, Kaun Hai Kitne Paani Mein, set in drought-prone Kalahandi district, focuses on the themes of sanitation and access to potable water. "It is a satire that will be positioned as a regular commercial release," says the director.
Much of course will depend on whether distributors respond enthusiastically enough to the film. And that can never be taken for granted.