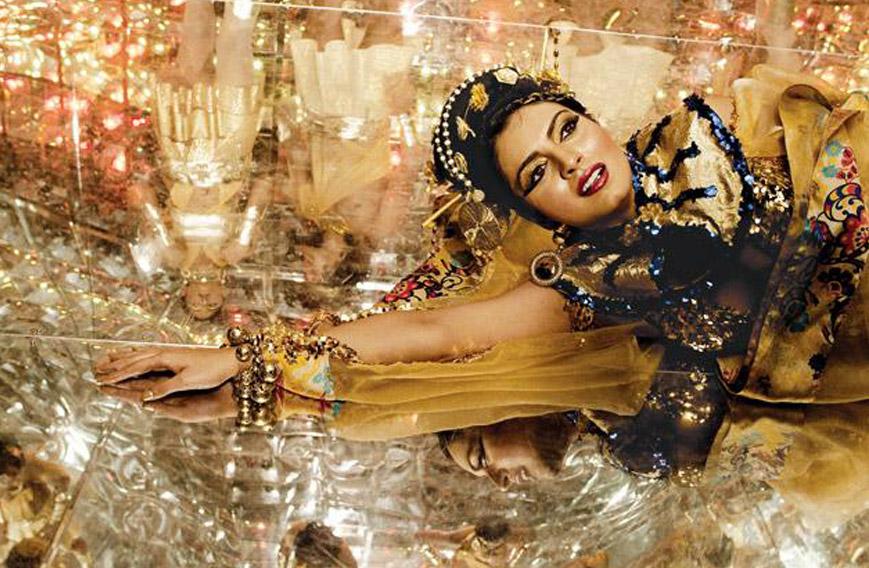 Miss Lovely and other brave find money and audiences
Saibal Chatterjee, New Delhi
Published: Oct. 13, 2015
Updated: Mar. 27, 2017
The world has shrunk and talented Indian filmmakers who go beyond the Hindi film industry's commercial concerns are finding finance and appreciation in other countries. Take Anup Singh. A Dar-Es-Salaam-born, Pune Film Institute-trained Indian filmmaker he decided to make a Punjabi fictional feature about a displaced villager fighting to rebuild his life after the trauma of Partition.
Shot entirely in Punjab, the production, featuring Irrfan Khan, Tisca Chopra and Tilottama Shome in the cast, has received funding from Germany, the Netherlands and France, besides India's National Film Development Corporation (NFDC). That is Anup Singh's Qissa.
The international rights of Qissa have since been picked up by The Match Factory, a Cologne-based world sales company that specializes in the distribution of arthouse cinema. The unique provenance and subsequent journey of the first-ever film made under the new Indo-German co-production treaty are by no means a stray occurrence.
Anup Singh made an impressive feature debut about a decade ago with Ekti Nadir Naam (The Name of a River), a highly personal docu-fictional exploration of the themes and motifs of the cinema of Ritwik Ghatak through the love story of two refugees. Ekti Nadir Naam travelled to numerous festivals around the world and was heaped with awards and praise. The critical accolades did not make it any easier for the director to get his second film off the ground.
But now with Qissa in the cans, Anup Singh already has a third film in the works. It is Lasya – The Gentle Dance, one of 12 projects that were selected for the Locarno Film Festival's Open Door co-production lab last year. It is scheduled to go into production in 2013.
TELLING THEIR OWN STORIES
For Anup Singh and his endangered tribe of filmmakers, international co-productions have emerged as an alternative to the mainstream Mumbai movie industry paradigm. That is not to say that the woes of India's genuinely independent filmmakers who operate outside Bollywood is over. But there is no denying that the growing engagement of a segment of Indian cinema with producers, sales agents and film funds overseas is a welcome augury for those that despair at the overwhelming dominance of the mass-oriented idiom of commercial Hindi movies.
Veteran Mumbai filmmaker Sudhir Mishra says, "In the mainstream movie industry, the belief is that there is only one way of making and selling films. A fresh breed of young directors are revolting against that and going out on a limb to tell their own stories. Fuelled by new aspirations to make films outside the Bollywood system, they are breaking away from the established principles." Indeed, varied themes and unusual approaches to storytelling are increasingly finding favour among this lot of directors.
"There are few backers in India for films that do not play by the established commercial rules," says writer-director Onir, maker of films like My Brother Nikhil and the National Award-winning I Am series. "The international co-production route opens it up for us."
It has done just that for Shivajee Chandrabhushan, whose maiden film as director, Frozen (2007), a minimalist black-and-white drama is set in a serene Ladakh village where a family's existence is disrupted when the Army moves in and sets up camp near their house. Chandrabhushan had to take recourse to crowd-funding for his second feature, One More (2011), the story of a ragtag ice hockey team from Ladakh.
But now for his third film, The Untold Tale, Chandrabhushan has everything sewn up neatly well in advance, thanks to the involvement of a French co-producer (Cosmopolis Films, Paris) and the fact that the proposed project made it to the prestigious L'Atelier programme of the last Cannes Film Festival.
NOT ARTHOUSE, BUT...
"I don't want to be labelled an arthouse filmmaker," he says, "but if that tag helps me get into co-productions, why not? The critical success of Frozen has definitely helped." The Untold Tale is incidentally the first cinematic venture to roll since the signing of the Indo-French co-production treaty.
The protagonist of The Untold Tale, which opens in Spain and moves to Rajasthan via France, is a French girl, daughter of a flamenco dancer and an Indian royal. The film spans six decades and traces the links between the Gypsies of Spain and India through the dance forms of kathak and flamenco.
Chandrabhushan believes that the struggle for his kind of cinema is far from over. "It is not easy. What prevails globally is a preconceived notion about Indian films – that they are about song and dance, heightened melodrama, etc.," he says. So convincing the world that there might be another way of approaching Indian cinema continues to take some doing.
Ashim Ahluwalia, whose second feature, Miss Lovely, has been making waves across the globe since premiering at the Cannes Film Festival earlier this year, agrees. He told an interviewer recently: "India's is a star dominated industry. It's not about films, it's about stars… the indie scene is overrated because we are still finding our voices. It's not a scene yet and everybody has varying relationships with Bollywood."
It is this "relationship" that is increasingly being broken. So optimism is on the rise. "The movie industry eco-system has changed," says Sunil Doshi, producer of films like Santosh Sivan's critically acclaimed The Terrorist and Sagar Ballary's sleeper hit, Bheja Fry. "The script is now assuming greater importance than the stars."
"The way forward for us is a non-insular cinema that talks to the whole world," argues Doshi. "We might live off Bollywood, but we can break free from its shadow and survive on our own terms." Script labs and workshops, film funds and production grants from international festivals, among other means of engagement, are helping young filmmakers bypass the big, star-driven, commercially oriented movies that mainstream cinema thrives on.
Faith in the alternative is reinforced by the firm strides being made by a new breed of filmmakers who have no desire to live and grow by the methods employed by the mainstream Mumbai film industry. Gurvinder Singh, maker of the much lauded Punjabi film, Anhey Ghorhey Da Daan, which had its world premiere at the Venice Film Festival last year, says: "We are on the verge of the new Indian New Wave."
For his next film, Chauthi Koot (The Fourth Direction), Gurvinder has a French co-producer, Catherine Dussart, on board. It won the Paris Project Award at the 10th Hong Kong-Asia Film Financing Forum, besides being selected for the Hubert Bals Fund of the International Film Festival of Rotterdam.
Chauthi Koot, adapted from two stories by well-known writer Waryam Singh Sandhu, is set in post-Operation Bluestar Punjab. "It looks at the plight of the common man caught between the security forces and the militants in 1984," he reveals. "I want to cast a mix of pros and non-actors, as I did in Anhey Ghorhey Da Daan." Gurvinder plans to begin filming in early 2013.
Another young Indian filmmaker who is all set to go places is Anand Gandhi. His Ship of Theseus, one of the most remarkable debut features to come out of the country in recent times, has been acquired for international distribution by Amsterdam-headquartered Fortissimo Films, which also has the rights to Miss Lovely.
No two films can be as different from each other as Miss Lovely and Ship of Theseus, but both have come out of the same space. Miss Lovely is a dark tale that delves into the world of C-grade Bollywood films of the mid-1980s, where two brothers fall foul of each other over the lead actress of their film. Though set in a segment of the Mumbai movie industry, the film gives a wide berth to mainstream narrative conventions.
For Miss Lovely, Ahluwalia, a filmmaking graduate from Bard College, New York, received a production grant from the US-based Global Film Initiative, besides funding from France, Germany and Japan. His first film, the feature documentary John & Jane (2005), set in the call centres of India, fetched him global recognition and eased the path to a career that does not have to depend upon funding from mainstream sources of Indian cinema. Miss Lovely is a starless film. Its three principal actors are Nawazuddin Siddiqui, Delhi theatre pro Anil Joseph and first-timer Niharika Singh.
Gandhi's Ship of Theseus, a visually striking film that weaves three stories into a remarkable philosophical exposition about individual identities and value systems, also has a cast of unusual actors. Egyptian filmmaker Aida Ek Kashef is a blind photographer who struggles to view the world in a new light when her vision is restored; Neeraj Kavi plays an ascetic whose beliefs are tested when he falls ill; and Sohum Shah essays the role of a young materialistic stockbroker who stumbles upon an organ transplant racket. The three strands connect at the end.
Says Gandhi: "Strictly speaking, all of Hindi cinema has been independent since the death of the studio system. But what is genuinely independent today are films that are free from the pressures of mainstream storytelling." He does not see Ship of Theseus as a Mumbai film at all. "It may be set in the city, but the stories could take place anywhere and the questions the film raises are universal," he says.
GREATER VALUE THAN THE BOX OFFICE
He accepts that the challenges that confront a truly independent Indian filmmaker are many but creating cinema that has greater value than what can be reflected in box office collections is worth all the trouble. Two filmmakers from different ends of the spectrum – Hansal Mehta and Sidharth Srinivasan – exemplify both the difficulties and the highs of surviving outside the established system.
Mehta is a Bollywood veteran whose filmography includes titles like Chhal and Dil Pe Mat Le Yaar. He has returned to the thick of the action after a four-year break with Shahid, a film about the life, work and death of slain human rights lawyer Shahid Azmi. "I had enough of serving the commercial movie industry. I wasn't making the kind of films that I wanted to, so I bailed out of it all."
Shahid is a no-holds-barred but sensitive film. It does not adopt an accusatory tone even as it pays tribute to the spirit of a young man who suffered, went astray, faced the wrath of an insensitive system and finally emerged from his tribulations to become a symbol of hope for innocent Muslims accused of terror links. Shahid marks the reinvention of Hansal Mehta. The film had its world premiere at the 2012 Toronto International Film Festival in September.
Mehta does not subscribe to the view that it is impossible to make personal films while staying within the parameters of commercial Hindi cinema. "I had a completely free hand in the making of Shahid," he asserts. It is significant that the film has been produced by Anurag Kashyap and Sunil Bohra, two men known to back risk-prone projects.
Equally significantly, Mehta opted to cast little-known actors in Shahid and was none the worse for it. Raj Kumar Yadav, who plays Shahid Azmi, carries the entire film on his shoulders without getting ahead of his brief. "I needed an actor who would not overshadow the character," says Mehta.
That approach to casting is an entire world away from the norms of the mainstream industry. For Srinivasan, maker of Pairon Talle, an independently funded film that looks at the violent repercussions of rapid urban development on a tradition-bound fringe of the National Capital Region of Delhi, the Bollywood set-up has never been of much interest.
His next film, Traas (The Profane), will be a UK-Korea-India co-production. London-based Rook Films, which has co-produced British director Ben Wheatley's Kill List and Sightseers, will team up with Korea's Finecut to bankroll the new film, which Srinivasan describes as "an edgy chamber drama" that "challenges the notion of the family being a sacrosanct entity". He says: "Traas suggests that the family can do the most grievous harm to an individual."
Srinivasan makes no bones about the fact that Traas will be a genre film – "a truly Indian horror film rooted in eastern philosophy but universal in its appeal". He was always aware that the theme would be too hot to handle for a Mumbai producer. But that, as is obvious, is unlikely to stop Srinivasan from going all the way through with the film. For directors like him, the conventional distribution-exhibition system in India remains a difficult-to-crack conundrum. But now, in a borderless world, there exist a whole new slew of options.