Goutam Ghosh's film links present with Partition
Saibal Chatterjee, New Delhi
Published: May. 06, 2016
Updated: Jan. 29, 2020
The profoundly moving story that unfolds in veteran Bengali director Goutam Ghose's latest film Shankhachil is set in the present, but the disruption unleashed by the Radcliffe Line drawn in 1947 looms large over the narrative.
The film's protagonist, played with consummate skill and empathy by Bengali cinema superstar Prosenjit Chatterjee, is a middle-aged schoolteacher in a small, idyllic hamlet on the banks of a river that separates West Bengal and Bangladesh.
With the wounds of Partition still festering in his heart and mind, this victim of history labours to impress upon his young Bangladeshi pupils the primacy of linguistic and cultural affiliations.
Language has no religion, he asserts, even as he is constantly haunted by questions of identity in violently fractious times. No wonder Shankhachil (the title alludes to a kite breed), which was theatrically released on both sides of the border on Bengali New Year's Day, is a film that evokes "the memory of Ritwik Ghatak".
Says Ghose: "Ritwik Ghatak captured the pathos of Partition through a slew of characters in films like Subarnarekha, Megha Dhaka Tara and Komal Gandhar. Shankhachil seeks to explore that legacy in a contemporary context."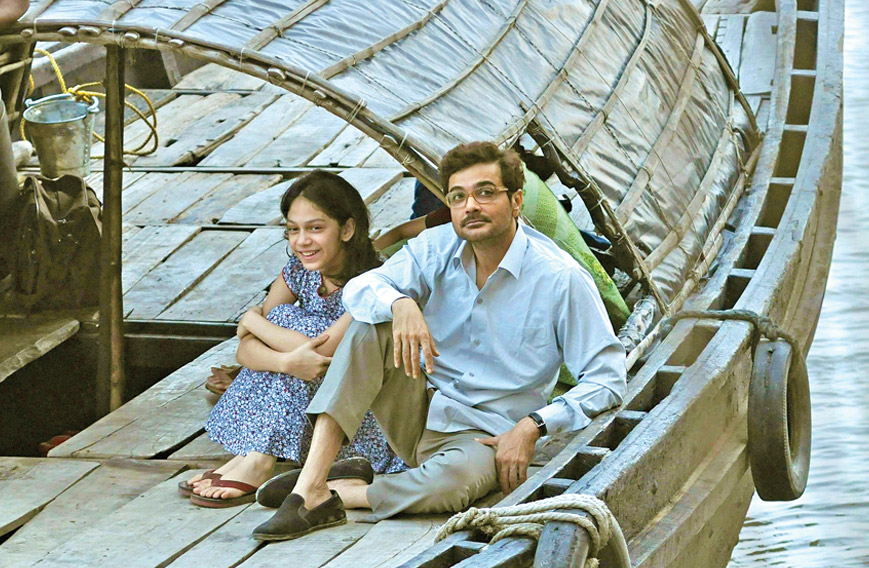 A still from Shankhachil
Shankhachil has bagged this year's National Award for the best Bengali film alongside a crop of prize-winners predominantly from glitzy, glamour-laden commercial Hindi cinema.
Shankhachil is Ghosh's third Indo-Bangladeshi co-production after Padma Nadir Majhi (1992) and Moner Manush (2010). The latter film, too, had Prosenjit in the lead role of Lalan Fakir, a Baul poet and mystic of 19th century Bengal who took on the religious orthodoxy of his time.
The film has a mixed cast, with Kolkata's Deepankar Dey, Arindam Sil and Ushoshie Chakraborty and Dhaka's Kusum Sikder, Mamanur Rashid and child actress Shajbati in important roles.
While Bangladesh's ...