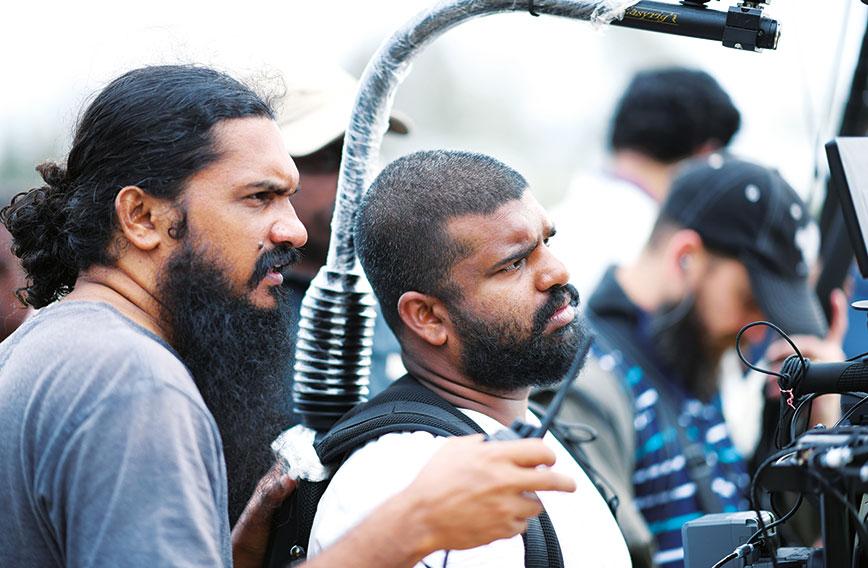 Sanal Kumar Sasidharan, left, directing a film
In Adoor's footsteps?
Saibal Chatterjee
Published: Nov. 01, 2019
Updated: Mar. 25, 2020
It is no fluke that Sanal Kumar Sasidharan, 42, is one of Kerala's most feted filmmakers. He stands apart from the crowd because he does not shy away from using the medium to speak his mind. He articulates the collective angst of an entire society and culture like nobody else in the business today. What's more, he is exceptionally adept at capturing the universal in the culturally specific.
The five narrative features that Sasidharan has made thus far, beginning with Oraalpokkam (Six Feet High, 2014), are rooted in the social and political milieu of his home state. Keenly clued in to the world around him, he digs out truths that travel beyond the boundaries of Kerala and India. Sasidharan is, in that respect, a worthy standard-bearer of the kind of self-reflexive yet all-embracing cinema that Adoor Gopalakrishnan is an undisputed master of.
With the crowd-funded Oraalpokkam, which earned an award at the International Film Festival of Kerala (IFFK), Sasidharan performed an impressive high-wire act. He dovetailed the environmental repercussions of the devastating Uttarakhand floods of 2013 into the sweep of an intense drama about a man and a woman grappling with a decaying relationship. They decide to part ways. The woman disappears. The man goes out in search. Larger truths about mankind's continuing disregard for a fragile environment are conveyed cloaked in a story of two individuals who have drifted apart.
Sasidharan's second film, the far more hard-hitting Ozhavudivasathe Kali (An Off-Day Game), another IFFK award-winner, made cinema lovers around the country sit up and take note of the director's ability to go beyond the limitations of a story even while narrating one. The film lays bare the social and political faultlines of Kerala in a manner that has rarely been done before.
In the unflinching An Off-Day Game, based on a story by Unni R. and filmed without a formal screenplay, five middle-aged friends get away from the city for a booze party during a break in electioneering. To while away their time, they play a game from their childhood. As the hours go by, old wounds are opened, gender and caste prejudices bubble to the surface and altercations erupt, triggering a shocking climax.
"When I made An Off-Day Game, I had no idea that it would connect with a wider audience. I thought I was telling a story that was specific to Kerala. People who saw the film around the country told me how relevant it was for them too," says Sasidharan.
The filmmaker's rise has been nothing if not meteoric. In only half a decade, the lawyer-turned-filmmaker has carved a niche for himself in independent Malayalam cinema. And his fame has now spread worldwide. What is significant is that he is the sole Malayali filmmaker to have broken into leading international film festivals at a time when cinema in the state as a whole, especially its off-mainstream segment, is in the midst of a dramatic resurgence.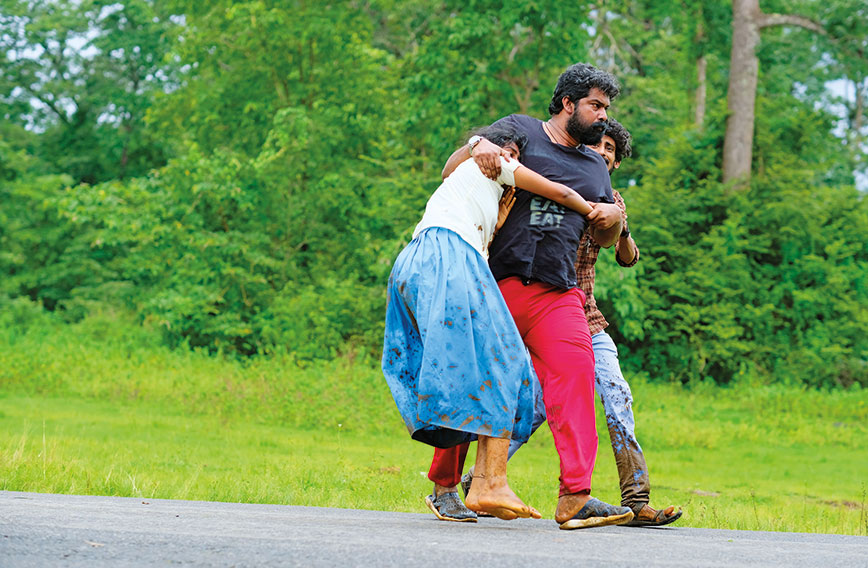 Chola is a thematic extension of S Durga
Chola, Sasidharan's fifth feature, was the sole Indian film in the official line-up of the 76th Venice International Film Festival (August 28-September 7). It builds upon his concern with individuals dealing with collective attitudes and biases in a complex world where nothing is what it seems on the surface.
Chola, however, is unlike his previous four films in two significant ways. It is two hours long — the longest of Sasidharan's films thus far — and it features mainstream stars (Nimisha Sajayan and Joju George, both of whom picked up acting prizes in the 2019 Kerala State Film Awards).
"The new film," says the director, "could be seen as a thematic extension of S Durga (the controversial 2017 film that ran into censorship troubles but earned unstinted critical accolades wherever it played), but it is in a totally different zone in terms of style and treatment."
"S Durga," says Sasidharan, "probed society as a whole. Chola is more about characters. The two films address the same issue, but they approach the theme from vastly different standpoints."
In S Durga, the only Indian film ever to win the Tiger Award at the International Film Festival of Rotterdam, a migrant girl and a Keralite boy are on the run at midnight; in Chola, a schoolgirl, her boyfriend and another man are out on a joyride. An incident takes place and the joy goes out of the ride.
In Venice, Chola (English title: Shadow of Water) competed for the Orizzonti (Horizons) Prize. It is the first Malayalam film in the section since Gopalakrishnan's Nizhalkuthu (Shadow Kill, 2002).
The maverick filmmaker, never one to lose a chance to jump into a debate, regrets that his fourth feature, Unmadiyude Maranam (Death of Insane), which he made in reaction to the assault on his freedom of expression as he sought to get S Durga out into the world, has not got the exposure it should have despite being received with enthusiasm by critics and cineastes.
Death of Insane delves into the perils of being a dreamer and a free thinker in a system that dreads individual independence. "I want the film to be seen in the form that I have made it. I haven't therefore submitted it to the censors," says Sasidharan. He said, however, that Chola will go into proper theatre distribution.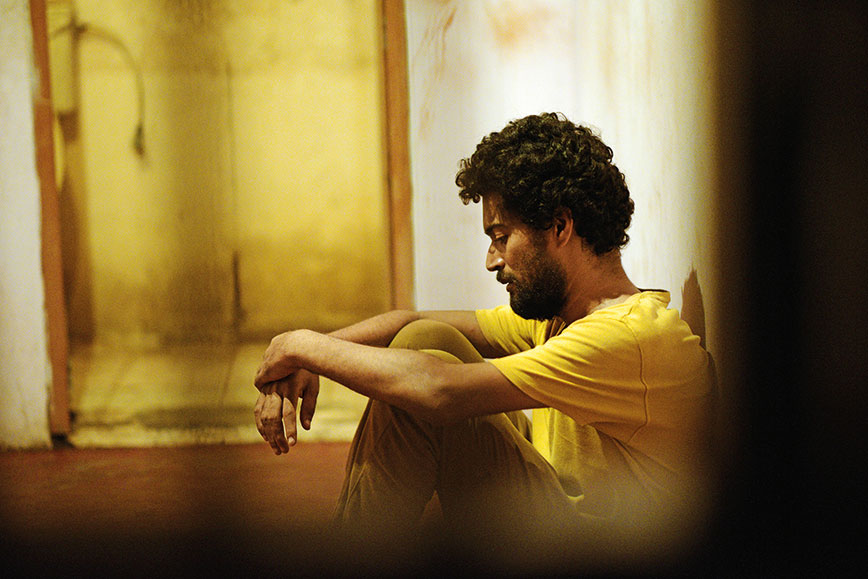 Death of Insane is on freedom of expression
For an uncompromisingly independent filmmaker, Sasidharan, who is already working on his next film in the hills of Himachal Pradesh, is remarkably prolific. "This would not have been possible without the support that I receive from people around me," he says.
He singles out Shaji Mathew, the producer of all of his films and the proprietor of the Delhi-based Niv Art Centre, as one of the key forces behind him. "He gives me complete freedom," says the director.
Sasidharan, as the secretary of the Kazhcha Film Forum, has created an independent film festival that runs parallel to the well-regarded International Film Festival of Kerala (IFFK). The festival began in 2017 to counter IFFK's "inconsistent" treatment of independent Malayalam cinema.
With Chola earning a Venice premiere, Sasidharan now has the world under his feet.