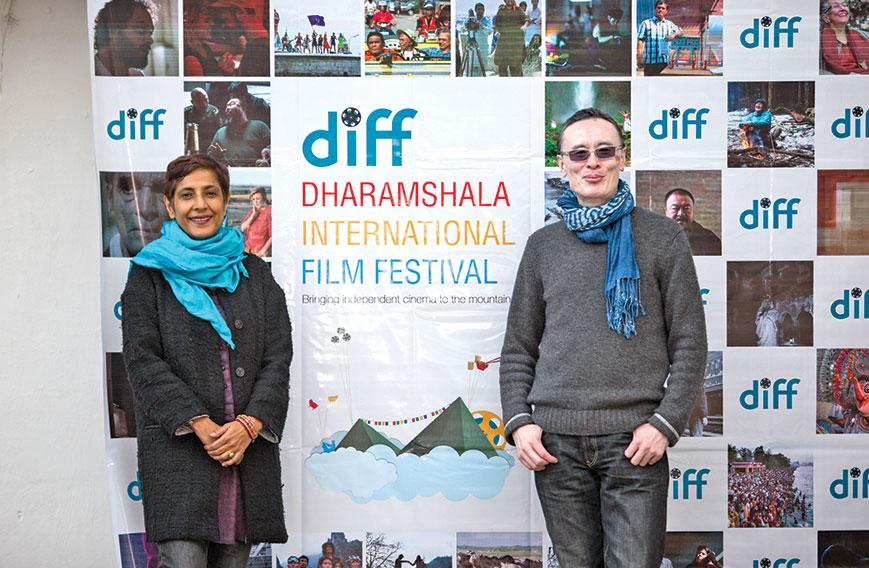 Ritu Sarin and Tenzing Sonam. Launched in 2012, the film festival has taken off
Film festival converts Dharamshala into film hub
Saibal Chatterjee, Dharamshala
Published: Dec. 23, 2016
Updated: Mar. 27, 2017
When filmmaking couple Ritu Sarin and Tenzing Sonam launched the Dharamshala International Film Festival (DIFF) in 2012, it was an act of conviction driven by boundless hope. The leap of faith has paid off.
But in year one, nobody would have been assailed by as much doubt about the event's efficacy and longevity as the adventurous but clear-headed duo.
However, the very first edition of DIFF, given the sheer passion and excitement that surrounded it, offered a glimpse of the experiment's innate potential. Five years down the line, much of it has been realised. The festival has created a niche for itself.
DIFF stands out owing to its emphasis on independent cinema from across the world. It showcases both documentarians and narrative filmmakers in an ambience designed for a free flow of ideas. The festival is small in size but big on intent.
Film screening facilities in the hill town better known as the exile home of the 14th Dalai Lama and the epicentre of Tibetan refugees in India is still pretty rudimentary, but that hasn't stopped Sarin and Sonam from soldiering on.
Thanks to the cool efficiency and firm commitment that the twosome bring to the table, DIFF has worked its way up steadily, without having to huff and puff. In the first edition, future Oscar-winner Asif Kapadia (in Dharamshala with the much lauded documentary, Senna) conducted a masterclass after Hansal Mehta's Shahid kicked off the festival.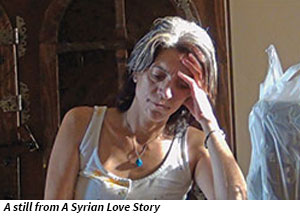 DIFF 2016, a four-day affair held on the first extended weekend in November, hosted celebrated Korean director Jeon Soo-il (A Korean in Paris), Singaporean filmmaker Boo Junfeng (Apprentice), British documentary maker Sean McAllister (A Syrian Love Story) and Iran's Rokhsareh Ghaem Maghami (Sonita), among others.
Now an important fixture for lovers of alternative cinema, DIFF has always gone for substance rather than size. "We are happy with what we are doing," says Sarin. "This is just the size that we want for DIFF."
As filmmakers, too, Sarin and Sonam have been uncomplicated in their approach, which has obviously rubbed off on the festival and given it character and profile.
The couple began making films together in the 1980s with the documentary, The New Puritans — The Sikhs of Yuba City, one of the earliest films to explore the Indian immigrant experience in the US. They have made several acclaimed documentaries since then, including When Hari Got Married (2012), an entertaining and illuminating portrait of a Dharamshala cabbie, and The Sun Behind the Clouds: Tibet's Struggle for Freedom (2010). They have also directed the critically acclaimed fiction feature, Dreaming Lhasa (2005).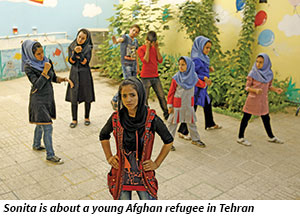 "DIFF has made improvements, thanks to the learnings of the first four years," says Sonam, a first-generation Tibetan exile born and raised in Darjeeling. "But the nature and composition of the film festival remains constant."
He adds: "The participation of people from outside Dharamshala has increased but local involvement is still less than satisfactory." To address that gap, DIFF organises outreach programmes to draw more people, especially the young, into its fold.
But that doesn't mean that DIFF makes concessions to popular predilections. It is an eclectic festival that does not receive submissions. Its programme is personally curated by Sarin and Sonam, who track the best of world cinema from India and the world, throughout the year. This year, they also roped in veteran festival programmer Raman Chawla, who stepped in as DIFF's associate director.
DIFF 2016, as in past years, screened a rich array of narrative features, short films and documentaries, besides organising several conversations (Saeed Akhtar Mirza, Naseeruddin Shah, et al) and sidebar events.
In addition to hosting international and Indian directors, DIFF had in its lineup as many as four films that were set in, or were about, Himachal Pradesh. These were Prabhjit Dhamija's 34-minute short fiction, Asmad, the story of a boy dealing with his mother's death in a small Palampur village; Himachali director Sanjeev Kumar's Mane De Phere (Circles of the Mind), about a man confronting schizophrenia; Shimla-based Siddharth Chauhan's darkly humorous 28-minute film, Papa; and German filmmaker Steffi Giaracuni's Didi Contractor: Marrying the Earth to the Building, a documentary about the legendary American-born architect whose work has left an indelible imprint in Kangra Valley.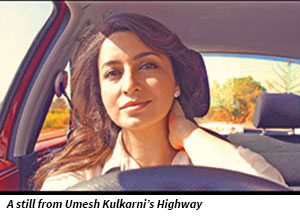 The curtains went up on DIFF 2016 with the screening of debutant Raam Reddy's award-winning Kannada film, Thithi. "This is a film festival like no other," he said before presenting his film to a packed house. India's Oscar submission for the year, Tamil director Vetrimaaran's Visaaranai, a disturbingly stark portrait of police brutality, was the festival's closing night film.
DIFF screened several other fictional features from across India: Umesh Kulkarni's Highway (Marathi), Bauddhayan Mukherji's The Violin Player (Hindi); Kochi-based cinematographer-director Rajeev Ravi's Kammatipaadam (Malayalam); and Mangesh Joshi's Lathe Joshi (Marathi).
German director Sebastian Schipper's Victoria, a 140-minute thriller shot in a single take, became a favourite talking point at the festival. Other fictional features screened were the Kazakhi film, The Wounded Angel, directed by Emir Balgazin, Jeon Soo-il's evocative A Korean in Paris, Boo Junfeng's powerful prison drama, Apprentice, and Thai director Pimpaka Towira's The Island Funeral.
DIFF's documentary lineup is always formidable. This year was no different. Among the non-fiction films was American director Mickey Lermie's The Last Dalai Lama? The documentary presents an intimate portrait of the spiritual leader as he contemplates his principal preoccupations at age 80. The film uses footage from Lermie's 1991 film, Compassion in Exile: The Story of the 14th Dalai Lama, and fuses it with recent interviews.
Also in the DIFF 2016 screening schedule were the visually lush The Shepherdess of the Glaciers, a film by Stanzin Dorjai Gya and Christiane Mordelet that follows a woman's movement with her flock of 250 sheep in the Himalayan region of Ladakh over the period of a year and Rokhsareh Ghaem Maghami's Sonita, about a young Afghan refugee in Tehran who fights for her dream of making it big as a rapper despite the constraints placed on her by her conservative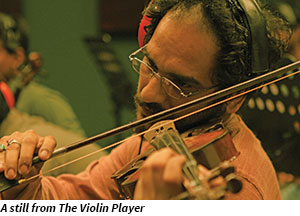 family.
Bringing cinema to the hills of Himachal Pradesh could not have been easy. Back in 2012, there wasn't a single screen in Dharamshala. Today, the town has a two-screen multiplex. Not that DIFF depends on the new facility yet, but we cannot but think that the emergence of the festival might have hastened the setting up of the multiplex.
The Tibetan Institute of Performing Arts (TIPA), the festival's principal venue for the first four years of its existence, wasn't available this time around. It was closed for renovation, forcing a shift to a location farther away in McLeodganj — the Tibetan Children's Village.
The move, however, is only temporary. Once TIPA is back in business with full-fledged film screening facilities, DIFF is slated to return to the venue and aim for bigger and better things.
This year, DIFF's local outreach plans included a film appreciation contest for schoolchildren in two categories — junior and senior. The participants, drawn from local schools, were shown a short fiction film and asked to review it. Judged by a panel of three, the competition yielded two winners and two runners-up and helped boost awareness among the young.
For the third straight year, DIFF also hosted a Film Fellows programme for talent from the Himalayan region. It was conducted by National Award-winning Pune-based filmmaker Umesh Kulkarni and documentarian Anupama Srinavasan.
"The Film Fellows programme sharpened my idea of cinema," says participant Abhijeet Phartiyal, a graduate of Delhi's Ramjas College whose roots are in Almora, Uttarakhand. "It exposed me to tools and concepts that I wasn't aware of."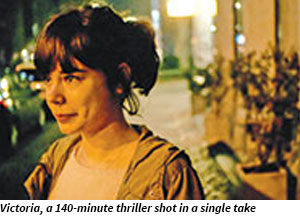 Although DIFF is by no means focused on films about Tibetan issues and Buddhist themes, Sarin and Sonam are active campaigners for the rights of the exiles. While this does reflect in a few of the films that make it to the programme, it does not overwhelm the selection. "The idea is not to focus on any particular theme, but showcase quality cinema, both fiction and non-fiction," says Sonam.
The festival, which demands a lot of time and effort, has compelled the two filmmakers to put their careers on hold. Says Sarin: "We are itching to return to filmmaking with our second narrative feature. It will be shot in Majnu Ka Tila in Delhi and in Ladakh. It will roll as soon as the funding is in place."
With that in mind, the couple has been working from year one to create a structure and a team
that could take DIFF forward even if the festival's founders are forced by their filmmaking commitments to take a backseat. They are almost there.