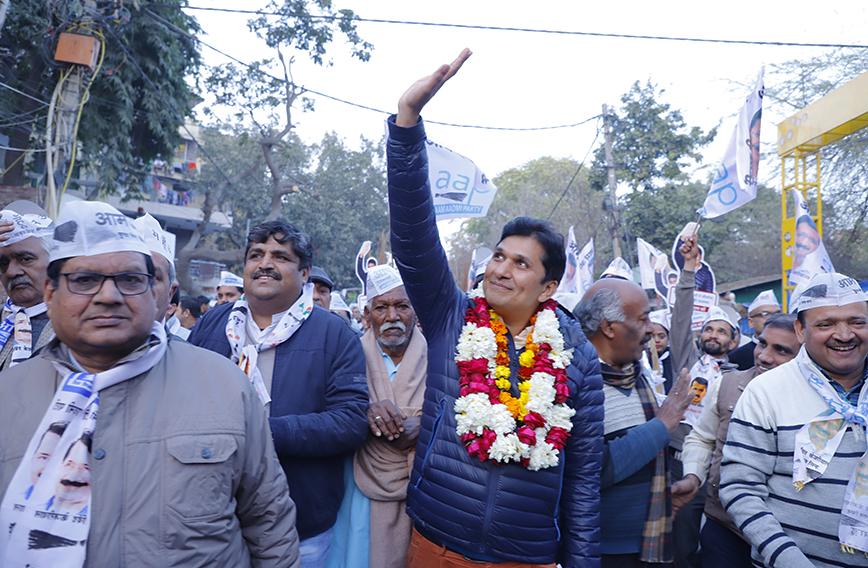 Saurabh Bhardwaj is the AAP candidate from Greater Kailash | Picture by Shrey Gupta
'We work for everyone, in every area'
Sidika Sehgal, New Delhi
Published: Feb. 03, 2020
Updated: Mar. 25, 2020
It is pretty much a done deal that the vote of the poor will go to the Aam Aadmi Party (AAP) in Delhi. But what about upmarket seats? How do they see AAP and what are the party's chances when it comes to the middle class and the rich?
To get some kind of an idea, we tracked Saurabh Bhardwaj in Greater Kailash in south Delhi. Bhardwaj is a software engineer. He won the seat in 2015. Over these years, he has built a reputation as a soft spoken, amiable and accessible representative.
He has also been flexible about addressing upmarket concerns like doing away with the BRT to assuage the feelings of car owners.
He spoke to Civil Society about what has been achieved during his tenure and what his plans for his constituency are if re-elected. "This time our focus will be on four major issues – pollution, sanitation, road redesigning and women's safety," said Bhardwaj.
Back in January 2014 you told us traffic congestion and water availability were the two biggest problems of your constituency. How much has that changed?
The biggest traffic-related problem in Greater Kailash was the BRT road, which runs from Defence Colony to Moolchand to Panchsheel, covering Greater Kailash 1, Chirag Delhi, Sheikh Sarai, Khanpur and Madangir. It used to create traffic bottlenecks across South Delhi. Even auto drivers would refuse to come to Sheikh Sarai or Greater Kailash (GK), because it meant wasting one hour on the road.
When I was a candidate, I promised that we would demolish the BRT. Within the first three months of coming to power, the process of demolition started and within six months, the BRT was removed. People were very happy because the traffic mobility improved on this stretch.
Delhi is a growing city. New cars and vehicles are being added every day. So traffic is becoming a problem like in any other metro city. But, as far as my constituency is concerned, this pain point could be reduced.
Secondly, to cross these wide roads, pedestrians wanted foot over bridges. In the last five years, we have constructed five new foot over bridges. In Greater Kailash, no foot over bridge had been built for the last 60 years.
Now there is one at Chirag Delhi, another at Sheikh Sarai and one more at Panchsheel Club near Shahpur Jat. There is a foot over bridge at Select City Mall in Saket, between the mall and Khirki Extension. Another one is being constructed at Panchsheel Enclave near Krishi Vihar.
For water, areas like Chirag Delhi, Savitri Nagar, Khirki Extension, Panchsheel Vihar, Shahpur Jat, parts of Chittaranjan Park and Kailash Colony and even parts of Sant Nagar did not have water. The situation was so bad that in places like Chirag Delhi, there used to be no water for almost six months. They had to depend on tankers, or go out with their own utensils to fill water. You could always see people carrying buckets on their cycles or in auto-rickshaws.
This summer, every household in my constituency received water from the tap. There was no household that didn't get water. The water problem has been completely resolved.
We also worked to replace old sewage networks and lay new water networks. We started 11 mohalla clinics in the Greater Kailash constituency. There are mohalla clinics in Chirag Delhi, in Shahpur Jat, in DDA Flats in Khirki, two in Greater Kailash -1 and two in Chittaranjan Park.
It was very surprising that people in Greater Kailash demanded mohalla clinics. A few days ago Hindustan Times did a survey and found that a lot of people who are upper class and rich, go to mohalla clinics because they find them convenient and trustworthy. All tests are free. The mohalla clinic in Chittaranjan Park is doing very well.
Most schools in my constituency have been rebuilt. Classrooms have been added. In two of our schools, we have swimming pools. In one of our schools, we have a cricket academy and a football academy. And we have a very renowned music and dance academy. These academies are not just open for government school students but for everyone in the neighbourhood. Students from different schools can take advantage of the facilities there.
In 2015, when you were re-elected what did you want to do in your constituency? How much of that have you been able to achieve?
I think when I assumed office, one of the key things I wanted to change was accessibility of your elected representative. Anybody and everybody should be able to access their elected representative. They can reach out to them, they can talk to them. I don't claim that I've solved everybody's problems, but I can claim that I was available to listen to their problems. This accessibility factor has changed.
Secondly, earlier, politicians used to work for the workers of their party. We have shattered that image and destroyed that cartel of lobbying. Anybody can approach us and if it's a genuine problem, we have given funds and worked on those problems.
We have formed friends across party lines. In my constituency, there are people from the BJP and the Congress. Nobody can say that we did not do their work because we are from a different party. We have worked in all areas.
What are the problems your constituency is currently facing? How do you plan to address those if you get re-elected?
In the last two years, law and order has deteriorated. There have been a lot of murders in GK-2, and some big robberies in GK-1 and GK-2. People, in general, feel insecure. There have also been incidents of mobile snatching and chain snatching. It's not just a financial loss. Incidents like these also lead to trauma. People become afraid of coming out of their homes or walking on the road. They are fearful that someone may come and snatch something from them. This needs to be tackled.
We want an arrangement with the police. They should be duty bound to hold regular meetings with the elected representatives and the Residents' Welfare Associations. Let there be a regular meeting, where local residents can voice their issues. We will try to do this and we hope to get the police's support.
There are some bigger infrastructure projects in the pipeline. These will focus on traffic in CR Park, GK2, GK1 at Archana red-light and at the Chirag Delhi red-light. These changes will streamline traffic.
There are some colonies which have very old and inefficient water and sewage networks, about 40-50 years old. We will try to change those sewer lines and water lines in a phased manner. That will bring a lot of relief to the people.
We will also try to create a platform where we can engage with the youth so that they become stakeholders in city governance. We want them to feel that they have a responsibility and the power to get work done. We would like to see the youth get involved in governance in the next five years.
What are residents of Greater Kailash asking for?
There are a few common demands. People want the street dog menace tackled. They say the street dog population is growing and becoming ferocious. This doesn't come under our purview. It comes under the MCD's jurisdiction. But people are very unhappy about dogs and monkeys as well.
Secondly, people are unhappy about sanitation services. They say sweepers don't come regularly and all areas are not covered. One demand is for waste segregation. You'll find a lot of malba on the main roads. People want this to improve.
Again, this comes under the MCD. But we are looking for a way to bypass the MCD and take sanitation into our hands. Anyone who comes to Delhi feels that it is a dirty city. Such services come under the MCD. But poor sanitation doesn't affect the MCD or the BJP's image. It affects the image of the Delhi Government. We want to work on 'mission mode' like we did for education and health.
The other big issue is pollution. This time the focus of the government will be on four major issues – pollution, sanitation, road redesigning and women's safety. Last term it was electricity, water, health and education. We intend to bring down pollution by 300 per cent. We will release a roadmap for that.
We want to redesign or re-engineer roads so that traffic bottlenecks can be removed or reduced. We have identified major corridors on which the Delhi Government intends to take up bigger redesigning plans.
Then there is women's security and safety. We are already in the process of installing 140,000 cameras. We have another set of 140,000 cameras coming in. We are also installing LED lights -- which was the domain of the MCD -- but we have started doing it. We plan to extend the concept of bus marshals to mohallas. The mohalla marshal will be the person who can act as a bridge between the police and citizens.