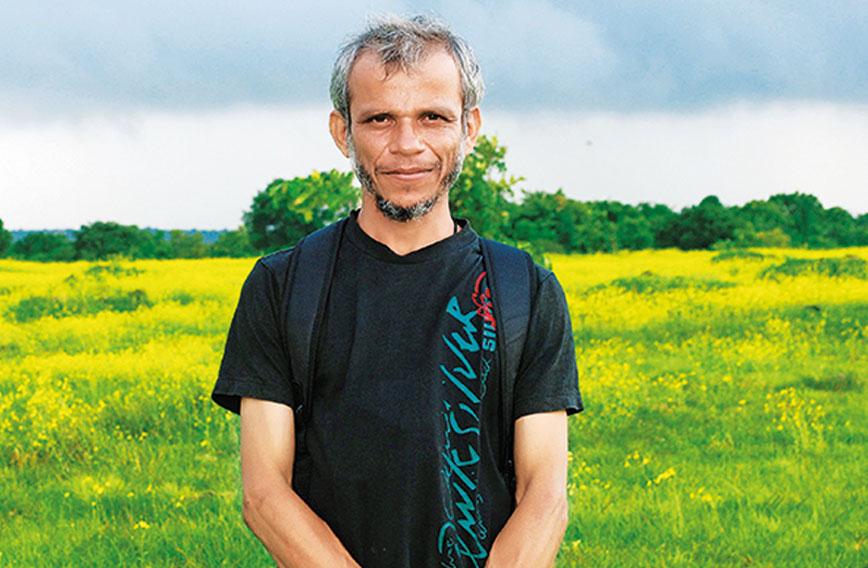 Abhijit Prabhudessai: 'We believe in building communities that are self-reliant'
In Goa, Rainbow Warriors build on community
Derek Almeida, Panaji
Published: Mar. 09, 2021
Updated: Nov. 26, 2021
GOA is famous all over the world for its resplendent beaches and dense forests. Yet, for decades, the state has been driven by a desire to build large infrastructure projects that destroy natural habitats. The people of Goa have resisted, going to court and organizing protests. Often, they have won.
The credit goes to organizations like the Federation of Rainbow Warriors, a group of public-spirited citizens in Goa. Since 2014, the year it was founded, the group has been fighting against projects which uproot local communities and destroy the state's natural richness.
Small, people-driven projects, which would enhance Goa's ecology and economy, are what the state needs. Rainbow Warriors has been consistently proposing these and is also working with the government's water resources department on one such project.
In this interview, Abhijit Prabhudessai, general secretary of Rainbow Warriors, traces the ups and downs of their campaigns, and their genesis from Goa's community land rights movement to current times, when they are locked in battle with the government over three projects — doubling of the railway track from Vasco to Hospet, the Tamnar power line project, and expansion of the national highway through the Mollem Wildlife Sanctuary.
How was Rainbow Warriors formed and what goals has it set for itself?
Rainbow Warriors had its genesis in Goencho Xhetkaranche Ekvott (association of Goan farmers), a body formed to protect community land interests. The name, Rainbow Warriors, comes from the vision of American Indians who believed that the world is a circle of life which has been broken by the advent of the industrial economy.
This vision says that it will keep getting worse till a time comes when people of different colours, creeds and nationalities will rise in opposition and they will be called the Rainbow Warriors. We believe in building land communities which are self-reliant and self-sufficient so that social power is equally distributed among all, especially the oppressed.
When you talk about community and people rising to oppose the industrial and technological economy, aren't you leaning on the side of Marxism?
We are actually building upon the Gaunkari system which is prevalent in Goa. There used to be an ancient system in the state which was based on community ownership of land called Communidade. If our work is Marxist, then all Goan ancestors were also Marxists. We are evolving and maybe similar revolutions have taken place all over the world of which Marxism is the most well-known. If you see the dynamics of social power it is the individual and the State that take power from the community and that is where everything goes wrong.
What are the issues that Rainbow Warriors has taken up since its inception and where has the fight reached?
The first issue we took up was Goa's regional plan because it is with landuse that the rot really begins. We have been fighting to prevent changes in land use that are detrimental to the public. And to accomplish this we have been fighting in courts and working with people at village level.
The Regional Plan 2021 was the first exercise in bottom-up planning and it was supervised by the late Charles Correa. So what is your stand on the plan itself. Do you see it as something good or bad?
We are of the view that whatever was done during this process was undone by the chief town planner. The final Regional Plan 2021 has huge stretches of forest and other eco-sensitive land shown as settlement zones. This was at variance with what the people had prepared at their village level meetings. Now, because we are continuing the fight against the plan in court and at the village level, big developments have virtually stopped. This has happened because the government said in court that it would clear only smaller projects which are not in eco-sensitive areas.
So, would it be right to say that your fight against big projects in eco-sensitive zones has proved to be a success?
Yes. You could say that. Although the regional plan is central to our struggle, we are also doing important work on the Coastal Regulation Zone (CRZ) notification and the Goa Coastal Zone Management Plan (CZMP).
Why are you opposed to the Coastal Zone Management Plan?
Initially the CZMP showed all khazan lands (low-lying fertile land along river banks) in the river and the high tide line extending deep into villages which did not reflect the situation on the ground. For instance, fishing communities were not shown, fish breeding sites were not demarcated … and we see this as part of a larger plan with the National Waterways Act. We believe the centre wants to take charge of our rivers for shipping. The Sagarmala project is nothing but a takeover of Goa's rivers by the centre for transportation of coal. The CZMP also reflected the same intent.
So we took this fight to the villages with the help of students and locals. About 100 panchayats prepared plans showing rivers, khazan land and fish, oyster, shellfish breeding sites in detail. Ever since these plans were submitted, the government has been dilly-dallying, for two years. It was only recently that the government revealed new plans which incorporated some contents of the panchayat plans. For instance, the bunds and sluice gates are now shown and, as a result, the high tide line has moved back to the river, but areas where fishing takes place are not yet shown.
How far has this struggle progressed?
The government notified new plans, not all of them, on January 28 and the public hearings are to be held in March. We are opposed to having one public hearing for north Goa and another for the south (two districts). We want public hearings to be held at the village level.
Rainbow Warriors had also opposed the new airport which is coming up at Mopa. How did that struggle pan out?
Our decision to oppose the Mopa airport came only after we realized that the reports produced by the government were at variance with what was present on the ground. We first filed a petition in the High Court challenging land acquisition. We won the case, but unfortunately, land acquisition was quashed for only the 250-odd families who had approached the bench and not for the 500 remaining families who did not join us in the petition. The government used this to go ahead with land acquisition. Land owners were given between Rs 40 to Rs 80 per sq m, but the struggle is still on because people want their land back. Some have not yet accepted the compensation.
About 7,000 families are dependent on the land. When the environmental clearance was granted in 2014-15, we challenged it before the National Green Tribunal (NGT). When the NGT order did not go in our favour we challenged the environmental clearance before the Supreme Court which stopped work for a year. In January 2020, this stay was vacated, which is unfortunate because the Mopa airport is anti-development. The airport is now being handed over to the Adani Group, which has been given 381 acres for commercial development with an FAR (Floor Area Ratio) of 4.
After Mopa what?
We are also working with the water resources department to reduce the use of concrete in the land-water interface. We have done a study on what's happening elsewhere and you will be surprised to learn that in Europe, the US and the Far East they are taking out concrete along the land-water interface and restoring with natural material. This will be labour intensive which means you will be creating jobs for many. Use of local material also reduces costs by over half.
Where does Rainbow Warriors stand on the three projects that have rocked Goa in recent times — the Tamnar power line, doubling of the railway track from Vasco to Hospet and four-laning of the national highway?
We have been fighting against these projects since 2016 when Goa's Wildlife Board gave preliminary clearance and we are happy that in the last one year the entire state has become aware how these coal infrastructure projects will destroy Goa.
What is your main objection to the doubling of the railway track?
The present track can carry 15 rakes per day because it is the steepest track in India. Out of these 15 rakes about 10 to 12 carry coal. Two or three are passenger trains. If you see the Sagarmala master plan you will note that to increase coal transportation, the first step is doubling of the track. If you bring 15 million tonnes of coal into Mormugao port you have to be able to transport the same amount out of Goa. At present, the port handles around 12 to 15 million tonnes of coal and the plan is to increase it to 51 million tonnes.
This coal is not meant for power projects. Almost all of it is headed for steel plants owned by Jindal and Adani with Vedanta also likely to join in. Mormugao Port Trust (MPT) is being privatized and all berths are being handed to private players who want to handle coal. MPT will handle 51 million tonnes but the total amount of coal haulage from other ports is in the region of 120 million tonnes. India has made an international commitment to reduce its dependence on coal and here you are increasing imports. If this plan goes through, global warming targets will go haywire.
Are you against import of coal for use in the steel industry alone or for use in any sort of industry?
We are against import of coal for any kind of use. You do not need to import coal for power generation or steel because India is over-producing coal at the moment. Now, if you look at port policies, the 12th Five Year Plan says that MPT should stop handling coal. In December 2018 the parliamentary standing committee on transport, tourism and culture ports, in its 269th report, clearly told MPT that it has to give up coal and realign itself with cruise tourism. This is because everyone knows that coal is a killer and you cannot have it in a port city like Vasco.
What about the Tamnar power line project?
Our objection to the power line that runs from Karnataka to Goa is based on scientific evidence. The existing power line capacity of Goa can draw power to support a load of 990 MW. Till today the highest peak demand of 625 MW occurred last year.
This new transmission line was planned in 2014 when a study was done and a 24/7 power document was prepared by the central government. At that time the peak demand was 500 MW and the projection was that by 2021 it would cross 1000 MW which today has been proved to be completely wrong. The growth rate has been slow. The power projection is that it will reach 990 MW only in 2037. This is the projection made by the Central Electricity Authority. Then why are we spending Rs 2,500 crore to build a transmission line that will destroy the Western Ghats?
The final nail in the coffin is that the Goa government has been given a mandatory target of achieving 358 MW of solar power by 2022. This is based on a promise made by our prime minister to the world. The Ministry of Renewable Energy says Goa's solar capacities are 900 MW. We are saying that with Rs 2,500 crore we could instal 500 MW of power and every person can be given a solar roof for free.
What are your objections to the four-laning of the national highway?
In 2015-16, when we were looking at highway expansion taking place in Goa, we were told by engineers in the Public Works Department (PWD) that the highways were being designed for coal transportation. As far as the highway passing through the Mollem Wildlife Sanctuary is concerned, we told villagers to monitor flow of traffic. There is literally no traffic. Serpentine queues and bumper-to-bumper traffic does not exist. There are multiple routes to Goa (Mollem, Chorla Ghat, Ambolim Ghat, Gaganbawda) and none of these has excess traffic. So this is being built only for coal transportation because the government does not have a single traffic study to justify expansion of the highway.