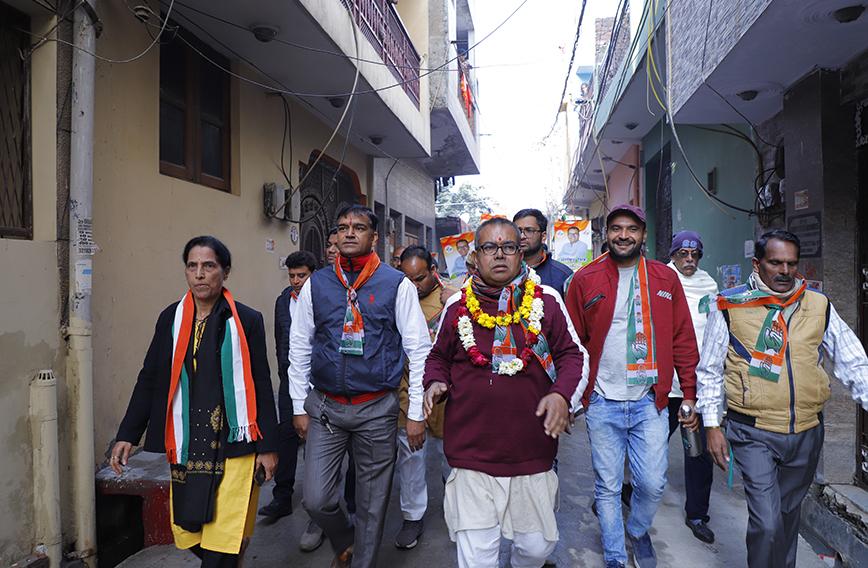 Arbind Singh is the Congress candidate from Karawal Nagar | Picture by Shrey Gupta
'I believe in people's participation'
Sidika Sehgal, New Delhi
Published: Feb. 03, 2020
Updated: Mar. 25, 2020
The surprising new entrant into Delhi politics is Arbind Singh, national coordinator and founding member of the National Street Vendors Association of India (NASVI). He is standing for election from Karawal Nagar in Northeast Delhi on a Congress ticket.
Arbind is admired in NGO circles for his spirited fight for the rights of hapless street vendors. He bonds easily with marginalized people, a quality which should help in Karawal Nagar, an industrial area populated by the working class and low income households.
Arbind spoke to Civil Society about his impressions of his constituency, his new role as a politician and what he hopes to do for the people of Karawal Nagar.
What are your impressions of Karawal Nagar?
If you go to Karawal Nagar, you won't even feel like it's a part of Delhi. This is such an underdeveloped and mismanaged area. I was talking to some of the people in Karawal Nagar and there is a lot of anguish. If you look at the AAP manifesto of 2015, it says that they will build roads of European standards. But if you come here, you won't even find a road, it's so bad.
Just recently, a journalist who was coming to meet me phoned and complained about the condition of the roads. I ask people which road is better, the one here or the one in their village. People say that the road in their village is better.
People find it difficult to commute because of traffic is a total mess. This should be sorted out but it hasn't. There is no hospital here. Can you imagine a neighbourhood without a hospital? AAP said they would build 1,000 mohalla clinics. There is no mohalla clinic here. They said they would build 2,000 public toilets. Karawal Nagar doesn't have even one public toilet.
Because of their hard work and persistence, people have been able to buy small plots land and build a house. But they have not got the leadership they deserve.
Is Karawal Nagar an unauthorized colony?
Not at all. What is an unauthorized colony? It's tragic that people think of it that way. People have bought this land and are living here. The lag is not on the part of the people, but on the part of the government.
What is the demographic make-up of your constituency?
Karawal Nagar is mostly a working class neighbourhood. A few people have small businesses. A considerable number of people here are from Purvanchal. I'm also from there. I am also appealing to them as a Purvanchali.
Do they face discrimination?
No, the problem is lack of representation. They elected Manoj Tiwari with a lot of hope. But he didn't do much for them. I went to a meeting at a pandal and people said that he was supposed to arrive at 9pm, but he didn't show up. They need leaders to raise issues important to them and that will come with representation.
How have you been interacting with residents of your constituency? Are you going door-to-door or are you addressing public gatherings?
We have been interacting in many ways. We are going door-to-door, and holding public gatherings. We have planned large meetings with big Congress leaders. We're doing nukkad nataks and conducting nukkad sabhas. This is a nice area because of the people. They are very warm and responsive.
You are a first-time candidate. How do you build trust with voters?
In a padyatra, you move quite rapidly. So how do I connect. I look into the eyes of the people. That is one way of connecting. The second way is quite typical -- asking local people to garland you.
I visit the houses of some influential people within the community. That is a good way to interact, to get to know them and for them to get to know you. These small meetings are very effective because people have a lot of questions for me. They connect well. In corner meetings, I also ask them questions about how they feel.
They have left their homes (in their villages). They tell me that they didn't ask the government for any money to build their houses. They wonder what the government has given them. The roads are all broken. I've been asking them if they think they live in the capital city of the country. All of them say no. They feel that the treatment meted out to them is not good and that their representative has not done them justice. Since this constituency was made, they've elected a BJP MLA four times and an AAP MLA once. I'm asking them to give the Congress a chance and see the difference.
I tell them that they will be the MLA of the area. My approach is to work through the people. I don't move with an army of vehicles. There isn't a team of 50 people with me. I move alone, with maybe one or two people. I don't look like a typical neta. I tell them that I'm one of them and that I don't wish to be a typical neta.
Our election expenditure, I promise you, I will reveal it. And it will set a new kind of standard about how low budget campaigning can be, even if the candidate is from a national party, like the Congress.
I'm very good at remembering names. I meet people once and they become Lalitji, Mukeshji to me. I also remember their background, where they come from and something interesting about them. If I know that somebody's son is working outside Delhi, I'll enquire after them.
I tell them my story. My wife is also involved in campaigning. There is a sense that I can be one of them.
If you get elected, how do you plan to address the issues of the people?
There are some basic problems. But we want to take a new approach. We want people to organise themselves. We want to establish a community radio.
I have told the people of my constituency that it's not just me who is contesting. I told them that they are also contesting. So it is not just me who will get elected. All of them will get elected. We will work through people. It's not that one person should work, everyone should work to address local problems. That's why we want community organisations, federations, RWAs. These will be the medium to mobilise people.
The MLAs have not involved people before and helped them analyse and resolve their problems. So my approach would be a little different in that sense.
I am from the development sector, so I use those experiments in political participation. If I have to do a big event, instead of doing it very professionally, we tell the community leaders and involve them. They organise it.
What are the state issues that the Congress party wants to take up?
We want to focus on unorganized workers in the city. There is also a Sheila Pension Yojana. People are happy with free electricity and water. We have promised 600 units of electricity in our manifesto.