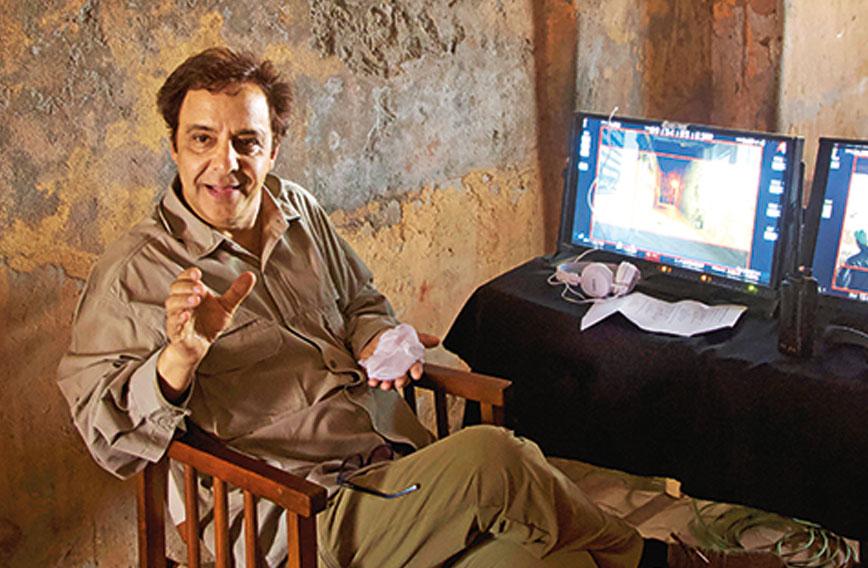 Vidhu Vinod Chopra: 'I also realize that the trauma of displacement never really goes out of your system'
'I was recreating those times through the prism of love'
Saibal Chatterjee, New Delhi
Published: Feb. 27, 2020
Updated: Mar. 25, 2020
The plight of the Kashmiri Pandit community, uprooted from its homeland three decades ago due to the rise of militancy in the Valley, has rarely, if ever, been delved into by Hindi cinema.
Shikara, veteran writer-director-producer Vidhu Vinod Chopra's first Hindi film in well over a decade, fills the breach. It sees the intractable Kashmir situation and its long-term fallout through the eyes of a Pandit couple who have spent a large part of their life in a refugee camp.
The film has two newcomers, Sadia and Aadil Khan, both Kashmir-born, playing the protagonists, a literature professor and his wife, who lose their home in the Kashmir Valley when militants strike in early 1990, forcing large numbers of Pandits to flee. The couple long to return but they do not let the pain of displacement push them over the edge into bitterness and rage.
Shikara is a marked departure from the films that Chopra has produced in the past decade or so —Munna Bhai M.B.B.S., Lage Raho Munna Bhai, 3 Idiots, PK and Sanju, all helmed by Rajkumar Hirani. The film is his first foray into a drama that plays out against a political backdrop. But he takes care to locate a fractious contemporary event entirely in the context of a love story that transcends hate and seeks reconciliation in a time of strife.
That makes the film a minor marvel. It stands apart from the rash of Bollywood epics that go all out to demonize a particular community in keeping with the dominant political narrative of the day. Certain quarters have accused the filmmaker of watering down the trauma that the Kashmiri Pandit refugees suffered, quite forgetting that the genesis of Shikara lies in Chopra's own life. His mother was visiting her son in Mumbai for a week when trouble erupted in Kashmir. She was stranded in Mumbai and was never able to return to the Valley. She passed away in 2007. Shikara is Chopra's tribute to her.
The filmmaker talks about Shikara, the reaction it has elicited and why it is important to him:
How did the Shikara idea germinate and why did it take so long for you to bring it to the screen? Was the love story at the centre of Shikara always as integral a part of the plot as it is now?
Shikara was always a love story. Right from the very beginning. Kashmir was always seen through the eyes of this young couple who spent their entire adult life in a refugee camp. It took time because with me unless the script is 100 percent final, I don't actually start the shoot. The Shikara script took me a very long time because it was a difficult subject to come to terms with and I had to work hard to capture some dreadful reality without spreading more hate and without inciting my viewers to be vengeful.
How much of Shikara is based on Rahul Pandita's book, My Moon Has Blood Clots, and how much of it is derived from the trauma that your own family faced?
The idea of Shikara existed much before Rahul Pandita's book was published. We were struggling with the script when his book was published. That's when many things became clearer and then my extensive discussions with him brought out many other aspects that I had not experienced but he had. So, the book provided a base which was interwoven with the events that were experienced by my family. The two combined to make the story of Shikara. It is hard to quantify how much of each went into the film. It's the old milk and sugar story. Once you put sugar in the milk, it becomes part of that milk and is no longer something that can be separately quantified by taking it out.
When you depict events that are drawn from living memory and narrate a contemporary historical tale that is crying out to be told, how difficult is it to negotiate the risk of reopening wounds that are still unhealed, even raw?
This risk is always there especially when you're dealing with painful times. But I was recreating those times through the prism of love and through the life of two young people. Their characters, as I perceived them, were not negative characters. They were humane and positive. I dealt with the ugliness that necessitated the exodus of Kashmiri Pandits from the Valley but only as something factual which happened and not as the main theme or central point of the film.
The militants and their fundamentalism leading to this mass exodus was the ugly atmosphere in which my main characters were trapped. This atmosphere brought out the worst in some people but equally brought out the opposite in others. Our script stayed with the positivity of people and not with their negativity. A lot of this came through my mother who suffered immensely but never turned negative.
Shikara has come at a time when Kashmir is under a prolonged lockdown. Did this fact in any way influence the overall guarded tone and stance of the film? Would it have been any different in terms of approach and substance had it been made a decade ago?
Shikara was ready well before the lockdown of Kashmir started. So that had nothing to do with the content or the tone or the stance of the film. Please know that I started this film in 2008, after my mother passed away the year before. It took me 11 years to make this film.
Despite addressing a highly emotive theme and dealing with a cataclysmic event, Shikara is essentially a pacifist film in which love trumps hate. How has the Kashmiri Pandit community at large responded to the film?
Pacifist is not the word I would use to describe the film. Humane is the right word. Pacifist tends to suggest a compromise, which the film is not. It simply depicts a humane environment in which love trumps hate. As for the reactions to the film, I and my co-writers, Rahul Pandita and Abhijat Joshi, have been getting lots of messages and calls every day appreciating the film and telling us how they felt that this movie was so important and that it was a story that needed to be told. And how this film has finally taken their story to the whole world, a narrative that had been missing for three decades now. They tell us they are grateful. So, I feel that 11 years of my life have not gone waste.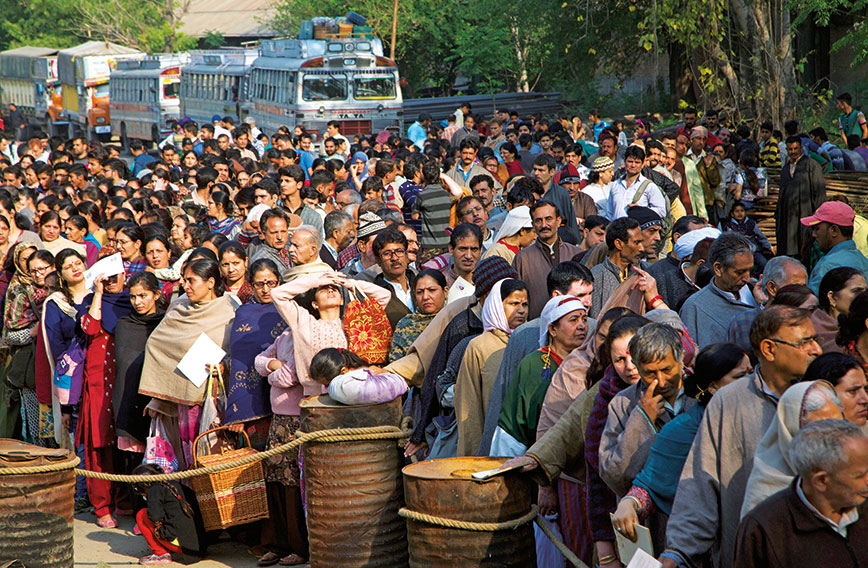 Thousands of Kashmiri Pandits participated in the film
From what you've gathered during the research that you did for the film, would you say that significant sections of the displaced Pandit community have come to terms with what happened and moved on, or is the anguish of displacement still as intense as it was in the first two decades?
That is what we found out. The Pandit community has moved on and built their new lives away from Kashmir. I have received messages and emails from a large number of Kashmiri Pandits thanking me for bringing their story to the big screen. Having said that, I also realize that the trauma of displacement never really goes out of your system. For a certain generation it just stays. A small percentage is never able to come to terms with it and becomes permanently negative. But the larger number has put it behind them and thrown out the negative baggage. That is the strength of the Kashmiri Pandit culture which has been inherently non-violent.
Some people have questioned you for casting Muslim actors as Kashmiri Pandits.
Can you believe that?
What is your answer to them?
I just have to say… please refer to Lage Raho Munna Bhai, where Munna tells Lucky Singh: "Get well soon, mamu!" What else can you say? We are now in a time when these questions are being thrown at you. You do not know what to do with them. We have never faced such a question before. Like that woman who screamed at me at a Delhi screening, Why did you cast Muslim actors? I could have screamed back at her…but that would have been terrible.
The point is, what they have done on IMDB (Internet Movie Database) is they have gone there and given low ratings to Shikara without seeing the film, affecting our international ranking. It is so ridiculous. It isn't just about social media. This is a new trend because of the state of affairs in our country. In the rest of the world, say, in New Zealand, people don't do this.
You have used thousands of Kashmiri Pandits and made them play themselves. Was it difficult to put them in front of the camera? Was it traumatic for them to re-enact for the screen what they have been through in real life?
For them, it was traumatic but at the same time cathartic because they were very excited that finally their story was being told. Please remember that our home minister has now gone on a news channel and talked about the Pandits. He said the Pandits have to go back and that the media has ignored their plight.
So you think Shikara has started a conversation?
Yes, in a big way. The finance minister, in her Budget speech, quoted a Pandit poet (Dina Nath Kaul's poem "Myon Watan") to say panun watan tanun watan (my country, your country). She pronounced it wrong but she managed. So, there is a conversation. Another Union minister, Mukhtar Abbas Naqvi, went to Lal Chowk (in Srinagar) and said, Samvad hona chahiye (there is need for dialogue), which is what I have been saying. The latest is the home minister telling the Shaheen Bagh protesters, Come and talk to me. I am happy to say that all this has started in the last 10 days with this film.
What do you make of the vituperation on social media over Shikara?
The social media cacophony has really upset me. I am upset that with a film as good as this one they have managed to tarnish the film's image, damage it, and stop people from going and watching it. The good thing, however, is that Shikara will do much better on digital platforms due to all the chatter but it is very sad that people out there can harm the film.
You did not give them what they were expecting — the demonization of a community.
I would never do that.
But hasn't there been a spate of recent Bollywood films that do that?
Listen, those guys are not filmmakers. They are businessmen. They want to make money. They will sell poison for money. They will do anything. They have no social conscience at all.