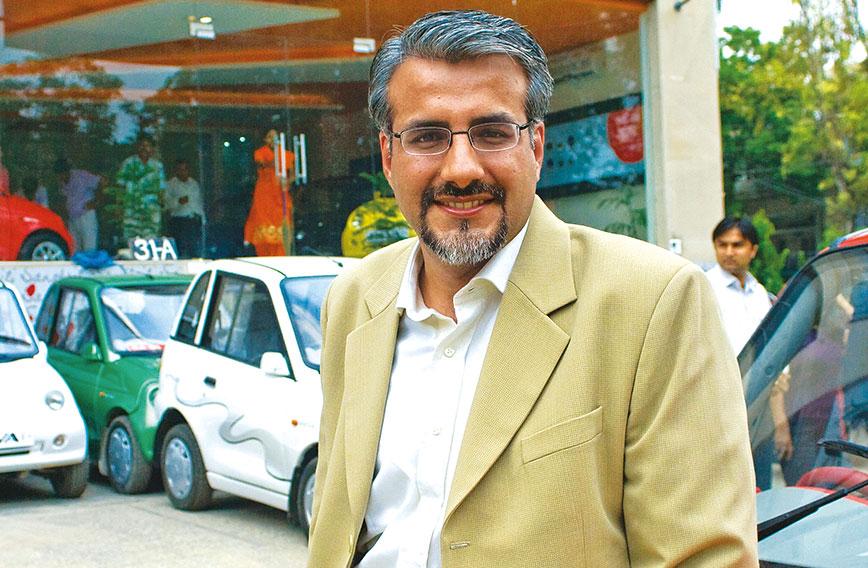 Chetan Maini: 'Sun Mobility will put up battery swap stations. Consumers will pay only for what they use, when they use it'
India can go electric by 2030, says Chetan Maini
Civil Society News, New Delhi
Published: Oct. 20, 2017
Updated: Mar. 24, 2020
Chetan Maini is the pioneer of the electric car in India. His Reva was an iconic, cutely designed four-seater packed with technological innovations. It was a frontrunner in clean mobility — admired and feted all over the world but ignored in India where traditional car companies called the shots with policymakers despite their dirty engines.
Maini was roughly two decades ahead of his time. The Reva went from being a great little start-up offering transformational possibilities to limping into collaboration with the Mahindras. Basically, lack of government support in India killed the Reva.
Now, as pollution levels soar, Transport Minister Nitin Gadkari has put auto companies on short notice to go electric. An order for 10,000 cars has been placed with Tata Motors and Mahindra to prime pump the sector.
Civil Society, which has reported on Maini many times, caught up with him to find out how he sees these new developments. Is India finally on the threshold of big-time change in mobility?
Maini has in the meantime set up Sun Mobility with Uday Khemka to create infrastructure for electric vehicles — as in charging stations, and affordable and swappable batteries. Once again, he is in an exciting space and it seems that his timing is just right. We spoke to him about the new company as well.
Is there a transformation happening in the automobile industry? Is it poised for real change?
The government's plan of going electric by 2030 will be phenomenal from the country's perspective, even if we achieve a 70 or 80 percent switchover. There seem to be early signs of the government putting its money where its mouth is. If we want to go electric, we have to start using electric vehicles ourselves.
The country needed a demand stimulus. One way of creating it was to think of government procurement in aggregating demand for buses and other applications. You now have a tender that has created multiple players. A company which has never made electric vehicles has an order. Such demand will encourage companies to invest in electric vehicles. They would then need to buy components for manufacturing their vehicles which means the components industry too would have to behave and invest. When you are going through a transformation which is going to need billions of dollars over the years, you need a lot of people to come together.
From India's perspective it makes tremendous sense to go electric. Think of the fact that we have over 200 million vehicles on our roads — two-wheelers, three-wheelers, four-wheelers, buses — and by 2030 we will probably have over 300 million vehicles. To power all those vehicles, you will need around 275 KW of renewable energy. India is targeting 300 KW of renewable energy by 2030. Our oil import bill which is about $80 billion could rise to around $150 billion by 2030. This bill could be reduced to zero if we become self-sufficient in energy. It would also enable us to meet our climate change commitments.
The cost of solar energy has been falling and most recently was quoted at around Rs 2.50. Over the next 10 years, renewable energy could cost less than gasoline. As a country which needs its people to travel at low cost with zero pollution, being energy independent is very empowering. We have one million pollution-related deaths and here we are giving up pollution. It's a win-win situation.
What are the challenges?
This is going to pose some short-term challenges to the industry. But think of it as an opportunity. India can not only create a strong domestic market for electric vehicles, but if we really take this on we can become an export hub for electric like we became for IT services and small cars. There's no reason why that can't happen. In 10 years some Tata electric company could globally have valuations as big as the largest companies in the world. It doesn't need hundreds of years. Companies have created this kind of wealth in 10 years.
If we think that by 2030 we want to do it, there is no reason we can't. If there is a domestic policy that drives it, we can create that long-term capability as a nation.
So this is truly transformational, then?
It will be. I think it's one of those things that happens in a lifetime. Energy, mobility, pollution and climate change are coming together. In the past, think of it, these have been in conflict and never on the same plane. If you create a shift to sustainable mobility it is transformative.
As a country we need to grow at eight to 10 percent, but if we can grow sustainably that would be wonderful. This is one of those rare areas where it can really happen. It's not a figment of imagination. On one side you have government policy. Second, you have energy prices declining. Third, people's thought processes are changing. We are today much more open to the concept of shared mobility. There is a shift in culture. A multi-dimensional change is happening in society and technology.
Battery prices used to be $1,000 a few years ago. Now prices are around $250. Renewable energy costs used to be Rs 15. Now it's Rs 3 or so.
These are transformational changes and they are happening in different domains. All of them are coming together and that to me is exciting.
What is the kind of infrastructure you see your new company planning to build for cities as they turn electric?
Three or four fundamental challenges still exist and you have got to recognise that. Electric vehicles, whether two-wheelers or buses or cars, still cost more than their internal combustion engine counterparts. A lot of this disparity is still driven by the cost of the battery. So, the first challenge is that the vehicle cost structure has to change.
The second key concern for consumers is range anxiety. Consumers will say, listen, I have limited range, what do I do about this area?
The third challenge is the refuelling time. Regular electric cars typically charge for five to eight hours overnight. They can also fast-track and charge in an hour. But the consumer is mentally used to five minutes at the petrol station.
The fourth challenge is infrastructure. Billions of dollars have probably been spent in creating an IC engine infrastructure all the way from oilfields to transportation to refining and then to your petrol pump. If you think of it, there isn't an equivalent infrastructure for electric mobility.
How do we meet these challenges?
We formed Sun Mobility with the idea that unless you address these imbalances this transformation is not going to happen. If you want that kind of sustainable growth, separate the battery from the vehicle and the price of electric vehicles becomes similar to other vehicles. If you can get the cost of energy to be lower than that of petrol or diesel and you can refuel in a couple of minutes, then you won't have anxiety over range anymore. You can do that by swapping the battery.
In a market like India, if you can give people a cost-neutral product at lower energy and lower maintenance costs than petrol and diesel vehicles, and everything else is better, people will begin to shift to electric. Indians are very value conscious.
Sun Mobility is going to own the battery. We will put up battery-swap stations. So people will pay only for what they use, when they use it. Separating the battery from the car gives them a cost advantage and range.
To start off we will be focusing on three-wheelers and buses. We think the larger impact in society is going to be in transportation modes that drive a lot and pollute a lot. It also makes business sense. Over time we will go to cars, two-wheelers and other forms of transportation. So the core proposition is to address these three challenges and give the customer something that is faster, cheaper and more convenient than what he or she is using today.
What is it that the customer can expect? Battery design has been formidable till now. Has design, for instance, changed?
Our focus initially is on shared mobility. An e-rickshaw owner would go to one of our stations and manually take out his battery, which is easy because it's lightweight. He would get one or three batteries, depending on how much range he wants. He would put it back in his vehicle, pay, and drive off. The whole process is smooth. From the consumer point of view it's not very different from refuelling at the existing petrol station.
For larger vehicles like buses, we have a fully robotic solution because battery packs would be heavy, around half a tonne. So they would need to be robotically swapped. We would have our robotic swap stations that buses can come up to and we swap the battery pack in a couple of minutes. By swapping, you end up using a little less battery.
You don't need a battery to last you the whole day. You can come after a few hours and swap the battery again. By doing this and reducing the battery size you also reduce vehicle costs. The hot temperature in India has an impact on the life of the battery. By charging it perfectly you extend the life of the battery.
The combination of using smaller batteries and extending the life of the battery using technology allows you to pass on the benefit to the consumer and, therefore, makes it financially viable for them.
How much has battery mileage improved?
Battery mileage has changed significantly. For example, the best cars in the world have a range that's over 400 km. In fact, even buses have over 300 km range. The issue is to get 400-km range in a car or 300 km and above in a battery. That is expensive.
But if you are doing shorter distances you can use a smaller battery and swap it. So a typical taxi in India does 200 km a day. If you give him 400 km you give him a battery that is four times what he needs. Instead, you give him a battery that does 100 km and he swaps it once a day, which is not that difficult, and then he uses one-fourth the battery. By using one-fourth he gets a cost advantage. But you couldn't use one-fourth of the battery if you didn't have the infrastructure. If the infrastructure is there he can say, I can swap in a couple of minutes and I am independent of this area.
You would need spaces to set up such stations. Will you be using the existing petrol pumps?
We are going to be demonstrating all these technologies by early next year. By the middle of next year, we will be piloting them. This does require a certain amount of minimum infrastructure to be set up. We are starting in markets of e-rickshaws and three-wheelers where you know what their population is.
It's not essential for our swapping stations to be in petrol stations. These are all shared mobility entities. The infrastructure required is much smaller. All it needs are transformers and wires for charging stations. The stations can be in multiple locations. For buses we would leverage spaces like depots.
Mass deployment over time could probably be in a petrol station. It would have petrol, diesel, CNG and electric. Refuelling solutions could be integrated or separate. For fossil fuels you need to fill large tanks but for electric you just need transformers and wires.
What about costs? How much would an auto or e-rickshaw be saving?
I think eventually the consumer, between maintenance and energy costs, would be saving at least 20 percent as we reach some maturity.
Any particular city Sun Mobility plans to begin in?
From the e-rickshaw point of view the National Capital Region is a very relevant area. But we are looking at other cities and states. We aren't just selling one product. We want to bring in an entire electric ecosystem and a set of partners.
We can provide the city a solution. For example, we have teamed up with Ashok Leyland to power electric buses. We provide the energy solutions and the battery swapping services. The idea, over time, is for all of us to come in. On one side you have people who are OEMs (Original Equipment Manufacturers) who build petrol, diesel and now electric vehicles. On the other side are the solution providers. In the middle is the energy source and infrastructure that companies like us are helping to bridge. We will take away range anxiety and give the consumer a cost advantage. For such a transformation you need a shared vision. It's a huge business opportunity.
Ten thousand cars for Tata Motors. You made a beautiful car and it was so difficult to sell?
If I think about it in 2001 when we launched the car, the government doubled taxes and removed subsidies. Now they want to order 10,000 electric vehicles. As a country we have moved in the right direction. Yes, I wish there had been far more support in the earlier stages. It would have helped companies like ours and others to create much stronger global positioning. Many countries — the US, in Europe, and China — supported it. In many ways we are much ahead of the pack. I hope we don't make mistakes like this again. We have a lot of entrepreneurs, the right technology and the financing. I hope we capture the second wave of turning electric.