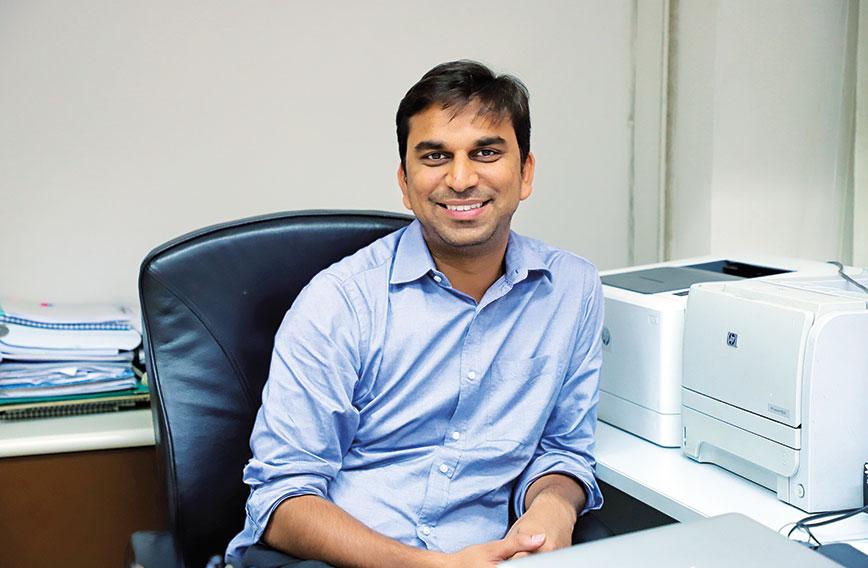 Ankit Srivastava: 'Customisation for each water body and lake revival is required'
Ankit Srivastava: 'We will bring water bodies back'
Rwit Ghosh, New Delhi
Published: Aug. 06, 2019
Updated: Mar. 24, 2020
In days gone by Delhi used to be dotted with water bodies. Many have disappeared under roads and buildings and the ones that remain are just sad relics filled with garbage and sewage. Meanwhile, groundwater levels in the city plummet as citizens continue to bore deeper for water.
The Aam Aadmi Party (AAP) government in Delhi has now launched an ambitious plan to improve groundwater levels by reviving defunct water bodies and constructing lakes to harvest water. An initial pilot project in Rajokri by the Delhi Jal Board (DJB) is going to be the template for this rejuvenation. Rajokri, on the Delhi-Gurgaon border, had a pond filled with sewage from an unauthorised colony adjacent to it. The DJB cleaned it up, put in a sewage treatment plant, constructed a wetland and landscaped the area. Local residents were thrilled. The ecological benefits from the project are likely to be considerable. One offshoot could be a cleaner Yamuna.
Ankit Srivastava, technical adviser with the DJB, spoke to Civil Society about their plans for water bodies.
How many water bodies is the DJB planning to revive?
The DJB is working on 159 water bodies and the Irrigation and Flood Control Department is working on 95. We are also creating six large new lakes from flat land. Additionally, the DJB will also be working on nine lakes and 10 water bodies owned by the Delhi Development Authority (DDA).
What is DJB's plan?
In Delhi we have three kinds of water bodies and lakes — those which are dry, those which are contaminated with sewage, and those which have mildly contaminated rainwater.
Based on water quality, topography, location —whether the water body is in a rural area, urban area, urban village or in an unauthorised colony — as well as the source of water, rejuvenation plans are drawn up. A customised plan is made largely for the arrangement of water for the water body.
In our definition, a water body needs to be filled with water throughout the year. It should not be a civil engineering exercise where you construct a wall around the water body and wait for rain to fall into it.
In our case, we are focusing more on using treated sewage as a source of water for water bodies as it is the only perennial source of water in Delhi. It rains only 15 or 16 days annually and the pattern of rain, especially its intensity, has changed. We get 600 mm of rain. But you will get 100 mm of rainfall in an hour or within a day. That is one-fifth of your rainfall quota.
Much of that water spills onto roads. Even if it falls into water bodies, it is too much to handle. The water will overflow from the water body.
Considering all these constraints, there is no general solution for rejuvenation. That is why customisation for each water body and lake revival is required. Typically, 80 to 90 percent of water bodies in any city are contaminated with sewage. We are creating a small Sewage Treatment Plant (STP) for the colony adjoining the water body. This will also push us into setting up a sewage management system in that area. The STP will act as a source of water for the water body.
We will polish the water enough so that it can go underground into the water table. We are also creating rainwater harvesting structures and recharge pits in areas adjoining water bodies so that rainwater plus any overflow that happens down the line can go into the recharge pit and percolate into the ground.
Secondly, we are removing the historical waste in water bodies. That is a major reason why percolation is not happening. In this way, the water body will have water throughout the year.
The third component is that every water body has certain flora and fauna associated with it. We have included the cost of environment conservation in all our budgets so we can replant native species.
Lastly, social ownership. We are creating green spaces and putting up benches, open gyms and, wherever there is space, amphitheatres and a Chhath ghat to connect people to the water body.
At the Timarpur lake, we have made provisions for medicinal plants, a butterfly park, an amphitheatre, a small refreshment centre and so on.
We also have certain set-ups where creating STPs is not feasible. In such cases, we will be bringing water from the nearest STP. The DJB has 36 big STPs where we already have cleaned water as part of the Yamuna Action Plan and the Ganga Action Plan. This water will be brought through a pipeline.
Some guidelines are still open-ended, like what kind of water should be put into the water bodies when you are bringing in treated sewage. We are going a step further and putting in an additional polishing pond. We will double check to ensure no contaminated water goes into the water body.
The main purpose remains groundwater recharge. Our definition of water body rejuvenation will be different from what the NBCC (National Buildings Construction Corporation) has done in old Delhi. They have put in a liner and filled up a water body with water. It's more of a swimming pool because there is no percolation of water. We won't go down that path. We will be taking the environmental route.
How much water do you think will percolate from these water bodies and lakes?
Historically, there are variable rates of percolation within Delhi. The Yamuna floodplain area, for example, has sand beds up to 40 to 50 metres. Sand beds have a very high percolation rate. In those areas, you have percolation rates of nine to 10 metres a day.
Then you have areas like Sangam Vihar, which are on hilly terrain with hard rock beneath the soil. There are no thumb rules here. Percolation would be based on the cracks. We have all sorts of percolation rates in Delhi from one mm to nine metres per day. But since our main focus is on groundwater recharge, we have been creating harvesting pits.
Right now, we are targeting percolation rates of 15 percent to 40 percent. If there is natural percolation, it is beneficial for us. Where there isn't, we will be making harvesting pits with precaution so that we can maintain the percolation rate and there is no contamination.
How much water will be captured in these water bodies?
On an average, these 255 water bodies are between 0.5 acre to 1.5 acres. A one-acre water body with a depth of one metre has the capacity to hold almost one million gallons of water. Right now, we're calculating on the basis of a depth of one metre or three feet because we don't want anyone to drown in it.
So one million gallons of water with a 15 percent rate of percolation works out to 680,000 litres of water per day per water body. Multiply that with 255 water bodies. The capacity of lakes, however, is huge. For example, one lake in Rohini is able to hold 30 million gallons of water. So 15 percent of that is a huge amount. Similarly, the lake in Dwarka will be able to hold 33 million gallons of water.
So from six new lakes, about 30 million gallons of water will percolate to the underground water table, maybe a little more. From the smaller water bodies which number around 255, around 40 million gallons of water will percolate. Roughly, it will come to about 80 million gallons. This is about the same amount of water that the DJB pulls out of the ground.
Water bodies come under the jurisdiction of a multiplicity of agencies — the DDA, the three Municipal Corporations, the Archaeological Survey of India, the forest department. Are they keen on handing them over to the DJB for revival?
Irrespective of the landowning agency, the beneficiaries will be the population of Delhi. We took approval from the chief minister. On that basis, we requested the DDA to give us permission to rejuvenate their lakes. DDA has given us an NOC (No Objection Certificate) on condition that the DJB will pay for rejuvenation.
Other agencies tell us that they don't have the expertise to revive water bodies. We have volunteered to provide them technical expertise. But, largely, the response has not been very good. Meanwhile, we have taken over nine major lakes from the DDA, including the lake at Bhalaswa, which is 150 acres and has the capacity to hold 150 million gallons. Fifteen percent of percolation from that lake would be around 22.5 MGD.
If you rejuvenate all small water bodies you will save about 35 MGD. Then you have a lake at Tikri Khurd which is 70 acres and Sanjay Lake in east Delhi. Reviving Sanjay Lake will vastly improve water supply in east Delhi. The groundwater there has been severely depleted and has a high amount of TDS (totally dissolved solids).
I don't know how much the other departments are doing. I understand the DDA is trying. In fact, these 155 water bodies we are rejuvenating don't come under us. They belong to the Revenue Department. We do have an ample budget, but we can't take over all the water bodies.
How do you deal with encroachments?
At the Rajokri site we faced this problem. Three or four slum dwellers were a real hindrance. They would throw stones at our contractors while they were working. Besides, such settlements are also a source of pollution. They have cows and buffaloes, which produce dung. We have written to the appropriate departments to remove encroachments but we are not going to let that stop us. We are redesigning the STP and the architectural part and assuming that the encroachment will remain.
If four or five households are encroaching on the land and putting sewage into the water, we will place intercepting lines, which go to our STP. So their sewage is still diverted to us. We are also including operational and maintenance costs in our budget.
Have you talked to resident welfare associations (RWAs)?
Yes. In Rajokri, our original plan did not have any provision for a Chhath ghat. We got inputs from the RWA and nearby communities who celebrate Chhath Puja, that they want a small bifurcation of the water body exclusively for their religious activities. We constructed a small, natural wall in the water body. It cost us around `20 to 30 lakh but we ensured their inputs were included. Now they maintain it. Of course, the government is doing its part. But once the water body was completed, the people took responsibility for its maintenance as well.
Some water bodies have historical significance. Do you plan to revive their legacy with the ASI or maybe another organisation?
Right now, we have not thought in that direction. Restoring archaeological sites requires a different sort of expertise, which is not available with the DJB currently. We have divided our work into different components — water conservation, beautification and community engagement.
The ASI is a very specialised agency. INTACH (Indian National Trust for Art and Cultural Heritage) and the Aga Khan Trust have done such work in Humayun's Tomb. But actually we have only four or five water bodies of historical significance. It is only two to five percent of the work. If the Delhi government's archaeological department takes it up, we can easily get approval. The chief minister, who is also the chairman of the DJB, proposed that we rejuvenate baolis as well. Within the Delhi government, no extra permissions are required.
Satpula is a DDA lake. We took an NOC from the ASI for the lake, not the park. The monument ends at the beginning of the water body. There is a very clear-cut boundary. In the case of Hauz Khas, which also has a DDA lake, there is a monument adjacent to it. We had to change treatment mechanisms a bit because it was falling in the 100-metre boundary of the monument. Hauz Khas had waste from unauthorised colonies coming in. That water body is actually fed by the DJB's STP.
Does Delhi need stricter laws to protect urban water bodies?
I think we have sufficient laws. The issue is enforcement. Out of 1,200 unauthorised colonies which dump sewage into water bodies, 400 have sewer lines while work is going on in another 400. It takes time because sewer lines are eight to 10 feet deep. The rest don't even have sewer lines.
Civic facilities need to be provided. It was part of AAP's manifesto. The first thing the CM did after coming to power was to promote decentralised STPs so that all the colonies could be covered immediately. So you treat sewage where it is created instead of putting it into kilometres of pipelines. This water body rejuvenation project is a combination of both. It is a challenge.
In Delhi for the past so many years money was spent on laying pipelines. Politically it looks good — they can say we have placed sewer lines. But lines have to be connected to households.
Take East Delhi. Sewerage coverage on paper is 100 percent. There are perhaps 2.5 million households in East Delhi. Every household has a sewer line in front of it. Despite that you have so many small drains going into bigger nullahs and then into the Yamuna. This is because households are not connected to the sewer lines. And this is not just the problem of unauthorised colonies, authorised colonies have the same problem.
So in 2017 the DJB approved a plan to connect all households to sewer lines. Again, because of the political scenario, that plan is pending. Once it is approved it will be implemented. The deficit of unavailability of sewer lines in the colonies will be catered to.
What about land sharks?
Yes, land sharks are there and political connivance as well. If we are able to revive a water body, it will be difficult for them to encroach because water levels will increase in the adjacent areas. So even if they want to build a civil structure, the water levels will not permit it.