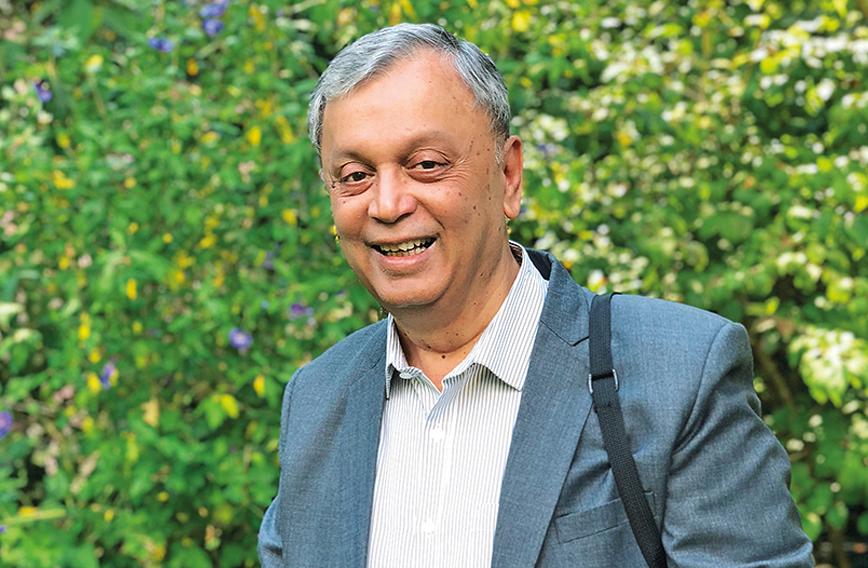 Madhav Chavan: 'If you train people to do the job one step at a time then over a period, skills are built up'
'Education policy doable but will it get done?'
Civil Society News, New Delhi
Published: Jul. 01, 2019
Updated: Mar. 24, 2020
Madhav Chavan, CEO of Pratham, provides a perspective on the provisions of the draft National Education Policy (NEP).
Released by the new Modi government, the policy squarely confronts the learning crisis in the country. Children going through school can hardly read and write and know little maths. The rot goes all the way to higher education with graduates being unemployable.
The draft policy emphasises early childhood education as a solution. It puts anganwadis in schools and proposes that all primary schools have a pre-primary section. At higher levels it recommends vocational education be part of the syllabus in schools, though it isn't clear what is meant by it. Better training of teachers is recommended.
Much of what the draft policy contains is unexceptionable and already has wide support. As a result, it hasn't sparked off any serious controversies except a political firefight over the three-language formula.
But to get a better understanding of the nuances of the policy, we spoke to Chavan, who has broadly supported the policy. Pratham has been evaluating learning outcomes in schools since 2005. It brings out the ASER (Annual Status of Education) report which flags the quality of education in schools across the country. Extracts from a conversation:
What are the key reasons you have supported the draft NEP?
There are two parts to the draft policy — school education and higher education. As far as school education is concerned, I think they have taken the right approach by talking about the learning crisis and confronting the fact that we have to deal with it. They have provided good solutions including focusing on pre-school education and remedial education, keeping in mind foundational skills up to Class 5. By then, all children should be able to read and write and do basic arithmetic. I think the policy has the right approach, right focus and priorities. It's a policy worth pursuing.
And what about higher education? Do you have an opinion of that or is it an area you are not looking at right now?
Let's say I haven't applied myself to it. On the school education side, there is a lot of evidence of what the learning crisis is all about. On the higher education side, I think we would get a mixed picture. A lot more definition and clarity are required.
The reforms in higher education aren't as simple as they sound. What do we mean by higher education? What should its goals be? Is it going to be employment-oriented? From what I have read they have given some directions on which way to go, but the gathering of evidence in higher education or even in secondary education, which is very scant, needs to be done.
I would say we require more clarity on what the problems are and how to deal with them.
For example, the pass percentage in Class 10 is actually no indicator of anything. So what are we going to focus on? Is there a learning crisis or not? And if there is then what are we talking about? This thinking that people should be vocationally educated, is it necessary? I think that the higher education sector itself is not well defined.
So, the issue of vocational education. What is the kind of skill development you see as relevant today? How can it be seamlessly inducted into school syllabi or should we just focus on basic education?
I think skill development and vocational education are two different things. The purpose of school education — apart from gaining knowledge and getting a broader understanding of the world and so on — is the development of certain skills, like perhaps communication. Ten years from now, some jobs could be redundant. Or jobs we haven't even thought of today could surface.
There are other issues too. For instance, how many people are going to be in salaried jobs? Today, in our economy, my understanding is that only 15 percent of our labour force has salaried jobs. The rest are self-employed, daily-wagers, on contract, and so on.
So, learning to work and survive in this economy is going to require different skill sets that have to be learnt. And those skills are more broad-based and foundational. They are not specific skills. Opportunities to learn should open many paths and not be restricted to unidirectional paths. You enter the science stream and you get stuck there. A lot of that is still happening. If I want to learn quickly about agriculture, where is the learning opportunity?
What we are doing today in vocational training is skill training for entry-level jobs. Broad skill education in schools is what is missing.
And in a contemporary context…
Yeah, that's correct.
Coming back to early childhood education, are states really focused on pre-primary education the way they should be? Primary schools and anganwadis will need radical transformation. Who is going to do all this?
That is primarily the problem, isn't it? All these are government systems. The question is who will do this and how will it be done? This is not an easy or trivial matter.
Can they do it? For example, they have proposed three years of pre-school for three- to six-year-olds in anganwadis and two years of primary school. So, five years will be treated as one foundational stage. To move anganwadis inside schools is a very welcome suggestion. These are not radical, newly thought of ideas, but they will now have to be incorporated into policy.
The question is who is going to put their weight behind this because this is a matter of reorganisation. It will take some years to do and will require a lot of training in human resources — which don't exist.
There is a whole bunch of issues concerning implementation. But if you decide to do it and the country puts its might behind it, it is possible.
The policy has emphasised urgency. It has said that if we don't act at high speed, we are actually writing off a generation. Is there anything on your mind about how this could be put into mission mode?
They have suggested doing things in phases, in a planned manner. So let's say there are two phases. One, the first five years — age three to eight — of the foundational stage, which is going to require planning and restructuring of the system itself.
But the goal of making sure that all children can read, write and do basic arithmetic and acquire other basic skills by 2025 is something that is achievable. It doesn't require a whole lot of restructuring.
So for kids who are in Classes 1 to 2 you focus on the basic skills of numeracy and reading and for kids from Classes 3 to 5, you focus on certain other skills. You say this is what the schools are going to do. Then you can put this plan in mission mode in no time. That's a doable proposition.
But doable does not mean it will get done. A lot of work will go into it because then you are changing focus from textbooks and lessons to skills. The textbook is not central. So maybe the whole textbook industry will suffer! I would recommend starting on Phase 1.
And while you are doing that, reconfigure what you have to do with the anganwadis.
What this means is that you will need concerted efforts. They have recommended that a National Education Commission be created, chaired by the prime minister. That kind of formula has been suggested and implemented before in the National Literacy Mission and Sarva Shiksha Abhiyan. You place the PM at the head of everything and you expect that there will be power to implement. If that is the case, so be it.
In every state they are saying create a State Education Commission, which means you are creating one vertical line in education which is not going to be in regular ministries and so on. This is reminiscent of the National Literacy Mission that was floated in 1988. It fell apart because of lack of funds and leadership and so on within no time.
Also, for NEP you need financial commitment for implementation. It will mean almost doubling of expenditure, they are saying. Even if you do it in phases you will have to make sure the money is available and available on time. It's an interesting situation because the demand on government money is going to go on increasing.
Pratham has underlined learning outcomes over the years. Your last report says there has been slow progress in language and maths. According to your experience, what is the best and most effective route to take?
Well, we are working with the state governments of Uttar Pradesh, Punjab and Madhya Pradesh. These are large-scale programmes. For basic reading, writing and arithmetic in Class 3, we are running a sort of remedial mode programme and extending it for Classes 1 to 2 as well.
The methodology isn't rocket science. But you have to focus. For example, in the draft education policy they have said two hours should be devoted every day for basic reading, writing and arithmetic. You can do the rest in the other time. But for two hours focus on these subjects and say what is to be attained. Don't teach on a blackboard, but (instead) break up the children into groups according to their levels and make it activity-based learning. These are all known methodologies. The policy brings these very skills into focus.
If this is done, success is possible. The activity-based learning (ABL) programme was supposed to do this. But it didn't actually work because they were trying to do everything under the sun. There was no clarity of purpose.
What is also talked about is the huge shortage of teachers. Most states hire para teachers. There is a shortage of skilled teachers.
Well, that is a chicken and egg situation. We have not created skilled human resources because we
did not have the skills. And because we don't have the skills, we can't create those skilled resources. You have to give priority to this.
At the primary level what you need is dedication, commitment and focus. You need good leaders. I don't think a two-year degree programme is necessary to create skilled resources. No. Our thinking is if you train people to do the job, one step at a time, then over a period, skills are built up.
We have poorly skilled teachers because, though they have been trained for three years, it is unclear for what purpose. When they face multi-grade classes in classrooms, they don't know what to do. So, learning on the job is exactly what you have to do.
If you train people on the job, to do the things you want them to do, you can create a skilled resource. Our whole idea of how to train people to perform has to change. Everything is lecture-based, chalk and talk. There is no sense of purpose.
So you don't need the degree colleges?
I am not saying that. You have to reorient. It's the same story in engineering. You are bringing out engineers who don't know what to do. Mechanical engineers don't know how to repair a machine or even identify a fault. Commerce graduates don't know simple accounting.
That is the problem with the education system. We are giving them something which isn't oriented towards what is practically needed — not just jobs. It's not the institution that is at fault. It's the approach.
What is your opinion of the three-language formula?
I'm not very well versed with it. I can only say that children can learn many languages. But if there is a political reason, there is always a history to why some people object to something. Shashi Tharoor said something interesting — nobody in the north is learning Malayalam. In all the other states are you going to ask people to learn Punjabi or Odia or Tamil? Or is the third language going to be Italian or Spanish or Sanskrit?
What we are missing out is that English-medium schools are killing everything else. All kinds of learning resources are being created for English learning. We are not paying attention to our own languages. We have ignored them. Today you can travel to a Latin American country. They have an app so you can speak in English and it will translate what you are saying into Spanish straightaway. But I can't go to Chennai and do this. Why haven't we developed a similar app? We are supposed to be a tech superpower.
Are there issues you would have liked to see in the NEP and you can't find them?
I think there is enough in the policy to do many things right.