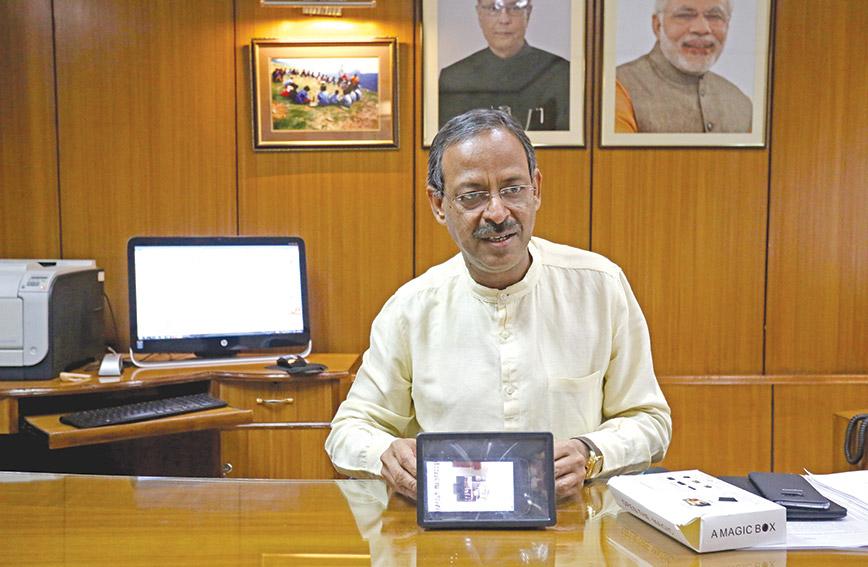 Anil Swarup holding up a mobile enlarger: 'The pivot of the education system is the teacher'
'A lot of work is being done in govt schools'
Civil Society News, New Delhi
Published: Jun. 02, 2017
Updated: Aug. 21, 2018
Interest in government schools has been growing. The Sarva Shiksha Abhiyan has sought to ensure that every child is in class and enrolment is considered to be 98 percent. The right to food movement, through Supreme Court orders, has brought in midday meals. Infrastructure is still lacking but has, in fact, improved considering what it used to be with governments providing funds for basic facilities like toilets and drinking water. Teachers are also well paid.
But government schools are still a long way off from being associated with imparting quality education. Children might be enrolled, yet the dropout rate is high, mostly because teaching is poor. Those who go through the system most often learn very little and can barely read and write.
So, how can government schools be made to improve? Are all of them equally bad or are there those teachers and principals who perform but go unnoticed in the general mess? What can be done to ensure accountability and reward effort? How can a momentum be built to get government schools out of the rut into which they have fallen?
Anil Swarup took over about six months ago as Secretary, Department of School Education and Literacy in the Ministry of Human Resource Development. He has been travelling extensively to see for himself what works and what doesn't.
Swarup is upbeat about what he has found despite the many problems that exist. He says there is more commitment and innovation in government schools than is acknowledged. He sees NGOs and community groups having an impact. If the dots could only be joined, significant improvements would be possible, he says.
Swarup is a high-performance bureaucrat who is known to be a problem solver. He carries people along and motivates officials right down to the district level. With 14 months ...