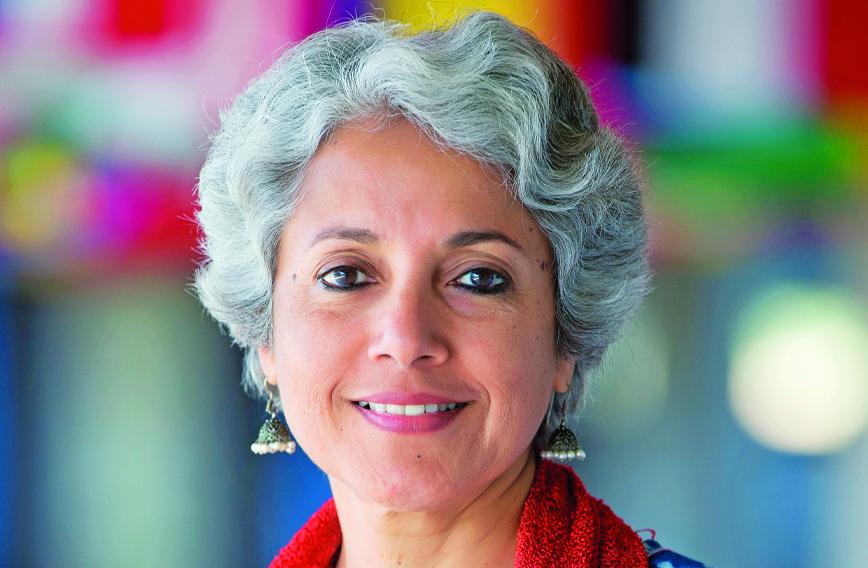 Soumya Swaminathan: 'Expand the basket of foods under the PDS'
'A shift from monoculture is needed for better health'
Civil Society News, New Delhi
Published: May. 29, 2023
Updated: Jun. 29, 2023
IN these times of climate change and an increasing burden of metabolic disorders, what gets grown and eaten matters more than ever before. Science can make a difference, especially so when it promotes sustainability and reaches farmers in the fields.
The M.S. Swaminathan Research Foundation (MSSRF) was launched in Chennai in 1988 with such a vision. Dr Swaminathan had been the father of the Green Revolution but with India achieving self-sufficiency in food, he foresaw the need for balance, conservation and diversity.
The foundation's work is extensive and covers coastal systems research, biodiversity, biotechnology, ecotechnology, agriculture, nutrition and health, climate change, gender and grassroots institutions and science communication.
MSSRF works across states in tribal areas and with rural women and fisherfolk. Amongst its many achievements are the numerous small farms it has helped diversify through its propagation of nutrition gardens to combat hunger. It has done extensive work in Koraput, a hunger hotspot for decades in Odisha. The foundation is also well-known for regeneration of mangrove wetlands, protection of biosphere reserves and more under its coastal research programme.

Soumya Swaminathan, Dr Swaminathan's daughter, recently began leading the foundation as chairperson. She is probably more widely recognized for her regular briefings on Covid-19 as the chief scientist at the World Health Organization (WHO). She is a paediatrician and clinical scientist known for her work on TB and HIV. Now back in Chennai, Civil Society spoke to her on the work of the foundation and what she sees as the road ahead.
Q: As the new chairperson of MSSRF, what would be your priorities?
I am most worried by the ongoing and future impacts of climate change on our health. Such impacts will manifest themselves through direct and indirect routes. Many of those pathways are issues that the foundation does work on. What we haven't had in the past is a direct focus on those impacts. I think it needs to be added.
One example is the impact of our diets on health. Globally, as well as in India, it is recognized that dietary risks are the number one risk factor for death and disability. Data from the Global Burden of Disease has established all the risk factors.
What is driving the huge increase in non-communicable diseases is unhealthy diets. This is where the link between agriculture and health becomes very important because for a healthy diet, you have to start with agriculture.
My father used to say nutritional maladies are related to agriculture and horticulture. We understand what the malady is. So, we need to find the remedy. We have to find a way of moving away from monoculture.
Q: What has been the impact of the pandemic on the health and nutritional status of the communities you work with?
There hasn't been a proper survey for me to give you proper data, though this is an important question. What we do know is that there was an impact on livelihoods. The agricultural sector was less affected. The fishing community was impacted since they could not go out fishing for several months but later it was allowed.
The children suffered greatly. Most of them were out of school for nearly two years and did not have access to online education or had patchy access to online teaching. Children found it hard to catch up. Many children in tribal areas have just dropped out of school and they are not able to catch up and clear their exams in Classes 9 and 10. So their future options are very limited. There are states like Tamil Nadu that have started schemes for remedial coaching but it's not across all states.
We have also seen that there are still issues of access to basic health and education services as well as government assistance for livelihood opportunities in tribal areas. In some cases where tribals have been displaced, they have not yet received their rights as per the Forest Rights Act and have to rely on rural employment schemes like MGNREGA.
I think the impact of climate change on coastal communities is becoming acute. They have been telling us that they go out to sea for longer and longer timespans for the same amount of catch they used to get in three or four days. They are out on the high seas for 15 days at a stretch and this is having a physical and mental impact. For the women there is the added burden of getting less catch and then spending more time to go out and sell it.
There is also the issue of marine pollution and fish catch being depleted since fishing nets are catching juveniles. The foundation is working with fishermen, in a participatory way, to come up with a voluntary code of conduct to avoid overfishing and catching of juveniles in fishing nets.
We are going to have a programme to deal with marine pollution and develop a circular economy around it. We will also do a study to quantify the physical and mental impact of climate change on our coastal communities.
Q: The impact of climate change on our coastal communities has not been studied.
Exactly. Tamil Nadu now has a Climate Mission, and a governing council has been set up of which I am a member. We will get an opportunity to take a deeper dive into issues like bio-shields as well as marine pollution and health. We will research these issues to find solutions and mitigating measures.
Q: The foundation works with small farmers, encourages kitchen gardens and homestead farms. Is there a change in how you will approach these due to climate change and other factors?
The most important issue for me is — how can we improve the dietary diversity of small farms and their quality of produce. Surveys indicate that Indians are not getting adequate servings of fruits and vegetables for a healthy diet which means a lack of micronutrients. Protein content is also lower than it should be. It's a very cereal-based carbohydrate diet in most cases.
One factor is affordability and access. Also, awareness, nutritional literacy and how to cook. The foundation has worked on nutrition-sensitive agriculture and integrating nutrition into agricultural practices. This depends on prevailing agro-climatic conditions. One has to carefully select the plants that can be grown and that is the idea behind the setting up of nutrition gardens.
In the nutrition gardens we have set up, there is a range of fruits and plants that can be grown in different agro-climatic zones and each will give you specific micro-nutrients. The gardens are labelled so you know which plants give you which nutrients. Alongside, diversification or multi-cropping, growing pulses, millets and so on is important.
During my field visits I noted that the key to mixed farming is water. In Gopalpur district of Odisha there have been many watershed development programmes and multiple check dams and so on, depending on the terrain, to find the best solution for rainwater harvesting.
It can solve the problem in a district like Koraput which gets a lot of water but doesn't save it. The poor quality of drinking water is causing water-borne diseases. Water for consumption, sanitation and health is obviously very important. Because of the lack of water, toilets are not being used although toilets have been constructed in all those villages.
We have over 1,500 community nutrition gardens now in Koraput. In two villages, people have come together and set aside plots of land where they grow a variety of green leafy vegetables and fruit trees.
The crops are for consumption and sale. So the produce is fetching farmers an income and improving their diet. Awareness was created through our community hunger fighters.
We trained men and women in nutritional concepts. They explained it all to me beautifully, the different food classes and which produce gives you what type of nutrients. I think our work showed that diet can be improved by this type of intervention.
More community-based interventions which complement government efforts in anganwadis, school mid-day meals and the public distribution system (PDS) would help address nutritional challenges. The PDS is basically taking care of calories. We hope to help expand the basket of foods available through the PDS.
Q: Koraput has been a hunger hotspot for decades. Would you say even without data, perhaps anecdotally, that hunger has been mitigated in Koraput though under-nutrition perhaps remains?
I think we do need to look at data available from the National Family Health Survey (NFHS). It still shows a high prevalence of under-nutrition in Koraput. So, I wouldn't say nutrition has been completely addressed though acute hunger and starvation are extremely rare now. But under-nutrition and deficiencies are caused by water and sanitation as well. Inadequate attention to these two can stymie the nutrition outcomes we would like to see.
Q: Did the state government help out?
Yes, the state government has been a partner. The Odisha Millets Mission has also been a success story. It has successively increased procurement of millets which is important for incentivizing farmers.
Women are playing a key role. In Bolangir, a woman farmer heads the Farmer Producer Organization (FPO). In fact, the FPO's board consists entirely of women. They grow millets and are linked with the Odisha Millets Mission. The women check the quality of millets at the weekly mandi. It's very professionally done. This year they will be doubling procurement so the tie-up with the government has been crucial. The women have also conserved a number of strains because in millets you have a lot of diversity.
In the south, mostly ragi is consumed whereas in the north it is jowar and bajra. You also have a number of minor millets in the Kolli hills. We have been promoting minor millets and helping farmers promote value-added products like dosa mix and upma mix made from a combination of millets.
Tribal communities have told us that their children are no longer used to eating millets because their hostels don't cook them. It's a cultural shift. Changing diets takes time. Also, forest foods are no longer really consumed by tribal communities. The government can encourage and promote millets by including it in the PDS.
We also overlook women's time and labour required to cook and process foods. The reason we see so much processed and ready-made foods, particularly in urban environments, is because it is convenient for women.
Women told me they used to spend an hour or two pounding ragi. We have now provided them with millet processing machinery. They say it helps them to consume ragi as well as sell it.
The entire food chain is important — from cultivation to commerce to consumption to conservation.
The human angle is often overlooked in agriculture. We need to reach out to cultivators in a participatory way. Working with SHGs and FPOs is the way to go. There is also opportunity in tribal areas to grow and promote medicinal plants. Local traditional healers are still the first port of call for many villagers. But procurement of medicinal plants is becoming harder, and they have to go deeper into the forest to find them. There is a livelihood opportunity here in the cultivation of medicinal plants for own use and for commercial purposes.
Q: Is there also a need to disseminate information on weather related information to remote rural pockets so that they can cultivate homestead farms with more safety and efficiency?
Absolutely. Very local advisories on agro-met on impending storms, rain or heat days for small farmers are essential.
We have efficiently done a Fisher Friendly Mobile Application for the fishing community with Qualcomm and INCOIS (Indian National Centre for Ocean Information Service). It is used by over 120, 000 fishermen, mainly on the east coast of India. The app provides advisories on sea conditions, tells fishermen where they would find more fish and gives weather warnings. It even warns fishermen if they are approaching a turtle nesting site. The app works offline as well so it can be used even if fishermen are out at sea. It has been tremendously successful and adopted by state governments.
We have an app for agro-met advisories and a plant clinic app as well. A farmer can upload a picture of his sick plant and seek advice on whether the plant is suffering from an infection or a nutritional deficiency. We can use AI and recent technologies to deliver such information to farmers.
Q. How are you communicating complicated scientific knowhow and ideas to ordinary farmers and fisherfolk. It must be a challenge…
Indeed. So communication is happening at different levels. It is an area I would like to strengthen. One programme I have been excited about is our 'Every child a scientist' for schoolchildren. Mainly children learn biology and we give them direct exposure to labs and scientists. They can see the latest equipment and do hands-on experiments. We have been working with children from Classes 6 to 8 in schools run by the Chennai Municipal Corporation.
The feedback has been extremely positive from schoolchildren and teachers. I'm planning to scale up this programme to instil in secondary school children a love for science before they decide what they would like to do.
We also work with The Hindu Media Resource Centre to engage with journalists on complex issues of science. We will restart media colloquia and invite journalists to discuss scientific issues with scientists so that they are better informed.
We also have the Mina Swaminathan Media Fellows for the past three years in memory of my mother. It looks at gender issues. We have selected three regional media journalists who will go to our project sites and understand those stories in regional languages like Odia or Tamil or Telugu.
Another area we were strong in the past is engagement with policymakers. I personally learnt a lot about science communication during the pandemic. We saw how miscommunication proliferates. It's very important to engage with all stakeholders, from community to policymakers, to frame policies which are informed by what is coming from the grassroots.