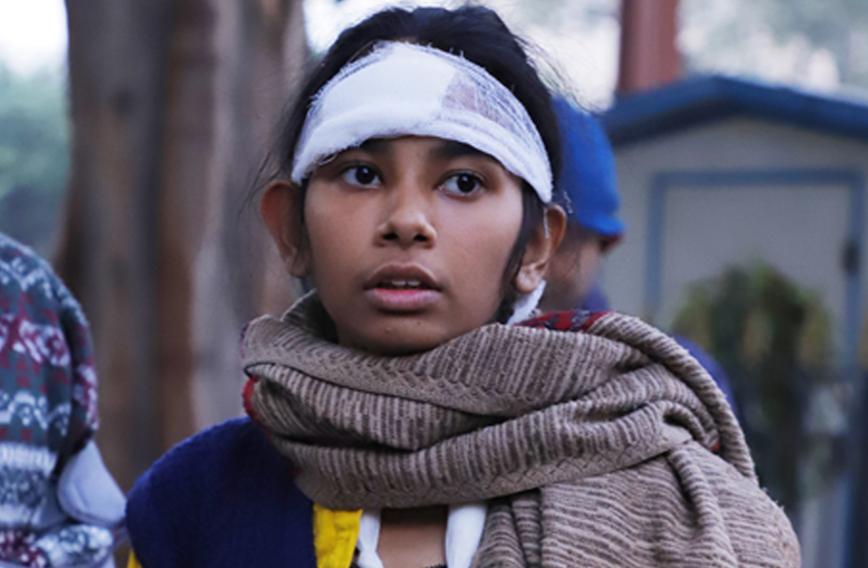 Aishe Ghosh after the attack on her
Aishe Ghosh: 'JNU is worth fighting for'
Sidika Sehgal, New Delhi
Published: Jan. 20, 2020
Updated: Mar. 25, 2020
Aishe Ghosh, president of the Jawaharlal Nehru University Students' Union (JNUSU), spoke to Civil Society on the JNU campus about the events that have engulfed the university.
What does JNU mean to you? Is JNU worth fighting for like this? You've risked your life for it.
For any student here, JNU has been their second home, and for many, their home. It means a lot to people because many students aren't given an identity back home. Especially women. They don't always have the freedom to choose what they want to do. JNU gives you that freedom along with academics. It is a dreamland.
A lot has to do with the environment and our professors, the way they nurture us. Obviously, this is worth fighting for. When I think about it, I would want everyone to study in a university like JNU. You feel that this is not a place in India.
The system we have and the culture is rare. Take the library. You can put your things somewhere and go, but nothing will be stolen. People may use your things, but they'll put them back. From your wallet to your body, everything is safe in JNU.
I studied at Daulat Ram College in Delhi University. For a woman studying there, the curfew is 7 pm. It's not that you want to go out for a late night every day, but such a curfew is restrictive. When I came to JNU in 2016, I hadn't experienced this kind of security before. You know that if you return from the library even at 4 am, nothing can go wrong. Because this is the kind of understanding in every student. There is the sense that this university stands for what is just, for the right things. That is what makes it worth fighting for.
The video of the January 5 violence was frightening to watch. You were so badly beaten. What was going through your mind?
It was very scary. We never expected something like that to happen, especially in JNU. Even when the mob came very close, there was a sense of security because some teachers were also there. We thought that the maximum they will do is to shout. But that they would hit us in the way they did never occurred to us.
Why didn't you run away or hide? A lot of people did that night.
Before I could run away, I was attacked. My sister was with me and she doesn't know this campus. She had come to visit me that day. We were sitting and having tea at Sabarmati, and suddenly this happened. I remember because I was telling other students not to panic. But before I could understand the situation, I was already hit.
What has the doctor said about your injuries? What is the nature of the fracture in your arm?
There was a deep wound. It's healing now. I have a check-up today. My arm is not fractured per se, it's a hairline injury. I think by January 22, the plaster should come off. I'm not on painkillers any more. I only take them when I really need to.
Your parents said that they won't ask you to come back. You must derive a lot of strength from them.
It has a lot to do with my father's orientation. He has been associated with the Left, so that influence comes from him. It is also the orientation I had in my city. I'm from Durgapur in West Bengal which has been a stronghold of the Left. So this sense, that you need to fight for whatever injustice is happening, was always there.
My father does scold me sometimes. Of course, there are priorities and academics should go hand in hand with other things. But he has never stopped me. My mother is also angry at me at times, about why I'm choosing to do this. My friends are leading a much more comfortable life. They are in jobs and they don't worry about fee hikes. She is concerned about why I'm going an extra step to be involved in all this. She thinks I have a good academic background and that I could be doing well.
So there is also this debate about what 'doing well' means. Obviously, coming from a very middle class family, the orientation is that being economically secure is essential to doing well. I can understand that. My father is also retiring soon.
You have asked for the removal of the vice-chancellor (VC). Is there any chance of going back on that?
No. Even our teachers' association has taken a strong stand that the winter semester can't start without the removal of the VC. Everything in the life of students has been jeopardized because of this VC. He has not filed a single FIR. He has not met the students who have been affected and injured.
With this kind of VC, the academic integrity of the university is also falling. The basic sense of safety and security is falling. If a mob comes to the campus again tomorrow, we don't know whom to approach or where to go. Even if we go to the VC, he might say, 'I don't care'. He's not bothered with what's happening around him.
You've been accused of vandalizing the server room. What is your version of events?
Obviously, the JNUSU never gave a call to vandalize the server room. Had the server room been vandalized, we wouldn't be receiving emails. But we have. The wi-fi has been working fine.
We have been asking for CCTV footage. Their FIR states that I cut the wire. I want the footage where they saw me destroying servers. These are big claims they are making. I was not masked. I didn't have any rods with me. There is no video that shows me vandalizing anything. So how did they come to the conclusion that I am a suspect?
They are showing my face on national TV as a suspect. You can't malign anybody without authentic proof. Tomorrow it may be dangerous to go out of campus. Is the police going to take responsibility for my security and safety now? If something happens to me tomorrow or if I'm travelling alone, will the police take the responsibility? JNU might be safe for me, but the outside world is quite different.
Is that a fear? Travelling alone?
Yeah, it is. There are people outside who may not know our side of the story and may think that the Delhi Police is right in naming me as a suspect. What if a mob like this attacks me outside the campus?
What is the morale on the campus? Where is the movement going?
We are trying to restore normalcy on the campus because we don't think a protest can happen without doing that. There is a lot of fear. Students have gone back home. To bring them back, we need to bring academics back on track.
We are planning to finish our backlog of classes from last semester with help from our teachers. Then exams should happen. But we're not starting with the new semester at the moment.
We will sit with the council again to discuss how to intensify protests for the winter semester and for the removal of the VC. We are taking legal action also. As much time as it takes, three or four months even, we are ready to fight. But it is also our responsibility as representatives to normalize the situation and facilitate protest along with academics.
After JNU, where do you see yourself? Do you want to be in academia?
I'm in second year of my MPhil. And I have a PhD to do also. I'm in the integrated course. For now, I just want to focus on academics. Later, things might change and plans might change.