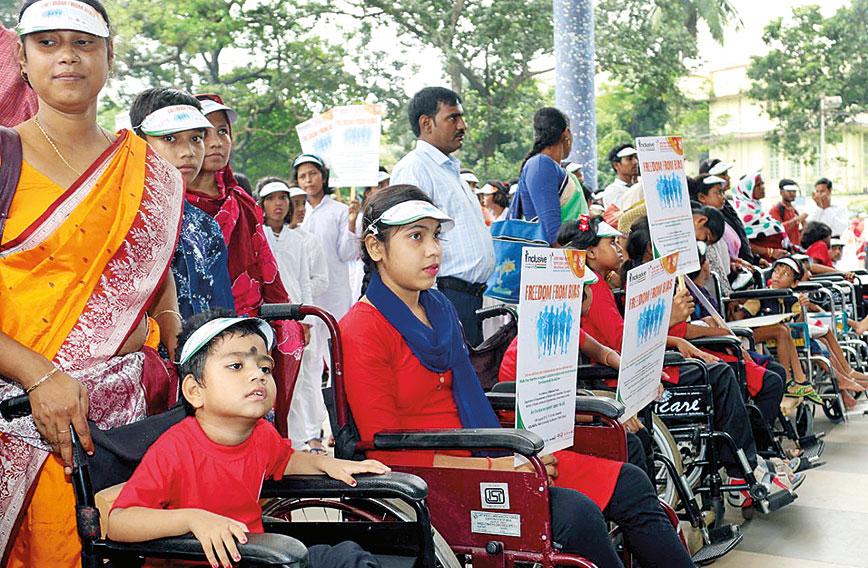 Bharat Dogra
Published: Apr. 29, 2022
Updated: May. 10, 2022
PRIORITIZATION of funds for disadvantaged sections is a long-accepted precept of fiscal policy in India, and persons with disability (PwDs) clearly comprise a very important part of disadvantaged sections. Yet there is increasing evidence that their welfare needs suffer due to underfunding.
This injustice is rooted, to start with, in significant underestimates of PwDs. In India most planning and policy for PwDs is based on an estimate of PwDs comprising 2.2 percent of the total population. Contrast this with the worldwide estimate made by the World Disability Report (prepared by the World Health Organization (WHO) and the World Bank) which says that about 15 percent of the world population is affected by disability while 2.4 percent is affected by more serious difficulties in functioning.
Earlier WHO estimates had found about 10 percent to be affected by disability but the latest estimates indicate a much higher number. The World Disability Report states that there is clearly an increasing trend due to more ageing people and more people with chronic diseases.
If the world average has about 15 percent of the population affected by disability, how can the figure be as low as 2.2 percent in India? The World Disability Report has also provided indications regarding areas where the number is likely to be higher than average. In countries where accidents, including road accidents, are high, where disasters are more frequent and serious, where malnutrition and poverty are at high levels, where substance abuse is a serious problem, there is a likelihood of disability levels being higher. On the basis of all these indicators, disability levels are likely to be higher than the world average in India.
Approaching this issue of numbers from another angle, we see that the 2011 census in India reached the percentage of 2.2 percent on the basis of seven identified disabilities, the most obvious ones. However, when the Rights of People with Disabilities law was passed in 2016, 21 disabilities were identified. So, after this major increase in the number of identified disabilities, how the number of PwDs can possibly remain at 2.2 percent, as the latest government data for 2019 states, is unclear.
Even on the basis of the government's estimate of PwDs being just 2.2 percent of the population, the budget allocations for them are shockingly low. The budget estimate for allocations specific to disability affected persons in 2022-23 is extremely low at 0.0084 percent of GDP. However, if the number of PwDs is closer to or higher than the world average of 15 percent, then this low allocation is simply unacceptable. Surely the government needs to do some serious rethinking on this issue, and the opposition parties should also raise this issue on behalf of PwDs.
Unfortunately, even this abysmal share of the GDP in the budget for PwDs has been declining — from 0.0097 percent in 2020-21 to 0.0093 percent in 2021-22 to 0.0084 percent in 2022-23. No less inexplicably, as pointed out by a recent (2022) report of the Centre for Budget Governance and Accountability titled "In Search of Inclusive Recovery", the percentage of unutilized resources has also risen in recent times from 5 percent in 2018-19 to 16 percent in 2019-20 to a very high 35 percent in 2020-21.
One result of this denial of government funds is that most PwDs continue to suffer due to lack of assistive devices. Even if we view the data of only those who have been recommended assistive devices (not counting those in remote villages who are entirely neglected), according to National Sample Survey data of 2018, only 24 percent of those with locomotor disability have assistive devices, while 31 percent of those with visual impairment and 19 percent of those with hearing impairment have assistive devices. Despite this huge challenge of catching up with actual needs, the ADIP scheme of Assistance to Disabled Persons for Aids and Appliances has seen frequent cuts. In 2020-21 its actual expenditure was Rs 189 crore compared to the original allocation or BE of Rs 230 crore. In 2020-21 the BE of Rs 220 crore was cut to Rs 180 crore. Thus, at a time of disruption and exceptional difficulties, this important scheme faced cuts rather than increases.
The Deendayal Updhyaya Scheme for Rehabilitation faced a cut from Rs 130 crore to Rs 83 crore of actual expenditure in 2020-21. The following year the BE of Rs 125 crore was reduced to Rs 105 crore.
Another problem is that due to the government's curbs on NGOs their ability to contribute for such help, which has been found to be significant in the past, has also declined. With their specialization, considerable experience and community reach, these organizations could have been particularly useful in taking the new law (2016) forward and also preparing updated reliable estimates of people who need help, but their scope for work has become greatly restricted due to new, uncalled-for curbs.
The Scheme for the Implementation of Rights of Persons with Disabilities Act (SIPDA) faced a cut from Rs 315 crore to Rs 217 crore in 2019-20, then from Rs 252 crore to Rs 103 crore the next year, in terms of comparing BE with actual expenditure. In 2021-22, the BE of Rs 210 crore was reduced to RE Rs 147 crore.
There were cuts also in allocations for scholarship programmes and the Indira Gandhi National Disability Pension Scheme in the three previous years. The allocation for important automonous organizations working in this area was Rs 466 crore in 2020-21 but the actual expenditure was only Rs 281 crore.
Mental health problems have been increasing during COVID times, requiring increase of resources but allocation for the national mental health programme has also faced cuts.
Clearly, there is a definite need for preparing more reliable updated estimates of the number of PwDs and stepping up funds' availability for their welfare in a major and significant way, in keeping with real needs and actual numbers.
Bharat Dogra is Honorary Convener, Campaign to Save Earth Now. His recent books include, Protecting Earth For Children and Man over Machine.