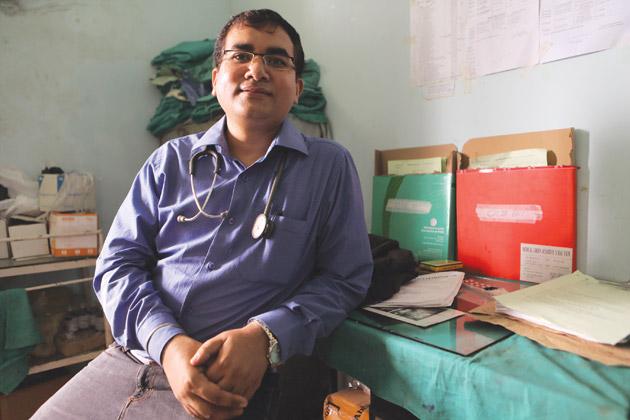 Dr Ravikant Singh: We have to take baby steps, make small improvements so that the system becomes stronger'
Doctors for you
Published: May. 20, 2020
Updated: May. 28, 2020
From Civil Society's September-October 2018 edition
It was 2007 and Mumbai was reeling under an outbreak of malaria, dengue and leptospirosis. The blood bank at the KEM Hospital was in urgent need of blood and platelets. Dr Ravikant Singh, in the first year of a post-graduate course in public health administration, was leaving the canteen after breakfast when he saw a notice for donors. He was a regular donor himself but it struck him that the problem could be solved more effectively with a bigger campaign.
Dr Ravikant, as he likes to be known, spoke to a few other young doctors like himself and soon they had two banners with which they launched a platelet awareness and donation drive. Their effort instantly attracted attention. A report in a Mumbai newspaper helped. The number of platelet donors doubled and the KEM Hospital blood bank no longer had a shortage.
"Through that drive we literally saved the lives of 30 to 40 patients," says Dr Ravikant. "I had just completed my MBBS and taken admission in the post-graduate course. We didn't have an organisation at that time nor any plans to launch one. It was just an instinctive response to an emergency."
As word spread that the KEM Hospital blood bank had platelets, calls began coming to the Dean asking him to help other medical facilities in the city. The Dean summoned Dr Ravikant and asked him whether the campaign was being run by a registered organisation. Anxious not to be caught on the wrong side of the rules, he instantly made up a name – Doctors For You. He said the campaign was being run by Doctors For You and, yes, it was registered.
It is seven years since that landmark day. Doctors For You is now an expanding initiative to train government doctors, improve public health facilities and promote efficient medical responses during calamities. It is as spunky and innovative as the original effort to get platelets for the KEM Hospital blood bank.
"There was a time when doctors were 'only for you'. They were public spirited like Dr Kotnis or Dr Antia. India produces 40,000 MBBS doctors every year these days. But not even one per cent of them are interested in public health or doing something for society," says Dr Ravikant, now 32, and based in Patna.
"Very often many doctors who want to serve society do not find an ecosystem in which they can do so, " Dr Ravikant goes on to explain. In its own small way, Doctors For You provides that opportunity.
There are 15 doctors working full-time for Doctors For You. There are others who provide their services for a certain number of months at a time. An MBBS doctor in Mumbai is paid between `40,000 and `45,000 a month. In Guwahati it is slightly higher at `60,000. A gynaecologist asked to work in Bihar gets `1.25 lakhs a month.
These salaries are at par with government scales, but nowhere near what doctors aspire to earn through private practice. However, the opportunity to make a difference and uphold the true spirit of the medical profession is invaluable.
We got an idea of some of the challenges that a Doctors For You team takes on at the Danapur Sub-Divisional Hospital a few kilometres outside Patna. The hospital is the only major government gynaecological facility in the entire Patna sub-division, but it is in a shambles. Women with newly born babies lie around on steel beds with dirty sheets. The walls are stained. The bathrooms would make anyone sick.
The operation theatre (OT) is defined by an aluminium partition. The man in charge is what is called 'dresser'. The OT lights don't work and so it is under a 200 watt bulb that surgical procedures are performed. Instead of OT tables, there are steel trolleys. It is common for a catheter to be washed under a tap and used again and again.
A disused water filter, donated by the State Bank of India, lies near the entrance to the OT. Images of Kali and Durga adorn the entry point. There is no changing room for surgeons to get into their gowns.
There are supposed to be 26 doctors at this hospital. Six are supposed to be gynaecologists, but only two are actually qualified. The rest are MBBS degree holders with a diploma in gynaecology. There is only one anaesthetist and for most procedures where the patient has to be knocked out, ether is still used.
The wards are all uniformly lacking in facilities. They are also dirty, poorly lit and lacking in ventilation. Women and their babies, some just a few days old, lie around unattended. Relatives sit on the floor.
No medical standards are maintained, but there are drawings of Mickey Mouse and Donald Duck on the deeply stained walls. There is a chart of recommended lower back exercises. A notice tells patients not to tip nurses.
It is in these conditions that the Doctors For You is trying to make a difference by training the government doctors while working alongside them. Funds for the hospital's improvement have come from the Bill and Melinda Gates Foundation through CARE, which in turn has brought in Doctors For You.
The Doctors For You team consists of Dr Narendra Khalpada, a senior Gynaecologist from Nepalganj Medical College in Nepal, Dr, Supriya Kumari , who recently got her degree as a gynaecologist from Maulana Azad Medical College in Delhi and Dr Ravikant himself.
Dr Khalpada is going to be at the hospital for three weeks. Earlier, he spent a week each in government hospitals at Gopalganj, Bettiah and Khagaria.
In all that they do they seek to raise the bar for the rest of the hospital. Dr Khalpada is in a well-pressed shirt and wears a black necktie. It is their job to set an example through superior surgical procedures and interventions and better standards of hygiene.
To us the situation seems hopeless. What expectation can Dr Ravikant possibly have?
"We have to take baby steps. Make small improvements so that the system becomes stronger. We are trying to get a changing room for the surgeons and a professional OT table. Our job is to lead by example. Our way of training doctors is to work alongside them and do a procedure in a better way. When they see that, they pick it up," says Dr Ravikant.
What impact have they had so far? "It is difficult to say because this hospital keeps no data. But, suppose in the past, 60 babies were lost and now half that number are lost, it is an improvement though still not a good record."
If the situation in Danapur is dismal, it is much worse in Bettiah and Motihari and other district hospitals.
In Bihar, Doctors For You finds it difficult to get doctors with good training because the teaching hospitals have collapsed. Worse still, like everyone in the state, the doctors trained here have come to accept Bihar's appalling standards.
"Doctors in Bihar go into the OT wearing chappals, perform surgeries without knowing the patient's name. There are no records. That is why we prefer doctors trained outside Bihar or at least those who have post-graduate degrees from elsewhere," explains Dr Ravikant.
Doctors For You looks for doctors by word of mouth, through its Facebook page and occasionally through advertisements.
Ravikant himself comes from Bihar and is from a lower middle class background. He was fortunate to study at good institutions in Mumbai. It transformed the way he looked at the world.
Doctors For You has succeeded in accessing multiple sources of funding. It takes up projects such as a health centre in Mumbai which is supported by the Mumbai Rail Vikas Corporation as a Corporate Social Responsibility (CSR) initiative. The space for the centre is provided by the Maharashtra government and Doctors For You manages the facility.
It also receives funding of th­e kind it has got from CARE for the Danapur Sub-Divisional Hospital where it is working to improve infrastructure and train the staff.
Finally, it has been training doctors in government hospitals in Uttarakhand, Assam and Delhi in dealing with calamities.
Calamity response was the really first big exposure that Doctors For You had in 2008 when Ravikant brought some 50 young doctors to Bihar during very severe floods in the state.
The mission ended abruptly in tragedy when Dr Chandrakant Patil was struck by lightning and died while working in one of the relief camps. He was a very young doctor who had just completed his MMBS and was junior to Dr Ravikant at KEM Hospital.
His death shook up Dr Ravikant and the other doctors badly. Chandrakant came from a very poor family and many hopes rested on him. After taking Chandrakant's body back to Maharashtra, Dr Ravikant returned to Bihar with six doctors from Mumbai and worked at relief camps for several months.
Preparing the healthcare system to deal with calamities remains at the core of the organisation's mission. But that also means strengthening the government's everyday healthcare machinery.
"It is a process of handholding, of leading by example. Even small improvements give us a lot of satisfaction. Much more than a fat cheque," says Dr Ravikant.
Asked how long he can see himself continuing with this seemingly impossible mission, he replies: "Well, I never thought when I started. So, I suppose I will continue."