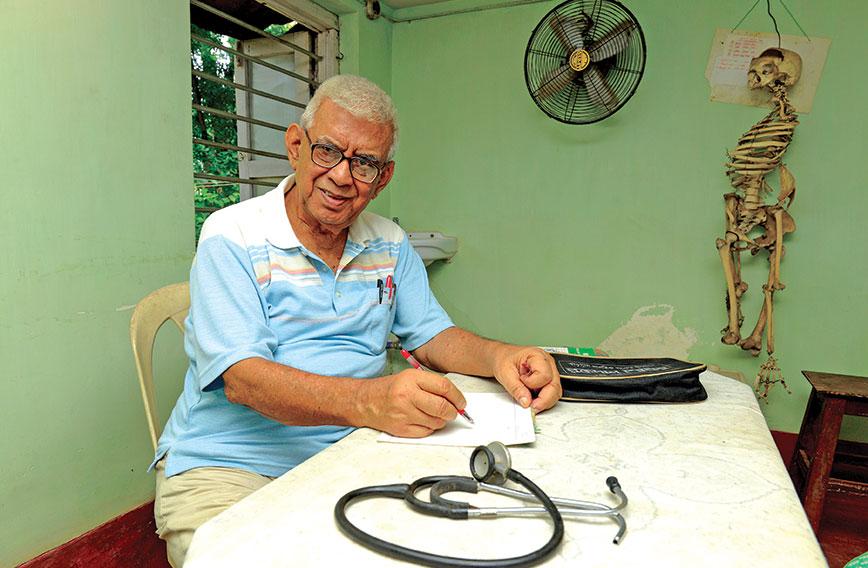 Dr Sitanath De near his home in Jhargram where he still lives
Dr Sitanath De: Jhargram's first surgeon
Subir Roy, Jhargram
Published: May. 20, 2020
Updated: May. 28, 2020
From Civil Society's September-October 2015 edition.
Sitanath De's main interest in life initially was to play football. But very early in life he also helped out his doctor uncle in their native Jhargram as a compounder assistant, sometimes preparing even a complex item like castor oil mixture. The uncle instilled in him the need to someday become a doctor and serve the poor people of Jhargram — then as now, a small town in a backwater region with a significant Adivasi population and then, more than now, extensively forested.
The two worlds of football and medicine came together when young Sitanath, after securing a 'mild second division' in his intermediate science examination, applied for admission to the undergraduate medical course in Kolkata's National Medical College under the sportsmen's quota. The big thing for him was his football skills being tested out by the legendary footballer Goshta Pal. Sitanath made the grade in football, and got in.
In the initial years in medical college his greater interest lay in representing the college in football but the umbilical cord that tied him to Jhargram and its ailing people refused to snap. Every time he came home on a short visit, his uncle had a group of patients ready for him to chaperon to Kolkata for treatment not available in Jhargram. But, steadily, the doctor thing began to grow on him and he became aware of the calling that had been thrust upon him – serving the ill in a rural area where most were poor.
Today, at 80, Dr De is one of that unique group of rural surgeons who have kept the flag of modern medicine flying in a part of the country where 70 per cent of the population lives but is miserably underserved by a bare 30 per cent of its doctors.
What makes his story even more distinctive is he went on to become an FRCS (Fellow of the Royal College of Surgeons), the finest appellation of specialisation that a surgeon anywhere in the world could acquire at a time when British degrees remained king even though the empire was gone. A close acquaintance, who has seen him work in Jhargram for decades, says matter-of-factly, "He could have earned crores but money never mattered."
Seeds of the idea of pursuing a rural practice dug roots when Dr De saw as a young man the result of there being no good doctors around. "Imagine the trauma of a patient who had to go for treatment to Calcutta from a place like Gopiballabhpur on a makeshift stretcher, first by boat across the Kangsabati river, then on the roof of a bus to Jhargram and thereafter by train to Kolkata." After getting his MBBS degree he joined the West Bengal Health Service but on being posted in Calcutta, resigned after three days!
The next milestone in his life was going to the UK to specialise in surgery while working for the National Health Service from 1960. And he knew what he had to do – learn all he could and get as much experience as he could in every branch of surgery from general to thoracic to orthopaedic to ophthalmic to neuro. "My surgery was good and I got a lot of practice," he recalls.
He also boned up on the minimum equipment needed to run a surgery and operation theatre as in a rural area he would have to set things up himself. The one area of surgery he avoided was gynaecology. During his students days in Kolkata while working in the labour room he almost dropped a baby as it emerged from its mother's womb. The nurse in attendance was furious, called him "useless" and advised him not to become a gynaecologist!
In the UK he met Letitia Wilson, now 73, who was reading for her degree in analytical modern philosophy at London's King's College. They got married in 1964. She remembers his main attraction being "very idealistic and strong willed." As happens with sportsmen, he was also "a good decision maker". Her father was a Conservative MP from Cornwall and her parents believed in education. She still teaches youngsters English in a backroom of her house. She was "bookish, wore glasses and we children – I was the youngest daughter – never grew up materialistic," recounts Letitia.
Her family had an India connection and she describes it as a "Raj family". Her grandfather was a civil engineer who came to India in the late 19th century and supervised the construction of the all-weather port in Madras. After being married for seven years, Dr De returned to India in 1971, two small children, aged six and four, and British wife in tow. They became part of a joint family in which there were 19 children and "my in-laws were very good to me," says Mrs De.
Testing times
They rented what was really an abandoned bungalow which had no running water and only single phase electricity. A nursing clinic was set up on the ground floor (the family lived upstairs) using only locally available material, with the operating table built by a carpenter under Dr De's direction.
There was no car, no telephone and if you wanted to call a local doctor to help you with a surgery then you had to go on bicycle. At the Jhargram government hospital there was no X-ray, no ECG machine and for the smallest of things patients had to be taken to the Kharagpur railway hospital. Yet, Dr De never felt things were "too difficult". He was "very cool and calm and the local people really helped," recalls Letitia.
Two weeks into his life as a rural surgeon in 1971 came, not the chance, but the compulsion to conduct his first major surgery. A patient turned up with an easily diagnosed cancer of the rectum. But what could he do? The operating theatre was a blocked-off portion of the verandah with open access from all sides and smell coming in from the drain next to the nearby railway line. He operated on an awkward wooden table whose height was raised when needed by using bricks and instruments were sterilised by boiling them in a large aluminium pan on a wood fire. There were three or four local doctors whom he could call upon for help but none of them was a surgeon. He was able to finally turn away the patient by saying that the four bottles of blood needed for the operation could only be had from the Central Blood Bank in Calcutta.
Then, a month later, the same patient was back, not after an operation but stretching out his hand to offer a bag containing four bottles of blood packed in sawdust and ice and entreating him to please now conduct the operation! The patient had got himself admitted in Calcutta and his operation kept getting postponed. On the third occasion his nephew, with the requisition slip for the blood, took delivery of it and went to Howrah station. He himself quietly slipped out of his hospital bed later and joined his nephew at the station and both took the train to Jhargram with the blood!
Now Dr De had no place to hide. Plus the supreme confidence of the patient in him, an 'FRCS', was "infectious and I felt my professional instincts rising to the challenge." A patient agreed to keep the bottles of blood in his fridge (Dr De's was still coming from the UK) and he then set out on his bicycle (no phones in his area) to contact his local doctor friends.
Two rods were attached to the foot end of the operating table for the patient to be kept in a 'lithotomy' position and a spotlight was organised; gowns, drapes and caps were stitched by a local tailor and sterilised and two simple tables set up for instruments. For the operation, which took two and a half hours, local doctors performed the functions of anaesthetist and keeping an eye on the blood transfusion.
The operation was successful, the patient got two and half years more of quality life until metastasis took him away three years from the operation.
Finally, a clinic
Two years later in 1973 Dr De started his own nursing home, Banaphool Clinic, a couple of houses away from the permanent home he moved into after the first address. It finally came to have a consulting room, a pre-operative area, operation theatre and observation area. Set in ample grounds which had a well, there was a spacious covered verandah.
He used several devices to cut costs and enable himself to function. He trained at least 20 local youth, B.Com failed and passed, to become expert clinical assistants. Some of them remained with him for three decades. One of them with a good handwriting became an expert in maintaining medical records. Plus he got patients' relatives to do much of the nursing. They brought their own provisions, cooked the patients' food, according to the diet prescribed, at a kitchen outside and had a place to stay overnight to keep an eye on the patient.
The result was, the rent the patient paid for a room on a twin sharing basis was `6 to begin with and rose to `10 and finally `12 when Dr De sold his nursing home in 2008. By then there were six plus one bed and a facility was created on the first floor to go up to 20 beds. But that never happened as Dr De could not find another doctor to train who could work for him with his approach.
As a rural surgeon, Dr De's lifelong effort has been to deliver "safe, adequate, effective, affordable surgery at the doorstep of the rural poor." Can this be replicated and how practical is it for the outer reaches of the public health service to deliver this?
Dr De feels that "all but a handful of difficult cases can be safely and effectively treated at the rural block and sub-divisional hospitals. Most of the infrastructure needed is already in existence, along with sufficient trained auxiliary staff which, unfortunately, in most cases, remains unutilised." He is convinced that "our physicians and surgeons should be trained to meet local conditions and needs." Instead, what is happening is "blindly emulating a 'western style' of learning." What is important is that the "administration of local and sub-divisional hospitals must be professionally managed."
ARSI is born
At the annual conferences of the Association of Surgeons of India, he found big new technologies and procedures which were getting more and more sophisticated being discussed but nothing about rural surgery, when a patient had to travel miles for a simple incision. There he met like-minded doctors and out of this was born the Association of Rural Surgeons of India (ARSI) 22 years ago. It has become an active forum for sharing peer experiences and demonstration of procedures, like how to conduct cosmetic surgery in a rural clinic to set right a cleft lip.
With two knee replacement surgeries and the nursing home gone, Dr De is a bit like a grounded pilot whose flying skills are still intact. As we talk, a middle-aged couple comes in, taking someone's name, with the arm of the wife in bandage, having had a fall. Dr De takes a look, feels there is no fracture but still advises an X-ray. They come back after an hour with the X-ray plate, Dr De takes one look, says nothing wrong, asks his wife for a strip of cloth from which he makes a sling for the patient, advises rest for the arm and asks them to go.
They are disappointed that he has prescribed no medicine. The couple make him scribble something and ask him what they should pay. Dr De smiles and says they can pay one rupee, but they leave a `100 note and go away thanking him.
We are lucky we can get this glimpse of the retired doctor at work who will not take us to see his old nursing home which has changed unrecognisably (it has been hugely built upon) both in appearance and the way in which it offers care.
Today, it is one of several large nursing homes in Jhargram with cars and SUVs waiting outside. In Dr De's driveway stands his own Maruti Alto. There is no need to say more.