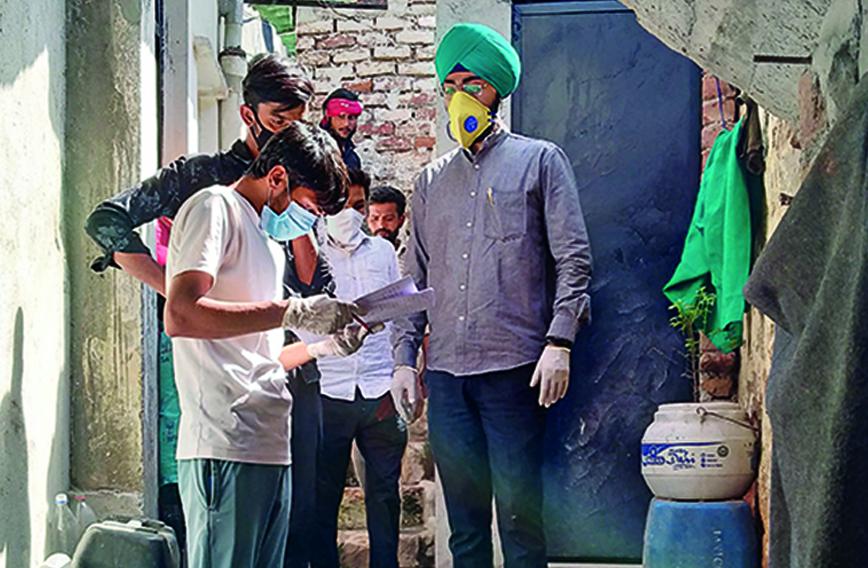 Arvind Singh (right) with his young volunteers distributing ration kits in low-income areas
Bridging Delhi's nutrition deficit in slums
Kavita Charanji, New Delhi
Published: Sep. 12, 2020
Updated: Sep. 12, 2020
Arvind Singh has become accustomed to distress calls for food, late at night. Since the lockdown began, Singh, who leads a health and nutrition initiative by Matri Sudha, an NGO in Delhi, has been distributing rations to needy families in Delhi-NCR with his seven-member team and a group of dedicated volunteers.
Singh recalls a desperate call he got from a family in Gautampuri in southeast Delhi. The family has three children below six, their mother doesn't work and the severely ill father is bedridden.
Matri Sudha sent them nutrition kits. The NGO contacted the Delhi government to get the family connected to the nearest anganwadi centre so that they would obtain regular supplementary nutrition.
"The degree of vulnerability in communities is beyond imagination," he says.
The NGO, which works on health and nutrition in Delhi's slums, transited to doing relief work for the first time during the pandemic. Getting e-passes, moving food supplies, distributing ration kits, providing PPE kits to health workers, were new experiences for Matri Sudha's team.
So far, Singh and his team have distributed 15,000 ration kits, after verification. Each kit contains essentials like rice, wheat, dal, cooking oil, spices and salt. Poorer families are also given masks, gloves, sanitisers and sanitary pads.
Delhi's 10,897 anganwadi centres play an integral role in meeting the nutritional needs of around 434,000 children and over 100,000 pregnant and lactating mothers from low-income homes. While children between three and six years of age get hot cooked meals, younger children, pregnant women and lactating mothers are given take-home rations.
Due to the pandemic, the Delhi government had to close down anganwadi centres on March 6 without an alternative plan. The Campaign against Hunger and Malnutrition, an alliance of civil society groups like Matri Sudha, sent Singh, Deepa Bajaj from Child Survival India and Smita Khanijow from Action Aid Association to meet Delhi's minister for women and child development, Rajendra Pal Gautam. They requested the Delhi government to resume supplementary nutrition for registered beneficiaries of anganwadi centres.
A few weeks later, supplementary nutrition resumed. However, because of the pandemic, the government preferred to distribute dry rations instead of hot cooked meals. So, beneficiaries were given packets of panjiri and groundnuts.
NGOs and anganwadi workers point out that this is not adequate nutrition. Because of unemployment, most families are without an income and malnourishment is on the rise. "I receive grams, jaggery and dalia at my centre. While quality and supply is good, I see more cases of malnourishment among under-six-year-olds," says Kavita Chauhan, an anganwadi worker at Nardan Basti in southeast Delhi, where Matri Sudha has an active presence.
Most cases of malnourishment are of school-going children. With schools closed they are deprived of the midday meal, a key source of nutrition. They aren't registered with the local anganwadi. Their desperate families approached Chauhan for help, but under government rules she doesn't have the flexibility to accommodate them in anganwadis.
"Five or six children in my locality are malnourished," says Chauhan. Alarmed, she reported the situation to Laxmi, a team member of Matri Sudha. The NGO promptly provided rations for these children and also distributed sanitary pads for girls aged 14 to 18 years.
Now, Chauhan comes in twice a week to distribute supplementary nutrition, house to house. She is proud to be one of Matri Sudha's 18 Nutrition Champions in Nardan Basti. The Nutrition Champions act as resource persons in the community who work to improve the nutritional status of children below six, adolescent girls, pregnant women and lactating mothers.
However, Chauhan's work as a Nutrition Champion has been curbed by the pandemic. "Our Mahila Mandal at the anganwadi centre is at a standstill. The idea was to hold regular meetings and counsel adolescent girls, pregnant women and lactating mothers on subjects like menstruation, correct antenatal care, immunisation and breast-feeding practices," says Chauhan. Such work, she says, is carried out on the phone.
The Matri Sudha team has ensured that vulnerable families gain access to the Public Distribution System (PDS). "In the initial days of the lockdown, families who did not have ration cards or weren't covered by the ambit of the PDS were totally food-insecure," says Singh.
After the Campaign against Hunger and Malnutrition approached the Delhi High Court, the state government cleared the e-ration coupon scheme for those without ration cards. Volunteers helped families fill application forms and connected them to the PDS. The e-coupons were valid till June this year. Activists like Singh would now like the state and central governments to extend the scheme till the end of the year.
The Matri Sudha team has volunteers like Praveen Verma, Nitish, Amarjeet, Nitesh Ritik and Sonu who have laboured day and night to package and distribute the ration kits and essential items they receive from donors.
Verma, co-founder of Ishan, an organization of young people, is a partner of Matri Sudha and a member of the Campaign against Hunger and Malnutrition. He and Singh had individually distributed ration kits and essentials in northeast Delhi soon after the communal riots.
"Previously, we used to run a community kitchen where hot cooked meals were given for children in Nardan Basti. We had to assist people to get access to this kitchen. We also had to assess the needs of vulnerable families in Delhi, Gurugram, Noida and Faridabad who had called us for aid," says Singh.
The team held discussions with apprehensive anganwadi workers who didn't have PPE kits to wear when they came to the centres. The workers requested Singh to raise the matter with the government. Other problems included the disruption of immunization coverage and the diversion of ASHA workers and ANMs to Covid-related work.
Through funds provided by donors, the Matri Sudha team distributed masks, hand gloves and sanitizers to frontline anganwadi workers and maternal and childcare health workers.
Singh advocates the Delhi government's doorstep delivery of rations scheme and inclusion of all eligible families in the PDS to ensure food security. He also supports the central government's One Nation One Ration Card scheme.