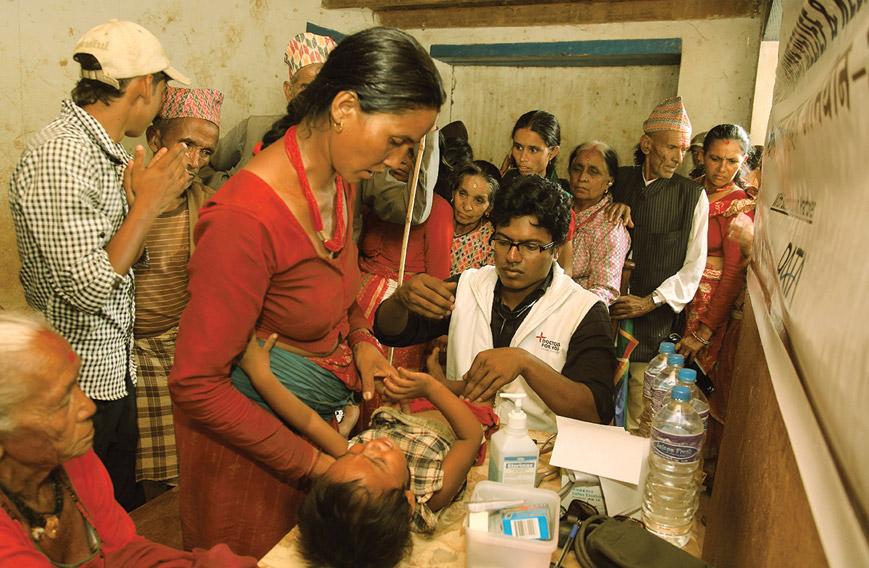 Doctors For You providing medical aid during the Nepal earthquake
Little learning from disasters
Civil Society News, New Delhi
Published: Feb. 10, 2016
Updated: May. 02, 2016
Several major natural disasters in the past few years have destroyed properties, taken lives and pushed tens of thousands into poverty. These episodes have occurred across India and on a scale not witnessed before. Catastrophes in Uttarakhand, Kashmir and, most recently, Chennai, have shown up local administrations as being unable to cope with the huge demands made on them in such situations. Clearly lacking is preparedness to deliver emergency medical aid, rescue people and rehabilitate survivors.
Government can't do without the efforts of voluntary agencies and the latter need the support of the government to be effective. There is an urgent need for shared learning. Doctors For You has served in the trenches of these emergencies. They have been working closely with the Union and state governments and district administrations to provide quality medical relief. As public-spirited physicians it has been their mission to strengthen health services. But what have they learnt in the disaster situations that could perhaps lead to more coordinated efforts?
Right on the top of the list of their concerns is the complete lack of planning. "There is no preparedness for what needs to be done during a disaster," says Dr Rajat Jain, vice-president of Doctors For You. "It is well known that certain areas are prone to earthquakes, floods, landslides or cyclones but there is no planning for what needs to be done during a calamity."
Even in the case of the unprecedented calamities witnessed in Chennai, Uttarakhand and Kashmir it would have helped if there had been at least a minimum plan in place. Across states there is inadequate preparation for worst case scenarios. For instance, if a hospital is destroyed what should be an alternative facility? Or if people have to be rescued and moved out, where should they be put?
"The attitude ...