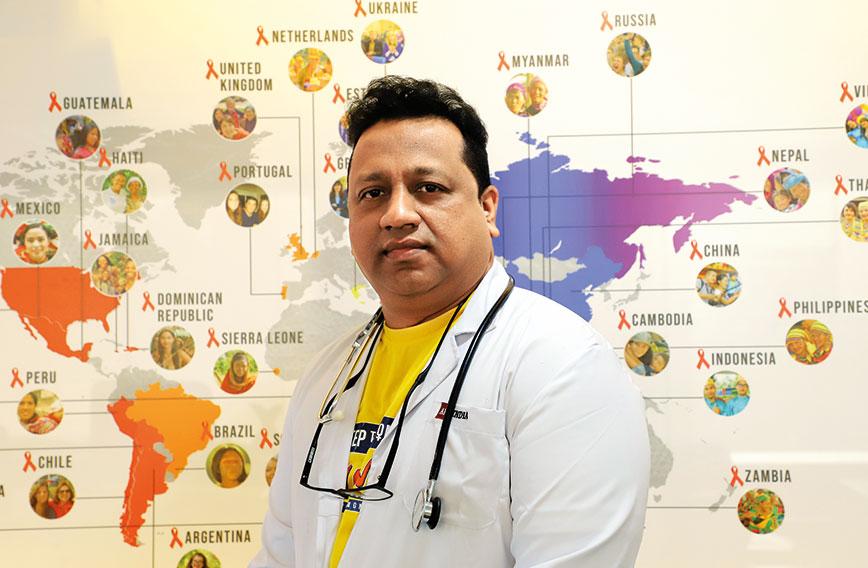 Dr. V Sam Prasad: 'Children are most affected by shortages of medicines for HIV
HIV update: Fewer cases, but stigma, drugs?
Rwit Ghosh, New Delhi
Published: Jan. 11, 2019
Updated: Mar. 25, 2020
During a routine check-up at a government hospital, Janak decided to get himself tested for HIV. Three days later, he was diagnosed as HIV positive. Janak, who used to perform in street plays to spread awareness about HIV/AIDS, never thought that one day he himself would get the disease.
"When the doctor informed me I was infected, I felt like the ground beneath me had shifted. I was sure that my report had been switched. Or I'd been given the wrong report. My daughter was just a week old. If I had HIV, then my daughter could have HIV, my wife could have HIV, and that's all that was running through my head," Janak recalls.
Janak was lucky his family stood by him and they have remained healthy since his diagnosis. But others with HIV/AIDS aren't as fortunate. Stigma and discrimination continue to shadow infected people.
While India has the third largest HIV/AIDS epidemic in the world, it has the second biggest HIV treatment programme. The National AIDS Control Organisation (NACO) was set up in 1992 and collaborations between governments and NGOs have had considerable success. According to estimates released by NACO in September 2018, there has been an 80 percent decline in estimated new HIV infections from the peak of 1995. Similarly, estimated AIDS-related deaths have declined by 71 percent since the peak of 2005. The UNAIDS 2018 report states that 2.1 million people in India live with HIV with a prevalence rate of 0.22 percent among those between 15 and 49 years old.
In the early 2000s, antiretroviral therapy (ART) was given to individuals with HIV only if their CD4 count — a type of white blood cell that attacks infections — was considered low. However, in January last year, India began treating all those infected with HIV irrespective of their CD4 count.
Another progressive development has been the reading down of Section 377 in September last year. Decriminalisation of the LGBTQ community will encourage them to get themselves tested without fear of repercussion, say health campaigners.
The downside
Despite such statistical gains, multiple challenges remain. Concerned that HIV/AIDS is not getting the consistent attention it deserves, health campaigners were keen to speak out on World AIDS Day on December 1.
"We still face issues with low stocks of medicine in government hospitals," says Gautam Yadav, programme officer of the Humsafar Trust, an NGO in New Delhi that promotes LGBTQ rights. "At a government hospital, you might be able to get a month's supply of medicine. The next time you go, you may get medicine that will see you through just one week. Or 15 days. You never know. The medicine is out of stock, you are told. This is a nationwide problem."
"We are facing unavailability of drugs and testing kits, so access to treatment is much less than it used to be. It could have a negative impact on the progress made so far," says Dr Kalpana Apte, secretary-general of the Family Planning Association of India (FPAI).
Ironically, India is the largest producer of ART drugs in the world, supplying them to over 160 countries. India also provides the least expensive treatment, costing less than Rs 30,000 per year. But this amount is still prohibitively expensive for many. In regions where the prevalence of HIV is high, free medicine is distributed.
According to Dr V. Sam Prasad, country programme director of AIDS Healthcare Foundation India, children living with HIV are most affected by the paucity of medicine.
"Pharmaceutical companies are reluctant to produce paediatric formulations of ART medication because the need for them reduces over time," says Dr. Prasad.
"They are aware that there is a defined group who needs those medicines. Investing a few billion dollars in research and development (R&D) to create drugs for 10,000-12,000 children isn't really conducive to their business."
Another issue of concern among NGOs is that funding for HIV prevention, tracking and management programmes have reduced. "There is money for ART drugs, but the preventive part is weak," says Dr. Apte. "On the ground I see the prevention aspect becoming weaker."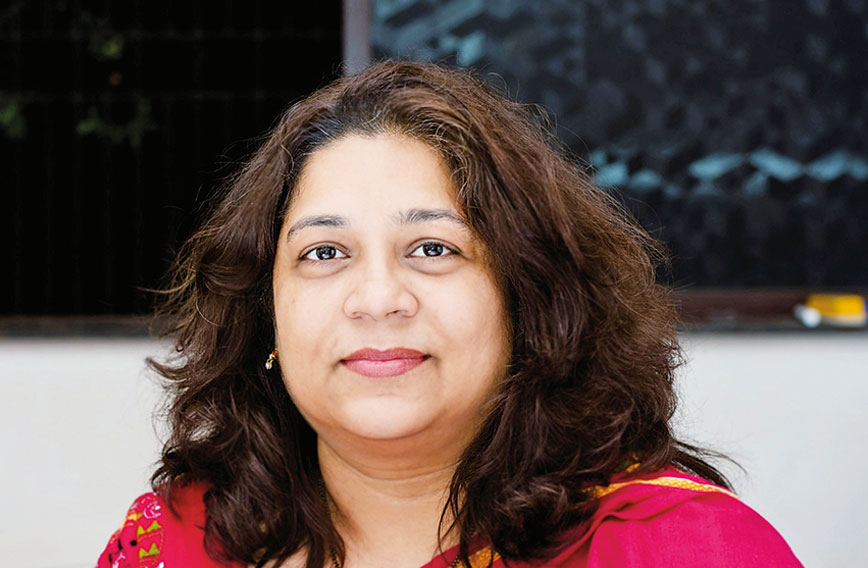 Dr Kalpana Apte, secretary-general of FPAI
Previously the National AIDS Control Programme (NACP) was an independent entity. Now in its fourth phase, it has been absorbed into the Union Ministry of Health and Family Welfare, along with NACO. This, believe NGO leaders, has somewhat diluted the programme.
During its earlier phases, the NACP concentrated on creating awareness and behaviour change. In its recent phase, it has changed tack to focus on decentralisation, increasing the involvement of NGOs and establishing networks of People Living with HIV (PLHIV).
Previously, it would organise community events with affected groups, with a larger focus on prevention. The NACP's targeted approach along with treatment and support events had helped to reduce the rate of transmission of HIV across the country.
There is also a resurgence in the prevalence of HIV in the states of Mizoram, Manipur, Nagaland, Telangana and Andhra Pradesh. In Mizoram, the virus has transited to the general population from the core group of PLHIV.
The current prevalence rate in Mizoram is 2.04 percent whereas nationally it is 0.21 percent which means that HIV is 10 times more prevalent in the general population in Mizoram compared to the rest of the nation.
Countering stigma
A more worrying concern is stigma. Although HIV has been around for more than 30 years in India, people are still very wary about helping those who have the illness, say NGO leaders.
"Two weeks ago, I came across a case where a person who was HIV positive gave an exam for a bank job and passed. He got his letter and everything was in place. After he went through their medical check-up — he had already told them he was positive — they stopped him from attending their training session," says Yadav. In September 2018, the Union government notified the HIV/AIDS (Prevention and Control) Act, which criminalises discrimination against individuals with HIV and AIDS. So, a law to prevent such injustice does exist.
In fact, the person Yadav was referring to, did attach a copy of this law along with his application. But it was ignored. Violating the law is punishable with a fine and a jail term. An ombudsman appointed by the state government can levy a fine of Rs 0,000 initially on the person violating the law and Rs 5,000 per day until the violator complies with the law. A violator can be imprisoned for two years or fined Rs 100,000 or both.
There is general agreement among organisations that work for people affected by HIV/AIDs that stigma prevents people from seeking help, especially those from the LGBTQ community. Stigma isn't confined to government hospitals. It is a problem at private hospitals as well.
"Doctors in private hospitals will not treat patients with HIV/AIDS even if they are willing to pay slightly more for services. They will either not see them or ill-treat them. The respect and dignity of HIV/AIDS patients is not ensured," says Dr. Apte.
To counter stigma and enforce the law, FPAI has been working with the police and doctors. "In Haryana, particularly in Panchkula, we held meetings with the police commissioner and Station Head Officers (SHOs) in police stations. We need to take this understanding down to constable level so that they understand what being gay or transgender means. We also work with healthcare providers to ensure services are not stigmatised," says Dr. Apte.
NGOs have played an important role in the fight against HIV/AIDS. They were the first to take the battle down to village level, where government programmes and policies did not reach. "The NGO movement in India became more active at the grassroots because they realised that the government's machinery didn't percolate down to the last person. It halted at district-level administration. Sub-districts, blocks, villages and panchayats were largely untouched," says Dr. Prasad.
On the upside, it seems likely that India will be able to achieve the 90-90-90 target of 2020 set by UNAIDS, that is, 90 percent of all Indians living with HIV will know that they are HIV positive and need to get started on ART drugs. Ninety percent of people diagnosed with HIV will have access to sustained ART therapy and 90 percent on ART therapy will have viral suppression.