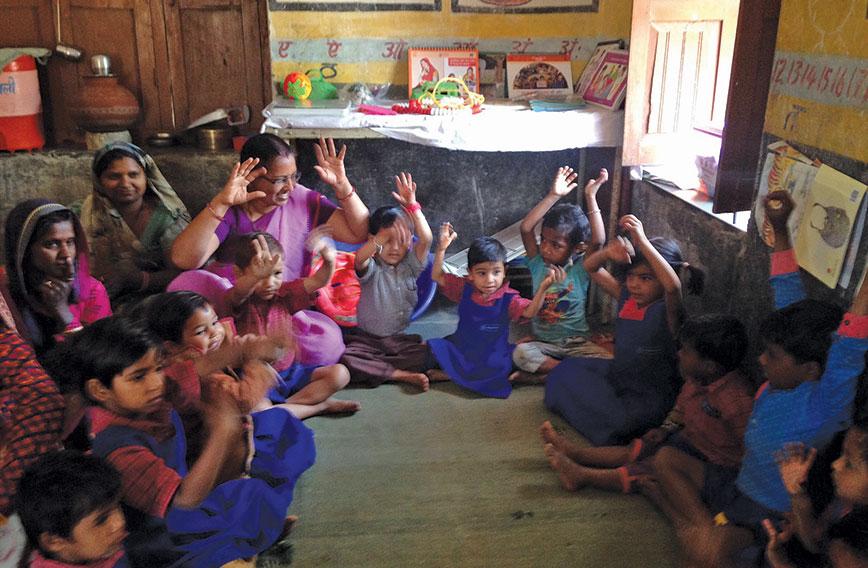 The Khushi programme is bringing children back to anganwadi centres by improving the quality of care
Khushi is improving children's health
Swapna Majumdar, Chittorgarh (Rajasthan)
Published: Apr. 17, 2019
Updated: Apr. 03, 2020
Machli jal ki rani hai
Jeevan uska pani hai
Haath lagao to dar jayegi
Bahar nikalo to mar jayegi
Andar dalo to tar jayegi

Twelve children between three and six years old recite this popular Hindi nursery rhyme about a fish in a sing-song voice, using their hands to illustrate their words. Five-year-old Dharma leads the group, his tiny hands mimicking the movements of a fish and its fate if taken out of water. As he gesticulates how the fish begins to swim again after being put back into the water, his voice suddenly becomes high-pitched and loud. Immediately, all heads turn towards him as the children break into peals of laughter.
The day has begun on a cheerful note at the Gathlia Kheda anganwadi centre in Bhilwara district of Rajasthan.
"When children are happy and keen to learn, it motivates us to do better. The children want to come to the centre. This is why we have almost full attendance and retention," said Snehlata Sharma, anganwadi worker (AWW) at Gathlia Kheda anganwadi centre (AWC).
But it wasn't always like this. Anganwadi centres in Rajasthan have been plagued by poor attendance of children and even poorer retention. This undermined the objectives of the government's Integrated Child Development Services (ICDS) programme to provide non-formal pre-school education and reduce maternal and childhood malnutrition through a network of community-level anganwadi centres, critical in a state like Rajasthan where there are 4,300 children, from six-month-old infants to five-year-olds, with severe acute malnutrition. But in many of these AWCs, a majority of the names of children are only on paper and anganwadi workers are unable to reach out to the children who need their services the most.
This is now changing thanks to a new collaboration between the state Department of Women and Child Development, Rajasthan, and CARE India, a non-profit working for the underprivileged. Called Khushi, this early childhood care and education programme, developed by the non-profit, is doing wonders to bring children from three to six years old to anganwadi centres and ensure they stay for the entire four hours, all six days a week. In doing so, the children are benefiting from nutritious meals and activities that develop their cognitive skills.
Launched in 2016 by CARE India, the initiative has reached out to 541 anganwadi centres in Bhilwara and Chittorgarh so far. The programme, funded by Hindustan Zinc under its corporate social responsibility initiative, focuses on enhancing the knowledge and skills of anganwadi workers to engage with children better and encourage them to come regularly. In Chittorgarh, enrolment has more than doubled, going up from 31 percent to 80 percent over the past year.
Much of it is due to the Khushi cluster coordinators who ensure that AWCs open and close on time. They keep an eye on the attendance, retention and health status of children with the help of a specially developed app to monitor each AWC. Based on the data sent through this app, the programme monitors the growth and development needs of the children.
"In fact, some children have returned to the AWCs a few weeks after being pulled out by their parents and enrolled in private schools. They forced their parents to bring them back. This is one of our happiest achievements," said Akhilesh Dubey, programme manager, Khushi.
One of the biggest outcomes of increased attendance and retention has been the improved health of the children. Sharma, who has been working as an anganwadi worker for the past 22 years at the Gathlia Kheda centre, has witnessed the change. "They get hot meals cooked by Self-Help Groups (SHGs) of women. Many of the members of the SHG are mothers of the children enrolled at the anganwadi. This way we don't have to worry about the quality of the food," she said.
With one in five children being underweight in Rajasthan, combating malnutrition and undernutrition is an important aim of the initiative. Malnutrition in both Bhilwara and Chittorgarh districts is high. The percentage of children under five who are underweight is 44.8 percent in Bhilwara and 43.1 in Chittorgarh. (National Family Health Survey — 4)
Besides holding meetings for expecting mothers and community members to sensitise them to the advantages of exclusive breastfeeding and about newborn care, health camps and home visits are conducted to assess the health of children. Approximately 2,500 children have undergone health check-ups and kitchen gardens have been started at 154 AWCs and homes of children identified as malnourished during such camps.
Teaching anganwadi workers new recipes using the take-home rations given to children at the centres has also contributed to better nutritional status as they pass on these tips to the mothers. So far, 40 recipes have been shared. "Earlier, we fed the take-home rations to the cattle. But after learning new ways to cook it and by adding it to halwa or dal, we have seen how it has benefitted the health of our children," said Sumitra Garg. Her son has been coming regularly to the anganwadi centre in Ghatiyawali, Chittorgarh, for the past two years. Garg is so happy with his nutrition and learning developments that she has brought her three-year-old daughter for enrolment too.
For new mothers like Puja Salvi, home visits by cluster coordinators like Rakshita Sharma in Ghatiyawali have proven to be a lifesaver in more ways than one. "My newborn son almost choked to death when my mother-in-law fed him cow's milk. Had it not been for the timely intervention by Didi who came to check on us, he may not have survived. It was also because of Didi that my underweight baby was identified as malnourished and sent to a hospital. He recovered because she ensured he stayed until he got well," said Salvi.
Her baby is not the only one. Out of 379 severe acute malnourished children identified in the two districts in the past two years, Khushi has given 244 a new lease of life.