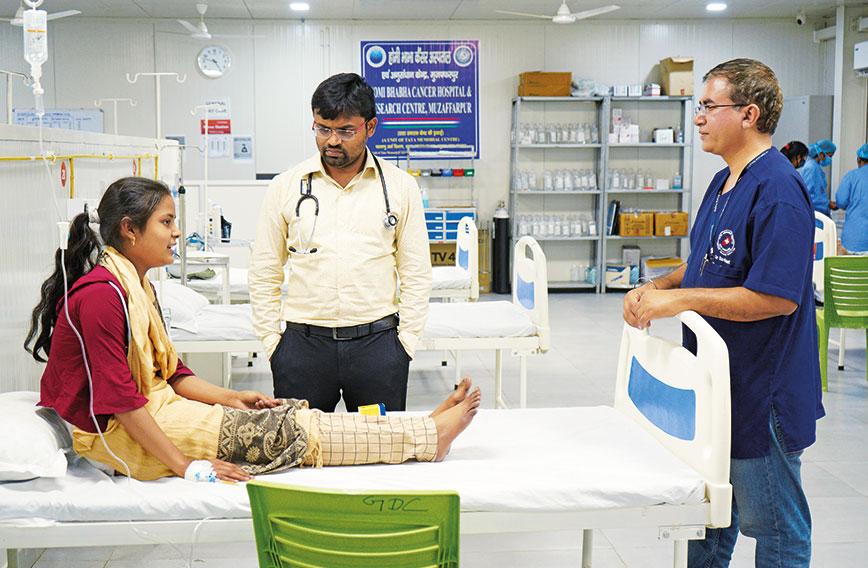 Dr Kishore Kumar Kote (left) and Dr Ravikant Singh in one of the wards with a patient
Muzaffarpur hospital gets going with surgeries, chemo
Civil Society News, New Delhi
Published: Mar. 28, 2022
Updated: Mar. 28, 2022
IT is a year since the Homi Bhabha Cancer Hospital and Research Centre opened its prefab doors to patients in Muzaffarpur, bringing specialized care to this small city and its hinterland in Bihar.

In the short time since services began at the hospital, 228 major and 683 minor surgeries have been performed by a team of doctors brought to Muzaffarpur from all over India.

The hospital has taken in 7,027 patients for day care. Chemotherapy has been administered 5,075 times. And it has handled the deaths of 46 terminally ill patients.

Dependable healthcare is generally scarce in Muzaffarpur. The most basic of facilities either don't exist or fall far short of optimum standards. Till this hospital came up, diagnosing a cancer here, let alone treating it, was a gamble.

But the Homi Bhabha Cancer Hospital has nimbly established itself. It has four surgeons and three oncologists. There are nurses, paramedics, senior and junior residents and administrative staff. There are diagnostic laboratory facilities.

The hospital began by offering clinical services with the first patient registering on February 4, 2021. Now head and neck, breast and gynaecological surgeries are being performed apart from several minor surgical procedures. Cases of blood cancer have been successfully treated.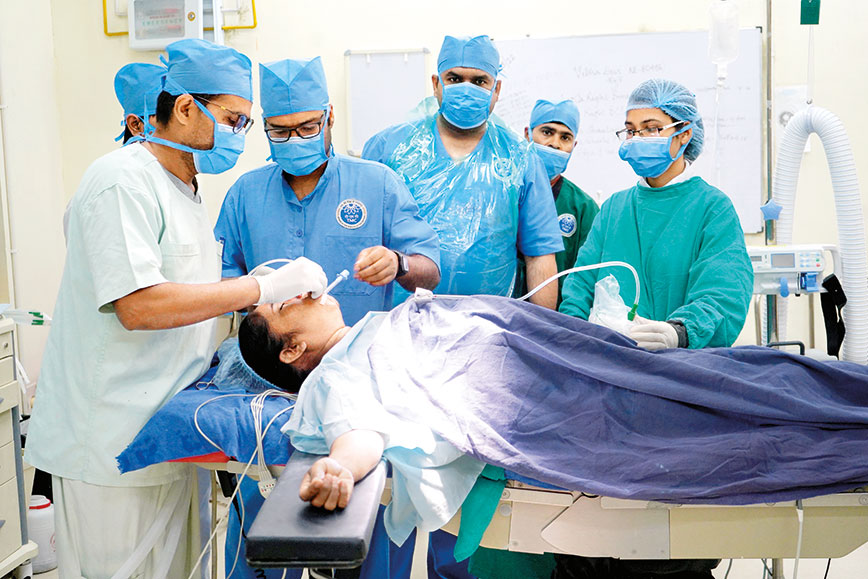 A surgery in progress

The hospital still does not have radiation therapy for which a reinforced bunker is required. It used to lack a full-fledged laboratory, but it has now been brought up to standard with an investment of `7 crore and genome sequencing is to begin soon.

Bihar has a pitiable record in providing public healthcare. If someone has a serious illness in Bihar, chances are that, if the money can be put together, they will head for doctors and facilities with proven track standards elsewhere in India. So significant are the numbers of such patients that they are even noticeable in train bookings.

Imagine now the opposite happening. Think of a technologically equipped hospital with well-qualified physicians and surgeons from other parts of the country showing up in Bihar to offer their medical skills to patients.

It is such a cancer hospital that has become a reality in Muzaffarpur, where even some of the most basic of health services with reliable standards have not been easy to find.

Dr Ravikant Singh, founder of Doctors For You (DFY), the voluntary organization through which doctors serve in hotspots during epidemics and natural disasters, has led the initiative and has been instrumental in attracting medical talent. He has temporarily stepped aside from his role in DFY to be officer-in-charge and associate professor at the hospital.

The medical talent the hospital has succeeded in attracting to Muzaffarpur are not just highly qualified physicians and surgeons, but spirited too. Together with nurses, paramedical staff and administrators they raise the threshold for the quality of services that should be available to patients in Muzaffarpur and Bihar in general. Over time it can be hoped they will also raise expectations and spur demand for higher standards.

Generally, it would be difficult to find doctors ready to go to remote places. They are loath to give up better prospects in big cities. The lack of infrastructure and urban facilities are deterrents. Where would the children go to school? What is there for entertainment? Where does one find a peer group?

Dr Guru Charan Sahu is one of those who has made the shift. He is a head and neck surgeon who decided to forgo opportunities in Kolkata, Hyderabad, Delhi and other cities from where he had firm offers.

He has shifted bag and baggage to Muzaffarpur with his wife, two-year-old son and his parents.

Dr Sahu gets a consolidated salary of Rs 1.2 lakh. If he had taken up any of the other offers available to him elsewhere, he would have been paid about `1.6 lakh or maybe even Rs 2 lakh.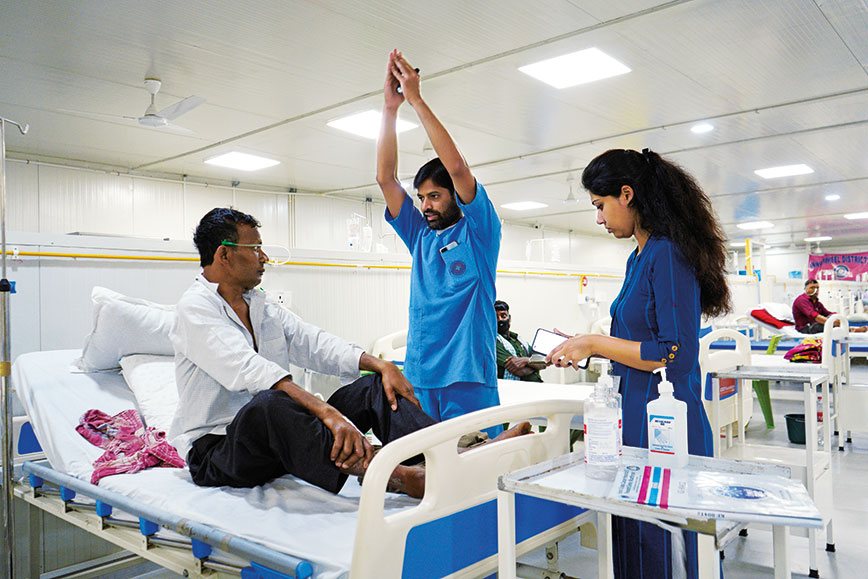 Dr Guru Charan Sahu counsels a patient
But he has no regrets. Working in the hospital in Muzaffarpur makes him feel that his skills are available for everyone and not just those who can afford privatized urban care.
"Private sector healthcare is like a business. Those who pay more can get better treatment. But in the Tata Memorial Cancer Hospital it is the care that matters and it is available for everyone, rich or poor. I like working for everyone," he says during the first conversation we have over the phone.

"I came here because my teachers, Dr Ashish Mishra and Dr Pankaj Chaturvedi, told me that this is where I should work," says Dr Sahu.

Dr Sahu grew up in Behrampur in Odisha. Till Class 10 his education was in Oriya. He then went on to get MBBS and an MS degrees, also in Behrampur. His first employment was also there.

A fellowship in head and neck cancer surgery followed at the Malabar Cancer Centre in Kerala and then he was lucky to get an internship at the Tata Memorial Cancer Hospital in Mumbai. From Mumbai he was sent to Varanasi and it was from there that he moved to Muzaffarpur.

Dr Sahu's small-town and middle-class upbringing, he says, has conditioned his attitude to being a doctor. His father retired as an employee of the State Bank of India and it is from him that he imbibed values that continue to influence him.

"I owe my orientation to my father. He would always say to me that it is much better to do something extraordinary in an ordinary place than be ordinary in an extraordinary place," says the emotional Dr Sahu.

He hurriedly clarifies that he is not calling Muzaffarpur 'ordinary', but it does throw at him the challenges that he might not have to face in medical establishments in bigger cities.
While Dr Sahu is from Odisha, Dr Kishore Kumar Kote is from Andhra Pradesh. He is a medical oncologist and he says he sees all kinds of cancers in his OPD at the hospital in Muzaffarpur.

Dr Kote grew up in a village 120 km from Visakhapatnam. He did his MBBS in Kakinada and got his MD degree at the Devunoori Institute of Medical Sciences in Hyderabad. He then went on to get a DM at the Tata Memorial Hospital in Mumbai.

From Mumbai it was straight to Muzaffarpur. It was a choice Dr Kote made because of the challenges of treating patients in Muzaffarpur.

"I am managing my patients alone and learning so many new things after I came here," he says. "In cancer we are always learning."

"In the Tata Memorial Hospital in Mumbai there are all the facilities that a doctor can ask for. The best high-end investigations are available in minutes. But in this hospital in Muzaffarpur we have had to start from scratch," he says.

"After a year almost all the treatments available in Mumbai are also available here. There is a lot of satisfaction in being able to treat poor people who really need better medical facilities," he explains.

As a medical oncologist, he sees all kinds of cases in his OPD. There are patients with diferent types of cancers who come for treatment.

"Unlike in Mumbai, 98 percent of the patients who come to us here are poor. There is great joy and professional satisfaction in giving them relief. One young woman with a two-month-old baby came to us with a 10-cm cervical swelling, a 10-cm mass in the chest and a 10-cm mass in the abdomen. She couldn't move her neck. But after one round of chemotherapy the swellings have gone. We were overjoyed. Of course, she needs three more cycles of chemotherapy."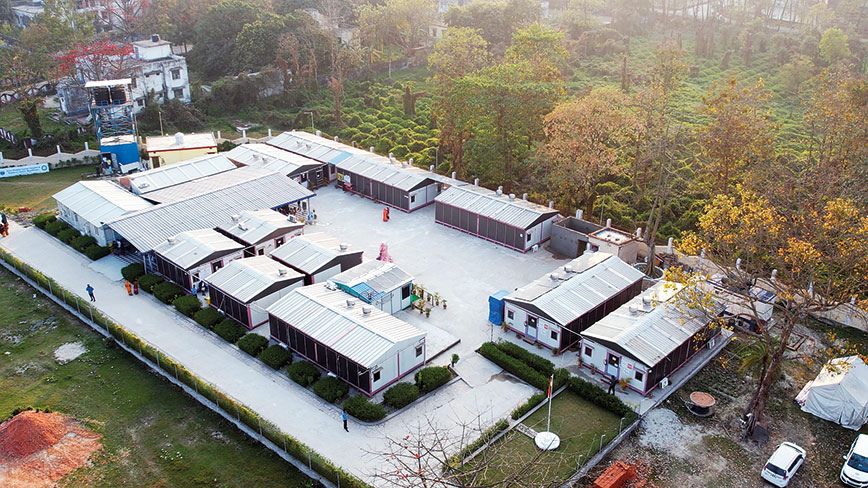 An aerial view of the prefabricated structures of the hospital
With all his qualifications and skills, what does money mean to him? "I respect money. Everyone needs it. If I go out on the street and say I am a doctor I will get respect but no one will give me food or petrol. For that one needs money," he says.

But money isn't everything. The opportunity to deliver high-end care in a resource-poor setting is invaluable for the way it improves the lives of people with no other access to superior medical facilities.

For Dr Tulika Gupta, 34, her role as assistant medical superintendent is an opportunity to build a cancer hospital from scratch. "It is a great opportunity to set up a new institution," she says.

She belongs to Gorakhpur and trained as a dentist. She then went into hospital administration, taking a postgraduate degree from the Sanjay Gandhi Postgraduate Institute of Medical Sciences in Lucknow.

Dr Gupta applied for the post of assistant medical superintendent at the Tata Memorial Hospital in Varanasi. She was finally posted to Muzaffarpur.

"It is important that better healthcare reach different parts of our country. The Tata Hospital is in Mumbai but that is not enough. I am glad to be helping in the process of taking cancer treatment to places where it hasn't reached," she says.

Taking the government health sector forward is challenging, but rewarding too in terms of the exposure. And at Rs 1.1 lakh a month not bad in terms of salary. Muzaffarpur is where she expects to be for the next five years till the permanent structure of the hospital comes up fully.

BACKGROUND
India's public healthcare system is not lacking in design. It is structured to go from the primary to the tertiary levels. But it is badly managed. The different tiers of the state-run system don't work in unison and while the private sector fills the gaps it isn't the solution that millions of Indians need.

So it was that the cancer hospital in Muzaffarpur was envisaged and waiting to be set up since 2018 as part of a larger effort to take better quality care to underserved parts of the country. It is a collaboration between the Tata Memorial Centre and the state government in Bihar and the Department of Atomic Energy, which has provided `198 crore for the construction of the hospital.

The hospital is located in the premises of the Krishna Medical College and Hospital under the Bihar government where 15 acres have been transferred to it.

Even as approvals for building the hospital were given in 2019, the coronavirus pandemic struck. Setting up of the hospital became doubtful. In the best of times, a hospital project in Bihar would be caught up in a lot of back and forth. The virus made it much more improbable.
In the meantime, DFY decided to set up a facility for coronavirus patients in Muzaffarpur.

It found the funding for 100 beds and with a rare inventiveness that characterizes DFY's style it roped in Modulus Housing Solutions, a start-up by two IIT Madras alumni, Shree Ram Ravichandran and Gobunath P., to put up a structure quickly.

But even as these preparations were being made, the first phase of the pandemic ended as suddenly as it had begun. As the number of cases began falling, the beds for coronavirus patients were no longer needed.

DFY then did a pivot and transferred the funding and the plans for the hundred beds to the setting up of the cancer hospital.

The prefab and foldable structure meant for the coronavirus facility got converted into the cancer hospital with the components actually arriving on a truck from Chennai, where Modulus is based.

Modulus was originally interested in the housing market, but during the pandemic it saw the possibilities of using its technology for setting up, on an urgent basis, small hospital facilities for COVID-19 patients.

In Muzaffarpur the same prefabricated structure served to quickly rig together the cancer hospital and the project was up and running in record time.

THE TAKEAWAY
What is the learning from the Homi Bhabha Cancer Hospital in Muzaffarpur?
First is the importance of partnerships. The government and voluntary sector, the Union government and the state need to come together to improve healthcare where it is needed most.

Second is to inspire medical talent to go to those parts of the country where it is needed most. Doctors need a sense of purpose that goes beyond the money they can make from their medical skills.

Third is urgency. Millions await healthcare and the only way of getting it to them fast is by being in mission mode. Hospitals and other facilities have to come up quickly.