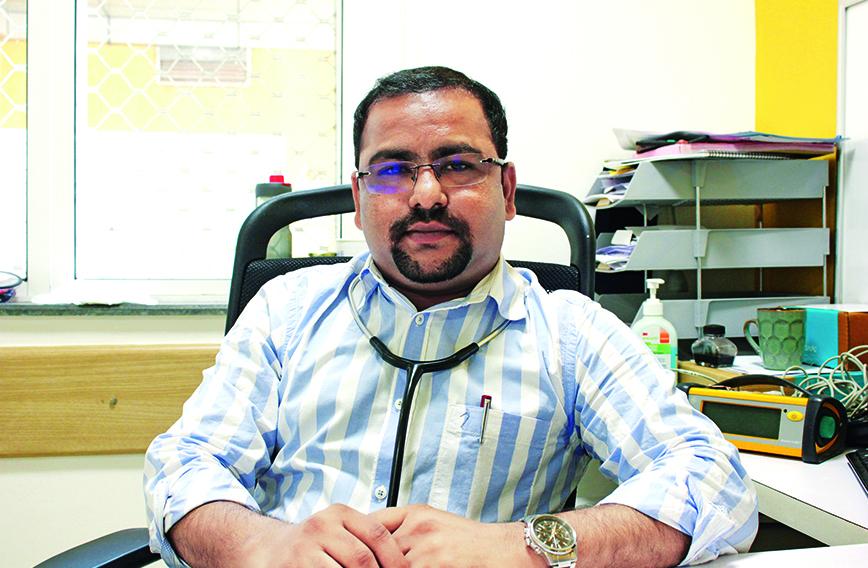 'For lung patients, oxygen gets too expensive'
Ashwini Kamat, Panaji
Published: Mar. 24, 2020
Updated: Apr. 03, 2020
Patients with lung disease need palliative care as much as they do medicines. When medicines stop working, it is only palliative care that will ease their suffering. Sadly, India lags behind in palliative care and oxygen, which is vital for helping patients along, is not just difficult to come by outside hospitals but also expensive and not covered by insurance when administered at home.
Figuring a way out is important because lung disease, in particular COPD or chronic obstructive pulmonary disease, is one of the leading causes of morbidity. India, in fact, has a high number of COPD-related deaths — both in urban areas because of runaway air pollution and in villages from exposure to smoke.
To promote palliative care and create awareness on these issues, nine pulmonologists of Manipal Hospitals have set up the Palliative Pulmonology Alliance. Dr Prabhu Prasad, who is based in Goa where the Alliance is registered, spoke to Civil Society on the concerns the doctors have and the changes they would like to see.
What was the intention behind setting up the Palliative Pulmonary Alliance?
Interventional pulmonologists like me use advanced methods such as endoscopy and other tools to diagnose and treat a wide range of lung conditions. However, when no effective definitive treatment is possible in end stages of lung disease like lung cancer, pulmonary fibrosis and COPD, palliative care is required in managing and alleviating symptoms. It ensures a better quality of life for end-stage patients as long as they survive. Unfortunately, in India, such care isn't very accessible. So, pulmonologists from Manipal Hospitals came together to form the Alliance because we decided that something had to be done about the crying need for such care. Through our Alliance, we intend to promote palliative care for terminally ill patients of lung disease.
Your mission is 'to bring life in every breath'. Could you elaborate on this?
We believe that it is important to incorporate palliative care early in the respiratory disease arena Our objectives are to promote the advancement of palliative pulmonary care, coordinate a uniform and consistent growth of the discipline on the basis of scientific research in keeping with international standards, standardize palliative care interventions as well as provide recommendations for clinical management of patients receiving such care.
How does the Alliance intend to make it easier to access such services?
If you take home oxygen therapy, which most terminally ill patients with chronic pulmonary disease end up requiring, in a government setup, it is easy. The government or the insurance provided through a government scheme as we have in Goa, foots the bill for the duration of the hospital stay. But most patients are put on oxygen therapy at home since they need it for longer durations. This entails a cost and there is no financial assistance provided for it. This is where our Alliance intends to step in.
What are the costs we are looking at?
Oxygen is one of the most expensive and recurring 'drugs'. Since it is charged on a per hour basis, even in hospitals, be it government or private, the costs incurred by the patient are immense. In government hospitals, this cost is borne by the government. But once the patient is discharged and is at home for three to six months or even longer, a large majority cannot even afford to come back to the hospital. Most don't return as they feel that there is no point in going back to hospital as their case is terminal. We want to work on making it simpler and affordable for patients to receive such basic palliative care.
What is the palliative care being prescribed?
Generally, such patients are advised to buy their own oxygen as per their requirement. For instance, if the patient wants home oxygen therapy on a long-duration basis, they have to purchase different oxygen-producing devices such as oxygen concentrators. Such devices, which draw in oxygen from the surrounding environment and concentrate it, generally cost between `60,000 to `1 lakh per piece. Otherwise, patients opt for pre-filled cylinders. Each refill costs around `500 depending on where you are and if such a facility is even available. A refill lasts for around 15 days to a month. It is a mounting financial burden on the patient and the family. We have seen people struggling to provide oxygen to their loved ones even when they cannot afford it.
Does the Alliance have a plan of action to help patients who need oxygen therapy at home?
Right now, we have not formulated a concrete action plan to deal with home oxygen therapy requirement. We are in the process of identifying such hurdles in treatment and care for patients with chronic pulmonary disorders. Eventually, we hope to associate with charities, non-profits and possibly even the government in raising funds, getting subsidies, identifying needy patients and other activities that can help us reach out more effectively. The government is providing assistance to dialysis patients and cancer patients needing chemotherapy. But focusing on home oxygen therapy has proven tough so far.
The number of COPD patients is rising in India. What should be done?
COPD is one of the leading causes of disease and morbidity in India and in the world. It is the second or third leading cause of mortality in India. In fact, India's COPD mortality rate is among the highest globally. COPD is not merely a smoker's disease anymore, especially in India. In rural areas, we have people being exposed to smoke from biomass fuel and in urban areas people inhale polluted air and fumes all the time. These things pose a great threat to our respiratory health. We have suddenly started seeing quite a lot of such patients as well as pulmonary fibrosis patients, who need home ventilation and home oxygen therapy.
Contact Dr Prabhu Prasad on +917774014097 or email docprasadmaximus@gmail.com