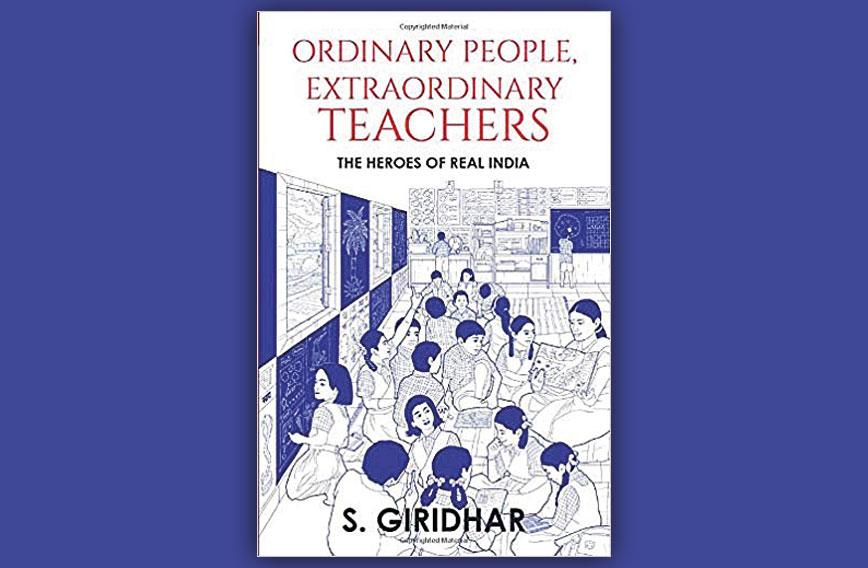 Teachers as heroes and rural schooling
Civil Society Review
Published: Feb. 27, 2020
Updated: Apr. 23, 2020
An unusual yatra from March 2017 to November 2018 gave S. Giridhar the material for this heartwarming book. In his search to understand the human aspect of schooling, its daily rhythm, the teachers, children and parents, he went to 110 government schools deep in the villages of Karnataka, Uttarakhand and Rajasthan.
In nondescript schools, he came across teachers passionate about their work, seriously striving to provide schooling of high quality. Their work went way beyond the call of duty. This isn't a sarkari job, they told him.
In rural outposts, teachers are on their own and the ones profiled in this book display outstanding enterprise. They went to homes in the village, marketing the idea of schooling to poor and illiterate parents who paid considerable sums to send their children to private schools. They lobbied to get more teachers, build a library, provide sports facilities, and invent new ways of teaching. They appealed to well-off people for money. In short, they built government schools from scratch, often paying from their own pockets.
The Azim Premji Foundation (APF) works on improving education. Giridhar joined when it started in 2002. The foundation now has field institutes in 46 districts and a team of 1,500 people work with teachers and officials in the education system to strengthen their capabilities.
Instead of talking down to teachers, APF has helped them network and form Teacher Volunteer Forums (TVF). It has also set up Teacher-Learning Centres (TLCs) in districts, where teachers share methods of learning and get introduced to newer ones.
Giridhar went to schools in Uttarkashi and Udham Singh Nagar in Uttarakhand, to Tonk in Rajasthan and Yadgir in Karnataka. Every one out of four or five schools was identified by APF as being a good one, an interesting statistic. Things are changing in rural government schools.
The first section of his book is appropriately titled 'The Head teacher as CEO'. It has around nine profiles. Most head teachers, he writes, have two priorities: to develop a rapport with the community and outclass private schools. The head teachers do both with aplomb, going door-to-door persuading parents to send their children and ensuring their school has all the hallmarks of their rival, the private school. Read how Krishna Kumar Sharma, head teacher of a government school in Udham Singh Nagar, got children, employed as labour in a seamy locality infested with gang lords, to join his school.
In another school, Sarita, a head teacher, realized private schools were favoured by parents because they offered nursery and KG facilities. So she encouraged children to bring their siblings to school. Head teachers also personally coached children so that they could get admission into prestigious government schools like the Navodaya schools.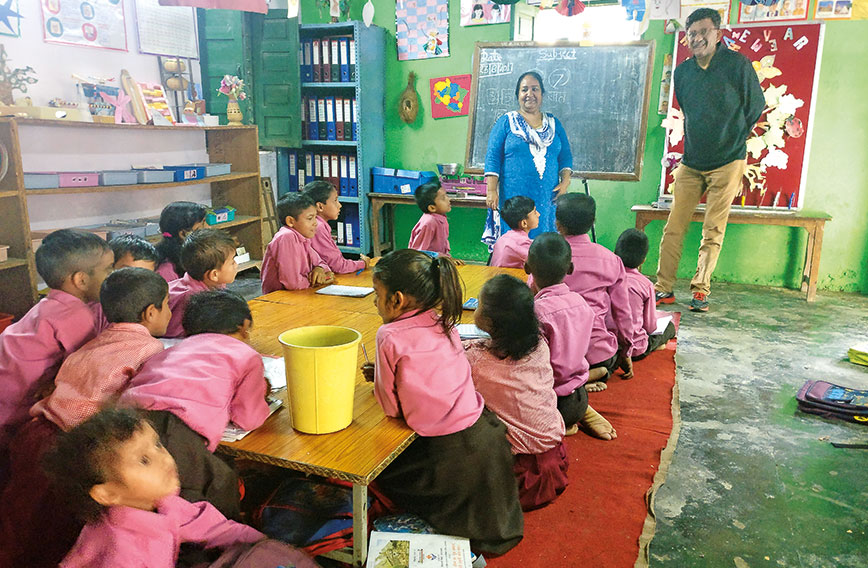 The author at one of the schools he visited
Read also about how Harish Singh Rawat won the appreciation of parents by organizing an impressive annual day on the animals of Corbett Park, by taking children on excursions and by providing uniforms, just like private schools.
The second section, 'Reflective Practitioners', profiles teachers who in their quest for self-improvement have introduced or invented new teaching techniques. They take advantage of workshops like the Learning Guarantee Programme by APF and Keli Kali, an All India Radio programme for primary schoolchildren.
Madhulika, a teacher in Uttarkashi, adapted what she learnt from a Rishi Valley School workshop. She introduced News of the Day where children write about news in their lives. Govind Prajapat, a teacher in Rawta Deoli block of Tonk district, invented small wooden blocks from leftovers in a furniture shop to teach maths.
There is Shoorvir Singh Kharola whose skills at teaching science and maths are legendary in his district. His school has geo boards, a fraction wall, a game board, pictures and mock-ups of mushrooms, frogs, moss, lichen, and more. He connects maths and science with everyday reality. The best rural teachers seamlessly converged language, maths and science.
Section 3 is on 'Equity and Quality'. Rural government schools attract the poorest and most deprived children. Parents tend to send their girls to government schools and the boys to private schools. So how does a teacher ensure all children get attention, become confident and learn? A few guidelines seem to be followed. Make learning fun. No child should be afraid to ask questions. Set up a library. Insist on a morning assembly. Encourage children to learn in groups. Ensure discipline.
In a later chapter the author also underlines the importance of team work. It works wonders in school. He cites some of the Model Schools in Uttarkashi as an example of team spirit. In one such school, all the teachers opted to wear a uniform. Read also about Shankar, a weaver who became a teacher and with Kamlesh, another teacher, converted a one-room school into a three-classroom school with 44 children.
The chapter titled 'Heroes' is about individual heroism of a high calibre. "These teachers weren't just extraordinary, they were eccentric in their zeal," writes Giridhar. Dharamvir Singh Chauhan understood that sports was transformative and strove to introduce it in his school. Anish, the teacher of Talabpur Primary School, paid umpteen times from his own pocket for infrastructure and facilities. He took no leave even when his mother was grievously ill and is transforming his school into a model school. Achapa Gowder converted two classrooms in his school into a hostel at night so that children whose parents migrate seasonally don't miss school.
This is an important book, engaging and insightful. It brings to light all the ingredients which make a rural government school superior and truly valued by the community. Giridhar's recommendations have implications for the National Education Policy.
India has 100,000 government schools. The author went to 110. Big change often begins with a single step.