Partnerships and big ideas where they really matter
Ratna Viswanathan
Published: Nov. 23, 2018
Updated: Feb. 20, 2019
The Path Ahead is a collection of essays penned by people who are experts in the sectors they write about. It has contributions from Dhiraj Rajaram, Nachiket Mor, Ashish Dhawan, Nivruti Rai, Adi Godrej, Tushaar Shah and many more luminaries.
Numerous writings in the book focus on business models, the economy, infrastructure, innovation, research and design, digitalisation as distinct from digitisation, sustainable finance, financial inclusion and a host of areas of equal importance to the burgeoning nation that India is.
Amitabh Kant, CEO of NITI Aayog, has put together a carefully curated collection that focuses on the way forward and the need for catalysts for transforming what is good to great. In a fast-evolving transition powered by technology, inclusive economics, industrial innovation and a young demography, India is at a sweet spot and has to leverage its advantages here and now. Big data is the new oil and where better to put it to use than in a country with the finest brains to catalyse this for transformation?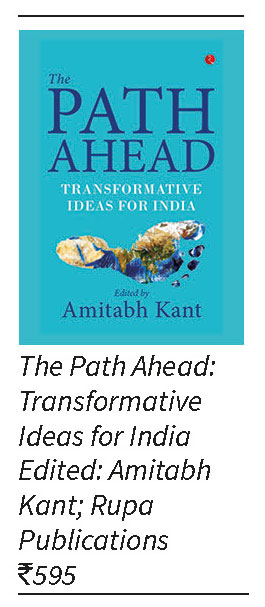 This collection of essays is a timely publication, considering the change in thinking and ways of doing that we as a country are seeing on several levels. Enablers and disrupters are redesigning how things have worked traditionally. Blockchain technology and the Internet of Things are revolutionising strategy and implementation in traditional sectors where previously human touch was thought to be the only feasible option.
The thought leaders writing in this book are in the process of catalysing approaches to various sectors, whether it be health, education, banking, or delivery of services – both financial and non-financial. The common thread that runs through all this is impact and outcome. Traditional financing and investing is being rethought and impact investing has grown into multitrillion-dollar figures. The key to growth is sustainability as charity can stretch only so far and no further. It is important for today's entrepreneur to engage with the triple bottom line, overlooking which has substantial costs both for the planet and businesses.
The thought that has gone into putting this book together reflects the perspective Kant has gained through his own learnings as a bureaucrat and his understanding of governance and growth dynamics. There is an inherent recognition of the need to revitalise agriculture, alongside the progress made in industry, as the larger part of the population lives in rural India. There is also need to leverage on private sector funding and technology for public good and skill development is key to informed growth.
The whole emphasis is on innovative finance and impact investment with a purpose. Industry is looking to partner with civil society and not-for-profit entities in the quest to provide a better quality of life, sustain agriculture and unorganised sector growth as these are the large employers. The United Nations' 2030 Agenda on the Sustainable Development Goals must be met by India and to this end blended finance, and sustainable bonds are sources that need to be further explored so that these goals can be delivered.
As Kant explains in his introduction to this very useful collection, there are several innovations underway that are slowly and surely transforming India. He cites the example of the Public Financial Management System (PFMS), the Pro-Active Governance and Timely Implementation (PRAGATI) programme, the United Payment Interface (UPI) and the Bharat Interface for Money (BHIM), to name a few schemes already underway. He states that blockchain and Artificial Intelligence (AI) solutions are great enablers that can find solutions to improve agriculture, health, water, sanitation, and ease of doing business.
The book makes for interesting reading as it focuses on varied aspects of technology, financial trends and incorporation of emerging trends to accelerate development. It is a good reference point for practitioners and those curious to understand the emerging growth blueprint.
The book touches upon different sectors of development – human capital, brand building, uplifting rural India, finance and income. The authors explain the demographics and then list the benefits and the drivers of the technique. The idea of utilising funds to transform the healthcare and education industries is the need of the hour. And that is the pivotal point of all the chapters.
Well-written and structured, this book is for entrepreneurs who are trying to make a name for themselves. Although the idea of entrepreneurship or business is a far cry for me, it is understandable how our country can develop through it. Instead of indulging in falsification and being armchair critics, it is high time citizens take a stand and become change-makers. ν