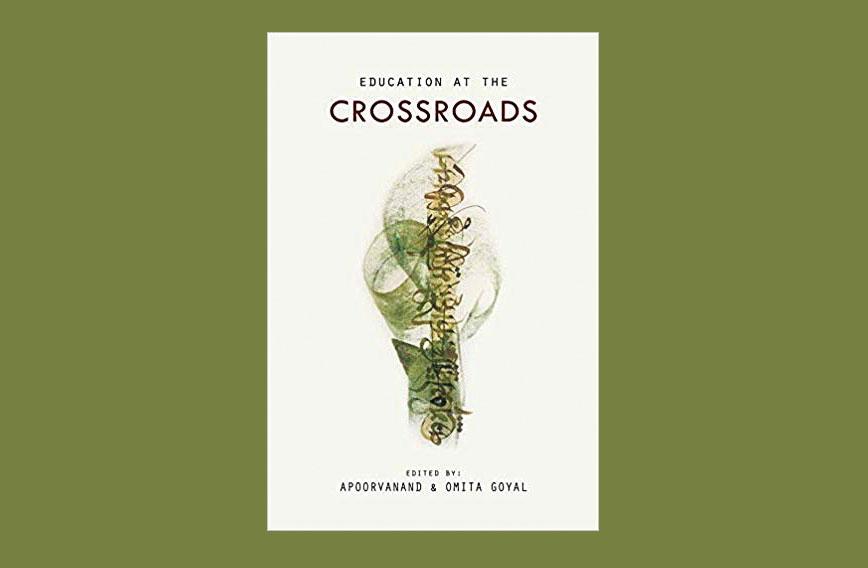 On Campus: Essays on the problems in education
Civil Society News
Published: Feb. 16, 2019
Updated: Feb. 20, 2019
Education at the Crossroads is about a range of issues that bedevil higher education and school education in India. Edited by Apoorvanand and Omita Goyal, the book consists of 19 essays with a well-written foreword by Karan Singh.
The good news is that in the past two decades higher education has grown exponentially in India. We now have the largest system of higher education in the world. More children, especially girls, are going to college. In fact, 46 percent of students enrolled in colleges are girls. The percentage of SC/ST students has also risen, though Muslims continue to lag behind.
The flip side is that much of this growth is led by private, profit-driven entities who offer education of poor quality, says this book. According to the All India Survey of Higher Education (AISHE) report, 75 percent of India's colleges are now private, including 233 out of 723 universities. The government's own colleges and universities — historic and still prestigious — have been left to languish. Most are in a state of collapse with teachers hired on a contract basis.
The essays, written by professors, researchers, people working for NGOs and school educators, raise specific issues of contemporary concern.
There is demand for autonomy in higher education. Udaya Kumar in "The University and its Outside" talks about the troubled relationship between academia and the State. In recent years the State has intruded into universities to impose its own objectives. It wants to expand education through technology, convert universities into skills factories and impose a toxic philosophy of learning, all of which shouldn't be the objective of learning, writes Kumar. What teachers need is freedom, writes Sudhanshu Bhushan in "Challenges of Higher Education Policy". He appeals for empowering teachers through what he calls the capability approach.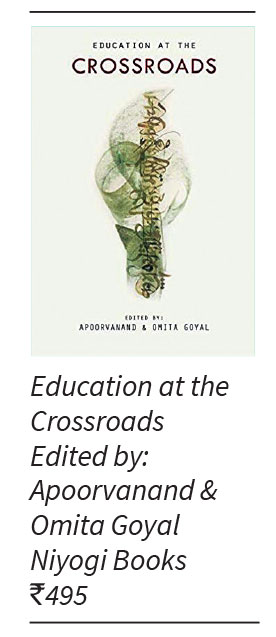 Secondly, the increased commercialisation of education is worrying educators. Jyotsna Jha in "Education India Private Ltd", points out the many wily ways in which schools hike charges. There are 'differential fees' for special classes. Tech solutions or costly online courses are pushed onto parents. Jha is critical of the rise of utility courses, like engineering, with no links to the social sciences, and the demeaning of skill-based courses. Also, there is no measurement of quality in higher education, she points out.
Apoorvanand's piece on MOOCs (Massive Open Online Courses) questions the government's enthusiasm for online learning which, he writes, is driven by global education interests, the second largest market after healthcare. He claims that the fervour regarding such courses is ebbing. Most users are mid-career professionals who find such courses useful for up-skilling, and teachers. He underlines the importance of brick and mortar structures. Teaching thrives on engagement. Colleges create communities and are beehives of learning. MOOCs, he writes, are really just add-ons to learning and can't replace the university system.
In recent years, there has been lobbying for low-fee private schools. How much do parents really pay? Manabi Majumdar and Sangram Mukherjee calculate the expenses of sending a child to a low-fee private school and juxtapose this figure with the cost of sending a child to a government school.
They find that as much as 25 percent of the median monthly per capita expenditure of indigent parents goes on low-fee private schools at primary stage in rural India. In urban India the expense works out to 20 percent. Apart from fees, parents spend on stationery, books, uniforms, transport and private coaching. Expenses in government schools are much lower. Since most government schools in rural India are closer to home, parents spend less on transport. But, regardless of whether the child goes to a private or government school, parents spend on private tuition.
Not much has been written about how parents from artisanal, Dalit, nomadic and labourer communities see the school system. Salai Selvan and V. Geetha in "Parenting at School" research this aspect in Tamil Nadu. Most parents go to work early morning, leaving their eldest daughter to look after her siblings. There are a few schools which adjust to these realities. One even permitted a seven-year-old girl to bring the children along and provided space for her to look after them. Another school, Vanavil, adjusted its curriculum and ambience to retain children. Two of their students now go to college and parents love the school.
"A Silent Revolution" by Mary John is about the pervasive sexual harassment that girls face on the campus. Colleges haven't come up with processes that would enable girls to transit from their protective homes into the wider world without limiting their freedom. Instead, college administrations respond by imposing fierce protectionism and policing. In recent years, campuses have erupted with demands for equality and safer campuses across colleges. There is the Pinjra Tod movement in Delhi University, Hyderabad for Feminism in Hyderabad University and the Hokkolorob movement in Jadavpur University.
Other pieces in this book reflect on why use of the vernacular languishes in higher education, on teaching poetry, and on the value of indigenous knowledge. Farah Farooqui writes an excellent essay, "School in a Ghetto". It's about her experience as the manager of a government-aided Muslim majority school in the Walled City of Delhi and the fears and aspirations of the children.