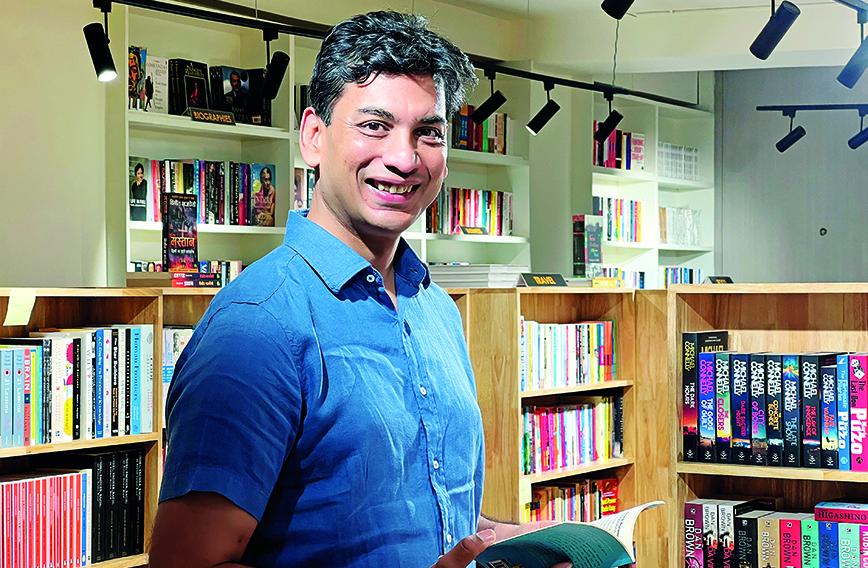 Ajay Jain: Staying debt-free, keeping overheads low and owning the real estate
Beating the bookstore curse
Published: May. 11, 2023
Updated: Jul. 29, 2023
AT a time when bookstores are rapidly closing across India, Kunzum is a rarity. It is Delhi-NCR's fastest growing chain of bookstores. In fact, the first Kunzum bookstore opened in Hauz Khas Village in March 2022, just after the pandemic forced ailing bookstores to finally pull down their shutters.
Two months later, in June, another four Kunzum bookstores popped up in quick succession — in Jorbagh, Vasant Vihar, Greater Kailash-2, and at DT Mega Mall in Gurugram's upscale Golf Course Road.
What could possibly have inspired Ajay Jain, author, traveller and photographer, to open so many bookstores?
On the face of it, with bookstores in decline, the timing of Kunzum's entry into the book market couldn't have been worse. Big bookstores are feeling the pinch of exorbitant rentals, while fierce competition from online platforms like Flipkart and Amazon, and e-books are proving to be impossible competition for bookstore owners.
But Jain has turned the common bookstore model on its head. He buys the real estate where his bookstores are located and frees himself from the tyranny of high rentals. His stores also offer the experience of being among books and aren't blandly transactional. Book buyers become part of a community. He is also upbeat about the book business and is setting his sights on the future in the belief that people are actually reading and the printed book is far from dead.

"I read an assessment somewhere that bookshops are not failing, bookshops run by lazy booksellers are failing," says Jain. He explains that even in technologically advanced countries like the US, audio books and e-books account for barely 15 percent of all books sold and read. More than 80 percent of books that people read are still in print form.
In the relaxed ambience of the Kunzum bookstore in south Delhi's Greater Kailash you can browse, read or buy a book that catches your eye over a leisurely cup of coffee on the house.
You can spot Salman Rushdie's Victory City, Prince Harry's tell-all book, Spare, actor Kabir Bedi's memoir, Stories I Must Tell: The Emotional Life of an Actor, and historian and writer Ramachandra Guha's daunting tome, India After Gandhi.
There are well-stocked sections of classics, graphic novels, bestsellers, coffee table books, children's books, titles on films and music, travel, science, environment, self-help books and books for management types, basically everything you might want. The second floor showcases the best of Penguin titles worldwide. And on the third floor there is Theatre Kunzum, a space for live events.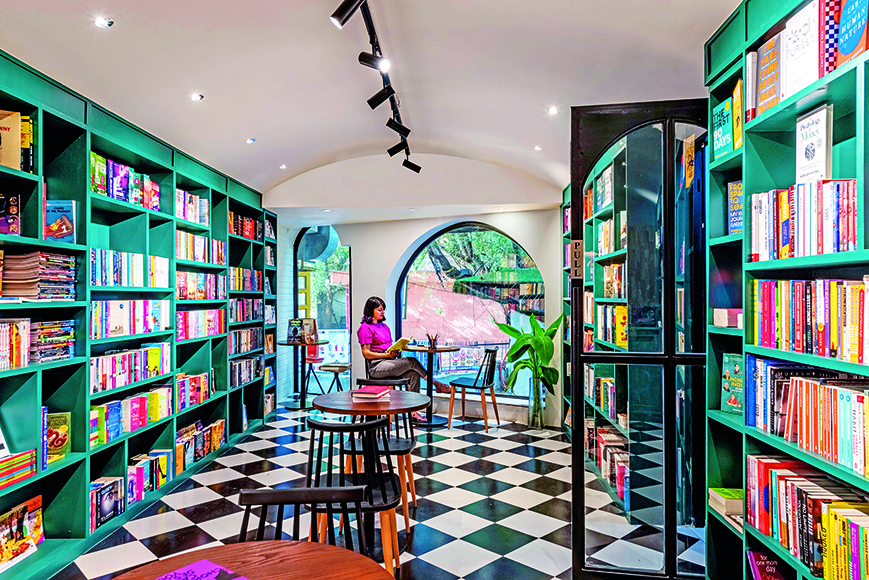 Browse books at your pace
Jain says he didn't want to set up just another bookshop. "We wanted to have a space that addressed a larger purpose which was to promote readership, make people come in, browse books in a relaxed atmosphere and strike up conversations. With narrow aisles, most bookshops are stocked top to bottom with books. Customers just enter for transactions and if you just focus on a bookshop which is transactional in nature, then it is no different from Amazon," he says.
Though the Kunzum bookstores were launched recently, their roots go back to the iconic Kunzum Travel Café in Hauz Khas Village. Started by Jain in 2010, the café was originally a private gallery for his own photographs and books. It was a 'pay as you like' space for slam poets, musicians and other creative types to hang out and hold events. Soon he had created a little community in Kunzum Travel Café. Business looked good with almost 200 events a year.
Then the pandemic struck, and Jain was back to square one. He used that time to rethink his future. He felt that he could leverage the Kunzum Travel Café brand and community angle to set up a chain of bookstores. A side perk of the business was the opportunity to sell his own books, like his novel Nikita, a coffee-table title Indians and a slim self-help book, Don't Feel Stupid at 60 — to name a few.
Instead of scouting for places on rent, Jain decided to sell off family property and reinvest the money in his bookshop venture. That gave him freedom from commercial pressures and landlords squeezing him for higher rents.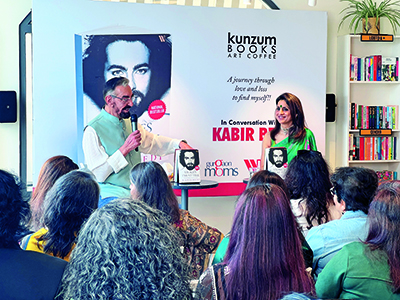 "I decided to operate these businesses in an old-fashioned way by using the wisdom of our fathers and grandfathers, like staying debt-free and keeping overheads low," says Jain. Otherwise, he explains, his rental overhead would have been 30-40 percent of the overall running cost. "The only reason why legacy bookstores like Bahrisons and Faqir Chand survive is because they own the property," he says.
So, Kunzum isn't just another run-of-the-mill bookshop. It is pitched on the tagline, 'Curation, community and convene'. You can take your time to ferret out books you'd like to read.
Frontline community managers add a personal touch as they discreetly interact with buyers and suggest titles when customers are confused about what to choose. There are leather-or cloth-bound classics, plus bestsellers and graphic novels. You'll find The Diary of Anne Frank, 1984 and a host of others in graphic form at Kunzum.
"I am trying to promote graphic novels. They are catching on because they are easier to read than in text form," says Subir Dey, Kunzum's curator-at-large who also organizes events and author interactions at the bookstores.
"The idea is to evangelize a return to reading of books that has tended to die down because of the instant gratification offered by OTT platforms," says Dey.
His view is that traditional bookstores are in trouble because they haven't evolved over the years. In contrast, Kunzum is a lively bookstore. It has a 40-member team constantly on their toes when discerning customers ask for special or new editions of books.
It also organizes book launches, discussions, readings, workshops, music gigs, poetry slams and more at its five bookstores, all of which attract locals.
Readers get the opportunity for face-to-face interactions with authors, designers, editors, publishers and other creative personalities at events.
Popular draws in the recent past at GK-2 have been interactions with Daisy Rockwell, American translator of 2022 International Booker Prize winner Tomb of Sand by Geetanjali Shree, and charismatic actor Kabir Bedi.
Jain's marketing strategies to promote Kunzum books are smart and fun. The Kunzum CEO Book Club promotes a corporate reading culture through regular events. That includes invitations to corporate leaders to talk about their favourite books. There is even an LGBTQ themed book club. Then there's the Pre-Loved Book section, like a free library, that allows the buyer of every four new books to borrow one, keep it for as long as they choose and exchange it for another.
For children there is Kunzum Book Bees with its sessions of storytelling, creative writing, book readings, contests, interactions with authors and designers, games and prizes. Some of the clever initiatives for children, says Deepti Tandon, Children's Programme Manager, are reading parties and 'passports' that are stamped when young readers cross a certain number of books they have bought and read.
The Kunzum Travel Café has been rebranded as a bookshop in Hauz Khas Village, even as the others gather momentum. Though sales have been good since Kunzum opened shop, the time is opportune for going into overdrive, Jain believes. He is open to the idea of a franchise model but only if partners can take forward the culture and ethos that Kunzum has so carefully crafted.