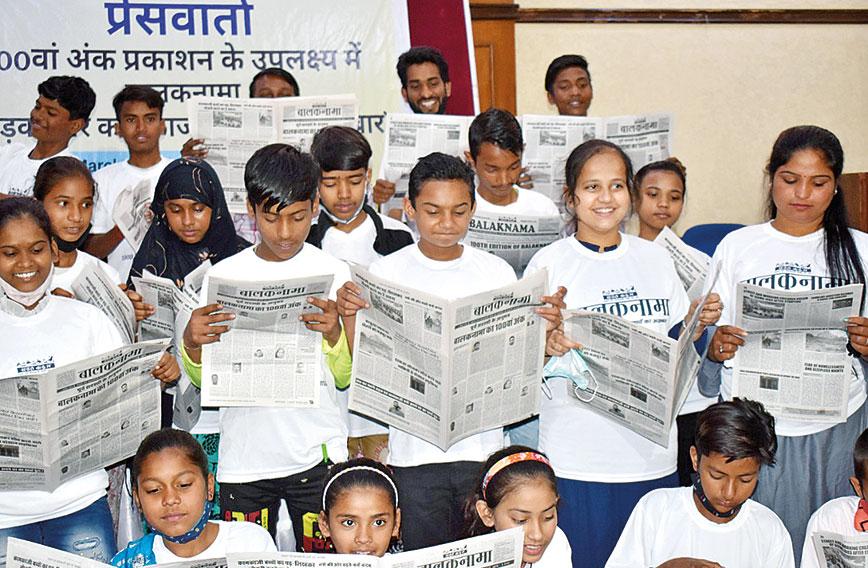 Balaknama: The street child's newspaper
Kavita Charanji, New Delhi
Published: Apr. 13, 2022
Updated: Jun. 22, 2022
IT was an emotional moment for the editorial team of 32 children who gathered at the Press Club in Delhi to celebrate the 100th edition of their newspaper, Balaknama. Many of them had really struggled to be where they are today.
Balaknama has changed the lives of thousands of street and working children. A bilingual monthly newspaper published in Hindi and English, it has covered over 4,000 news stories over the years, with 400 children as reporters and editors.
"I am really happy to be the editor of Balaknama," beamed 19-year-old Kishan. "When I toiled as a gutka seller, it was difficult for me to imagine that I would play this role. Thanks to the NGO, CHETNA, which encouraged me to learn to read and write, I am where I am today. I am now off the streets and will do Class 10 through open schooling."
Balaknama is testimony to the resilience of CHETNA's street and working children who would otherwise mill around street lights, flyovers, small shops, garbage collection points or slums to earn a living for their families. The children faced formidable obstacles. They were illiterate, forced to beg or trapped in child labour. They often took to gambling, drinking and drugs to escape the harshness of their lives.
The loudest applause was for Vijay Kumar, a former street child and former editor of Balaknama. Kumar became a child labourer when he was just eight years old. He became a worker at a shop in the wood market of Delhi's Kirti Nagar. As he became older he was made to carry enormous logs up four flights of stairs for a paltry sum. There was no relief at home either because he lived with his family in a crowded slum near a railway station.
Then he met a CHETNA team member. Life changed dramatically. He was taught to read and write under a tree along with a group of children. This sparked his interest in education. Today he is assistant project coordinator with CHETNA's Gurugram programme for around 700 street children. Alongside, he is doing his post-graduation in social work from Jamia Millia University in Delhi.
Balaknama features the issues which street children in Delhi-NCR, Uttar Pradesh and Haryana confront. It has a team of 64 reporters. The "talking" or "batuni" reporters, mostly illiterate, report traumatic experiences faced by street and working children, to the writing reporters. The reporters then thoroughly vet and research the facts before going on to write a news story.
The latest Balaknama issue has hard-hitting stories. Some of the headlines read: "Innocent Children Troubled by the Fights of Drug Addicts and Alcoholics", "Children Compelled to Perform Dangerous Tasks", "Street Children Shivering from Cold in the Absence of Warm Clothes".
Jyoti, 21, started out as a "batuni" reporter with Balaknama. She candidly admits that before she met the CHETNA team she spent her time ragpicking, smoking and begging at Nizamuddin Railway Station. CHETNA stepped in and encouraged her to join open school. She is now on the verge of finishing Class 10. Today, as a staff member of CHETNA and a Balaknama reporter, she takes pride in her large number of published articles.
A few days ago, she says, she wrote a piece on how gambling had ruined the lives of adults and their children in a certain locality. "I went and talked to the parents and their children and convinced them to give up this vice. Now the community says, 'Don't engage in gambling or madam will publish a story on it'," Jyoti says with pride. She has also done stories on the flourishing illicit liquor trade, water shortage, child marriage and other issues.
For young Bittoo, another "batuni" reporter, his most important breakthrough was working alongside Kishan Bhaiya to wean a child off alcohol.
Balaknama is now looking ahead. It has many plans. For one, a digital version of the paper is on the cards. Meanwhile, the monthly is circulated by the children through their WhatsApp groups while older children download the paper electronically. The paper is sold for `5.
The media, both national and international, has picked up the Balaknama story because it depicts the dramatic difference that a small-time newspaper can make in the lives of street children. The monthly has also caught the attention of policymakers, says Sanjay Gupta, founder-director of CHETNA. The NGO is happy that the National Commission for Protection of Child Rights (NCPCR) came across a Balaknama story on street children who ingest white correction fluid for the high it gives. The NCPCR set up a committee to conduct an all-India study to see how substance abuse by children could be brought under control. Gupta was co-convener of the study. He says that the Commission, working with many NGOS, has recently introduced a standard operating procedure (SOP) for the care, protection and rehabilitation of street-connected children. Now the Supreme Court has taken cognizance of the SOP and directed district magistrates to swing into action in their respective areas.
But Gupta believes that in an ideal world Balaknama should have little leverage. "There should be no need for a paper like Balaknama. If there are no street children, then Balaknama's role is over."