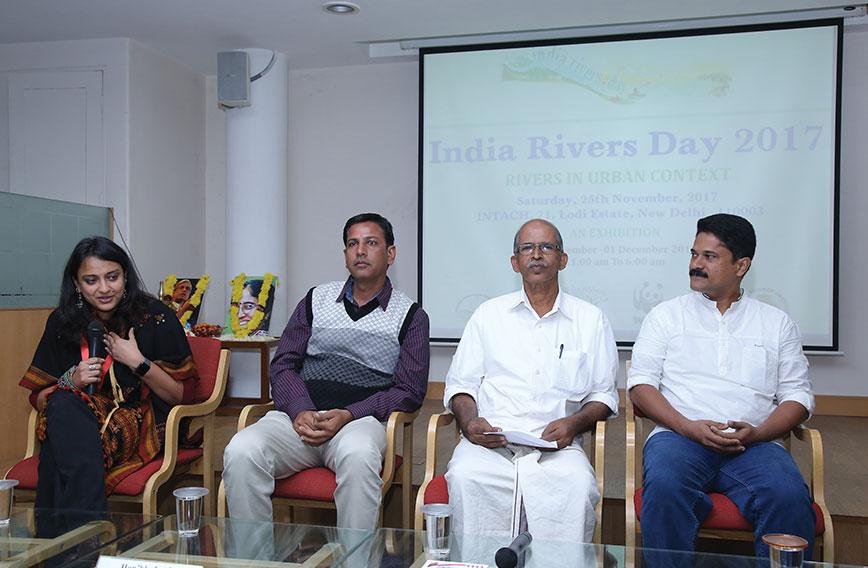 Arati Rao, recipient of the first Anupam Mishra Medal, with Bhagirath Prayas Samman awardees, Mahavir Singh Sukarlai and Dr S. Ramchandra and Ebby Emmanuel of the Meenachil Nadee Samrakshana Samithi
Friends of rivers find recognition in Delhi
Civil Society News , New Delhi
Published: Jan. 05, 2018
Updated: Mar. 15, 2019
The fourth Bhagirath Prayas Samman (BPS) awards in 2017 and the inaugural Anupam Mishra Medal for exemplary media work on rivers were announced in a packed hall at INTACH on 25 November, India Rivers Day, and given away by Supreme Court judge Justice Madan Lokur.
The Meenachil Nadee Samrakshana Samithi of Kerala received the award in the organisation category, and Mahavir Singh Sukarlai of Rajasthan in the individual category. Arati Rao, an environmental photographer and writer, was the first recipient of the Anupam Mishra Medal.
For nearly 30 years the Meenachil Nadee Samrakshana Samithi has been faithfully protecting and restoring the ecology of the Meenachil river which feeds the Vembanad lake — a Ramsar site in Kerala.
In 1989-90, a group of eco-sensitive youngsters came together and prevented an ecologically unviable dam from being built on the Meenachil river in Teekoy gram panchayat in Kottayam district of Kerala. The movement against the dam transmuted into the Meenachil Nadee Samrakshana Samithi which decided to rejuvenate the river. The Samithi adopted a basin perspective and involved all stakeholders to tackle the grave threats the river was facing — catchment area degradation, water diversions, urban pollution, encroachment and sand mining.
In 1995, the Samithi launched a check dam campaign and reached out to gram panchayats, zilla panchayats, the Department of Local Self Governance, college students and other communities. A large number of check dams was constructed in Eattupetayar, Poonjar and Teekoyar — key tributaries of the Meenachil river. This led to recharging of aquifers and thereby improved the hydrology of the river.
In 2014-15, to tackle encroachments, urban pollution and sand mining, the Samithi stepped up its work and launched yet another innovative idea. It organised local vigil groups called kavalmadams comprising local stakeholders who met regularly and discussed the prevailing condition of the ...