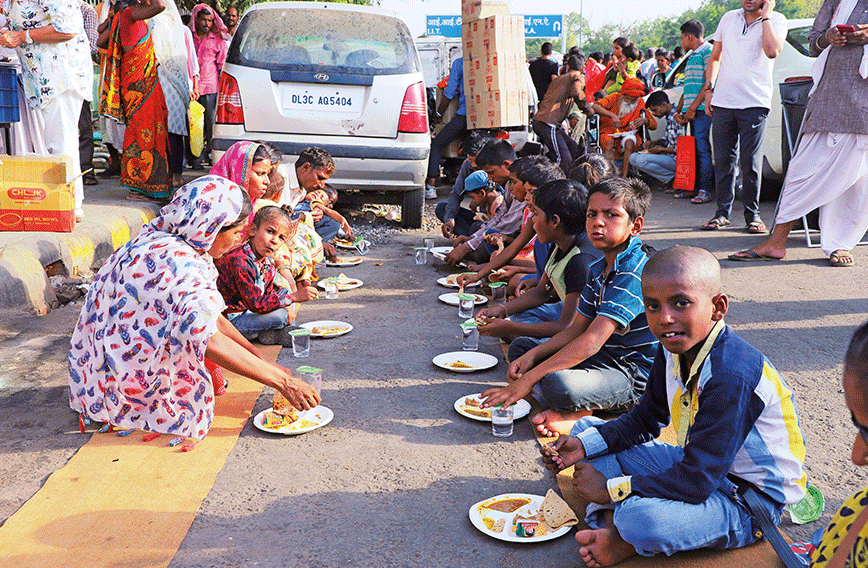 Women and children eating their meal outside AIIMS | Photograph by Shrey Gupta
Model Langar: Healthy, by volunteers and eco-friendly
Sidika Sehgal, New Delhi
Published: Jul. 13, 2019
Updated: Jan. 29, 2020
In 2015, Gurvinder Singh "Bicky" Dhingra, a Delhi-based businessman, was dining at a high-end restaurant with his family. When the bill arrived, he remarked that the money spent on a meal for four could have been used to feed many more. The next day, he made biryani at home and distributed it to people outside the All India Institute of Medical Sciences (AIIMS). This was the start of the Delhi Langar Seva Society (DLSS). It was Dhingra's attempt to give back to society and he saw no better way to do it than by feeding the hungry.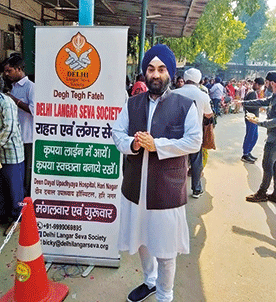 Gurvinder Singh "Bicky" Dhingra, founder of DLSS (left) | Photograph by Shrey Gupta
When DLSS began in March 2015, it fed nearly 1,500 people every month. That number has risen today to 50,000. This could not have happened without the commitment of its volunteers. Early volunteers were friends and family but as word of DLSS spread, many people joined through Facebook. It has 300 volunteers now — some as old as 75 and others as young as 12.
Raman Uppal, who recently joined the initiative, said he does it for the "inner solace" he feels while feeding the needy. Young working professionals take time out during the week to participate in the langar seva. The organisation runs on donations by individuals as well as companies like Dixon Technologies and Pasco Automobiles.
REACHING THE NEEDY
At the langar seva outside AIIMS, Ritika, a volunteer for over four years, explained why DLSS holds the langar seva outside hospitals. She contrasted her experience of going to hospitals to care for sick family members with those of people who come from villages and small towns to the National Capital Region (NCR) for medical treatment. While she had the comfort ...