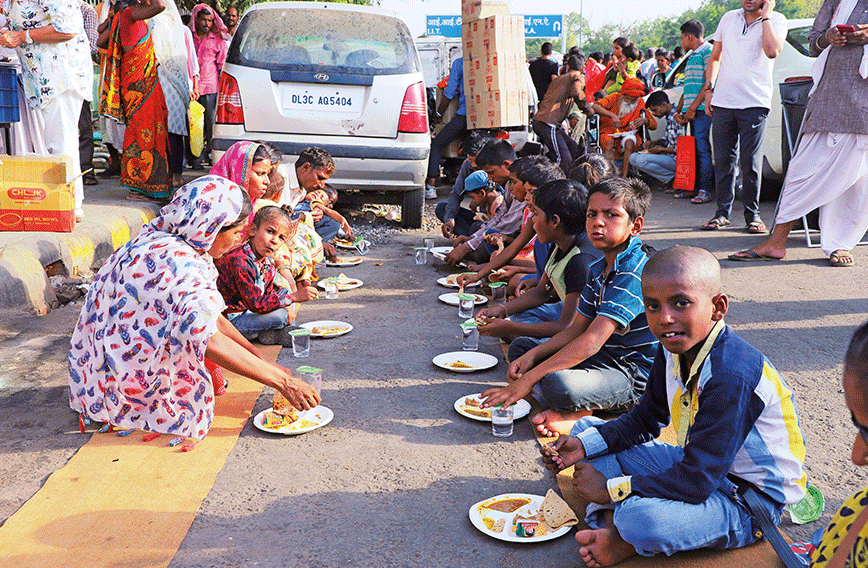 Women and children eating their meal outside AIIMS | Photograph by Shrey Gupta
Model Langar: Healthy, by volunteers and eco-friendly
Sidika Sehgal, New Delhi
Published: Jul. 13, 2019
Updated: Jun. 29, 2020
In 2015, Gurvinder Singh "Bicky" Dhingra, a Delhi-based businessman, was dining at a high-end restaurant with his family. When the bill arrived, he remarked that the money spent on a meal for four could have been used to feed many more. The next day, he made biryani at home and distributed it to people outside the All India Institute of Medical Sciences (AIIMS). This was the start of the Delhi Langar Seva Society (DLSS). It was Dhingra's attempt to give back to society and he saw no better way to do it than by feeding the hungry.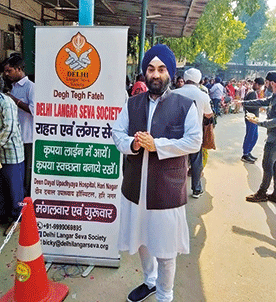 Gurvinder Singh "Bicky" Dhingra, founder of DLSS (left) | Photograph by Shrey Gupta
When DLSS began in March 2015, it fed nearly 1,500 people every month. That number has risen today to 50,000. This could not have happened without the commitment of its volunteers. Early volunteers were friends and family but as word of DLSS spread, many people joined through Facebook. It has 300 volunteers now — some as old as 75 and others as young as 12.
Raman Uppal, who recently joined the initiative, said he does it for the "inner solace" he feels while feeding the needy. Young working professionals take time out during the week to participate in the langar seva. The organisation runs on donations by individuals as well as companies like Dixon Technologies and Pasco Automobiles.
REACHING THE NEEDY
At the langar seva outside AIIMS, Ritika, a volunteer for over four years, explained why DLSS holds the langar seva outside hospitals. She contrasted her experience of going to hospitals to care for sick family members with those of people who come from villages and small towns to the National Capital Region (NCR) for medical treatment. While she had the comfort of waiting in the cafeteria of a private hospital, they did not enjoy the same privileges. Some came with just enough resources to pay for the medical treatment of their relatives.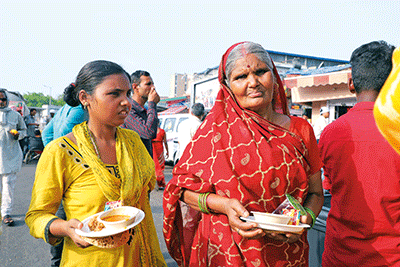 Pooja and her mother, Resham Devi (left) | Photograph by Shrey Gupta
The langar seva outside AIIMS is meant to cater to such patients and their caregivers. Rajesh Kumar Chaudhary has been a patient at AIIMS for the past two years. His right leg is paralysed. He eats regularly at the langar seva held outside the hospital. Pooja and her mother, Resham Devi, are here because Pooja's father has a brain tumour. "We couldn't eat breakfast today because we were waiting in a queue to meet the doctor. This is our first meal of the day."
In the past four years, DLSS has expanded and is serving its langar at five locations, four of which are outside hospitals — AIIMS, the Nizamuddin Railway Station, the Civil Hospital in Gurgaon, the ESI Model Hospital in Basaidarpur and Dr Bhim Rao Ambedkar Hospital in Noida.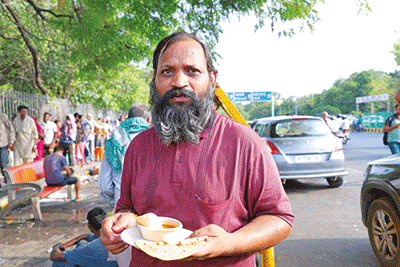 Rajesh Kumar Chaudhary, a patient at AIIMS (left) | Photograph by Shrey Gupta
Those who line up for the langar have worry on their faces. Many have to rush back to meet the doctor and try to jump the queue, but DLSS volunteers maintain discipline to make sure that the experience is comfortable for all those who come to eat, especially women. At the Civil Hospital in Gurgaon, Mahi Pandey has brought her six-month-old daughter, Ichha, to the hospital. Her daughter has had fever for seven days and has not been eating well. But nobody in the hospital has a moment to show some kindness. At the langar seva, she is treated with dignity.
The DLSS feeds everyone without discrimination — men, women and children, the young and the old, people with disability and the able-bodied. Each langar seva by DLSS unites people across class, caste, gender and age. Children and people with disability are seated on a rug and served separately.
The idea of the langar is not unique to Sikhism. It was adopted from Sufi practices of communal meals in dargahs. The word itself is derived from the Persian word for a public eating place attached to a Sufi shrine. The langar traditionally begins with an ardas, a prayer to give thanks. But the langar has long transcended religion. The volunteers associated with DLSS hold different religious beliefs and are united by their cause of serving the less fortunate. Worldwide, organisations like the UK-based Khalsa Aid provide langar in times of natural calamities and the Sikh tradition has become a universal humanitarian one. It is no surprise then that the word 'langar' was added to the Oxford English Dictionary in 2008.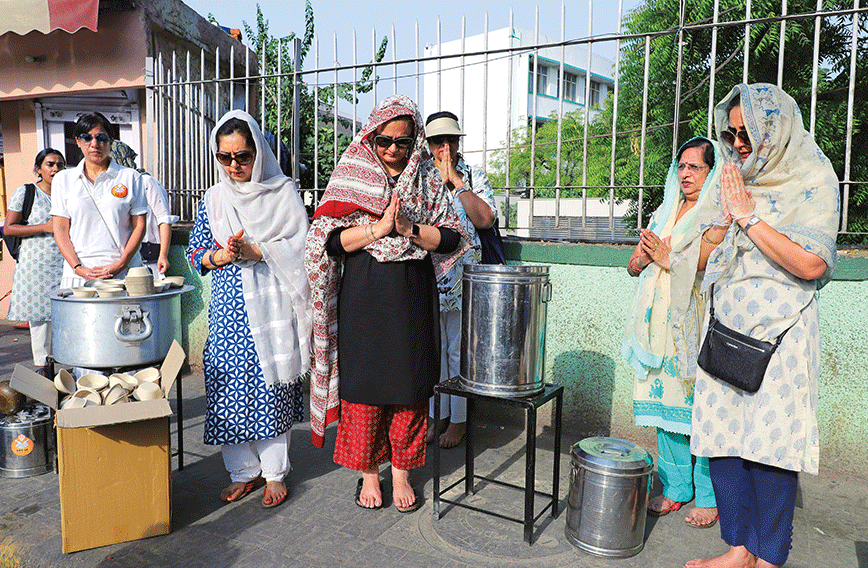 The langar begins with a prayer to express gratitude | Photograph by Shrey Gupta
WHOLESOME MEAL
The meal provided is wholesome. It consists of four rotis, dal, kada prasad (a sweet made with whole wheat flour) and water.
While a lot of charity organisations serve rice, DLSS serves rotis not only because rotis are traditionally served at the langar in gurudwaras but also because wheat is an integral part of the staple diet of north Indians.
The rotis are sourced from a roti-maker in Gurugram who had developed a roti-making machine indigenously and has been running the plant since 2008. The unit manufactures 270,000 rotis a day, and they are constantly developing the product to make their rotis healthier and tastier.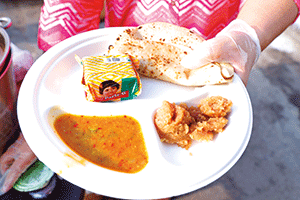 The nutritious meal — dal, roti, halwa and biscuits (left) | Photograph by Shrey Gupta
The catering division of the food chain, Evergreen Sweets, provides the dal and kada prasad. Along with this, a packet of biscuits is given. Dhingra explained that many patients spend the night outside the hospital and the packet of biscuits can serve as a handy snack in case they can't afford to have a meal.
The langar seva goes on until the food is finished, usually about an hour, and people are welcome to come for a second helping. The area is cleaned before the langar and once again after it's over to clear any plates people might have left behind. "Khana khane ke baad, kooda koodedan mein dalein," announces a volunteer every few minutes. The disposable plates and bowls used are made from organic matter such as sugarcane pulp and are 100 percent biodegradable.
The ecologically sound practices and the organised manner in which DLSS holds its langar have not developed overnight. A lot of thought has gone into each detail and in arriving at this model. Dhingra was able to do this because he chose to shut a successful business to devote himself to the cause.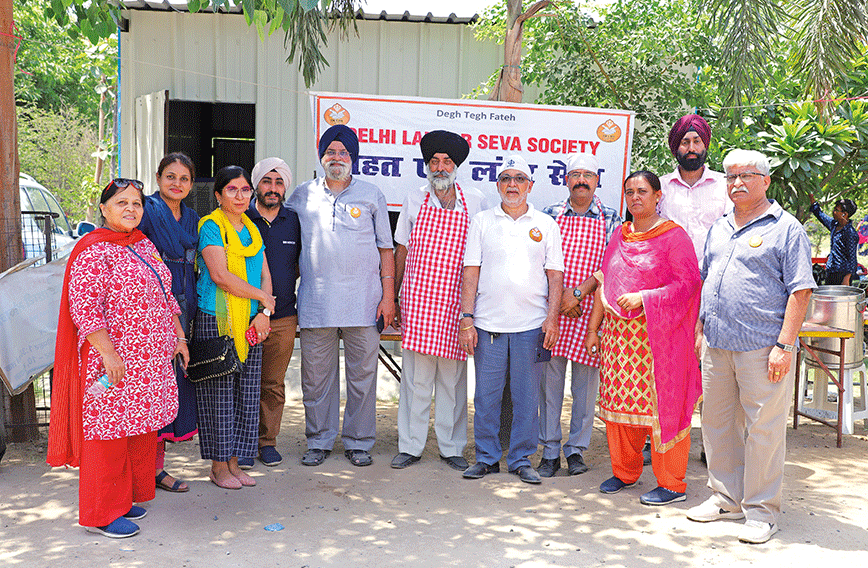 DLSS volunteers at the Civil Hospital, Gurgaon | Photograph by Shrey Gupta
The DLSS and its volunteers are far from being complacent. They understand that selfless seva is not possible without a plan. Meticulous duty lists are made before each langar, assigning each volunteer a defined role.
In March 2019, at the Fourth Foundation Day of DLSS, Hardeep Singh Puri, Union minister of state, lauded their efforts. Dhingra plans bigger things for DLSS. He wants to take the langar to cities across the country. After four years of running DLSS, he feels even more strongly about the need to tackle hunger.