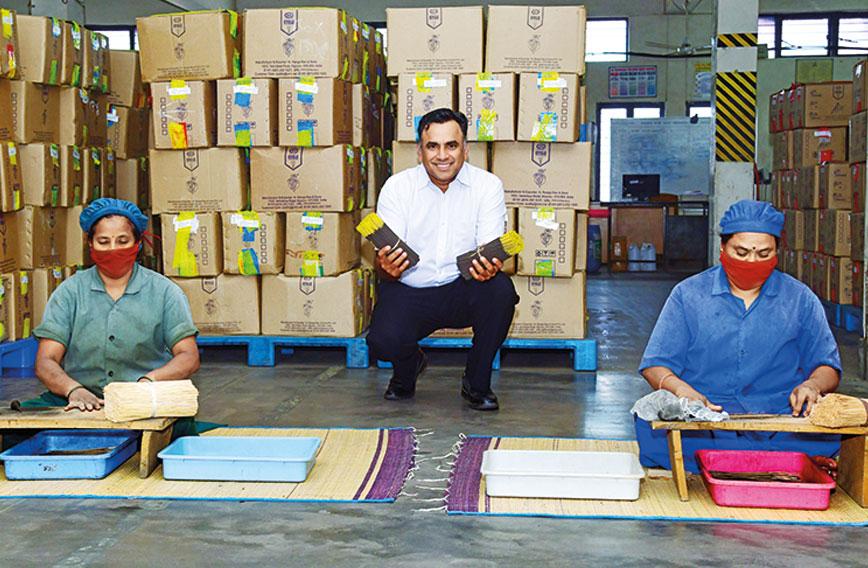 Arjun Ranga: 'Technology has enabled women to increase their efficiency, productivity and earn more wages'
India makes incense the world worships
Civil Society News, New Delhi
Published: Nov. 23, 2020
Updated: Oct. 28, 2021
India's agarbatti industry does more than spread fragrance. It employs a huge number of people, mainly women in rural areas. It is ecofriendly, the agarbatti or incense stick being made from natural materials and biodegradable. It is also importantly a foreign exchange earner since Indian agarbattis are well regarded internationally and command a good price.
The lockdown brought production to a standstill, but stocks continued to sell. In times of trouble people turn to prayer. Sales are particularly brisk during the festive season and usually go up by 50 percent. This year, because manufacturing units were closed and began production late, the industry managed to meet 30 percent of the increase in demand for agarbattis. It even introduced two new fragrances — Woody Amber and Fruity Floral.
The agarbatti business is steeped in its own traditions. But it has also undergone modernization — in its manufacturing processes, management practices and orientation to overseas markets.
In every which way the agarbatti industry is indigenous and perhaps a good example of atmanirbharta or self-reliance, especially so for being Indian and global at the same time. From being a disaggregated cottage industry, it has successfully made the transition to the formal economy. There are 800 companies that make up the All-India Agarbathi Manufacturers Association (AIAMA), which has its head office in Bengaluru.
Arjun Ranga is the president of AIAMA. Progressive and well-qualified, he is a graduate in polymer science and has an MBA from the US. He is now the CEO of his family enterprise, N. Ranga Rao & Sons, manufacturers of Cycle Pure Agarbathis.
Ranga spoke to Civil Society on the trajectory of the industry and why it is a significant sector.
The agarbatti industry provides employment to a huge number of people. Can you explain how?
The industry has various parts to it. You have the raw material procurement part — minor forest produce like bamboo, jigat powder and charcoal which provides some level of employment. Then, you have the raw agarbatti stick which is unscented. After that, the creation of fragrances, the art and science of making agarbatti and the application of fragrances on the agarbatti sticks. Once the agarbattis are ready, you have packaging which employs a large number since it's completely manual and, finally, sales, marketing and distribution of agarbattis.
This entire chain employs 450,000 people in India. It's a big employment generator. Because of the nature of the industry mostly women, rural women, are employed. The agarbatti sticks are delicate and nuanced. So you need dexterity. That's why women are predominantly employed.
If you go back 30 to 40 years, women used to prepare agarbatti sticks at home. They weren't willing to step out. Over the past 15 years factories have evolved and a certain level of technology has been brought in. Women are now willing to travel to work in factories where the lighting is better, it's more comfortable and you have proper restrooms. Technology has enabled women to increase their efficiency, productivity and earn more wages.
How much do the women earn?
It would be 20 to 25 percent more than the minimum wage prevalent in different states because companies have to follow the minimum wages law.
And in your company in Karnataka?
My company is across the country. The lowest part of the value chain are the ladies who make the raw sticks. Before technology came in, a lady could make about three to four kg of sticks per day by hand. About 10 years ago she would earn `10 to 12 per kg. But once mechanization came in, she started making 30 kg of sticks per day and earning `250 to 300 per day. It actually became a financially viable option for her.
The industry also started to see huge growth. Today 100 percent of the agarbattis made in India are made on semi-automatic machines. And women at entry level who were earning the least have improved their incomes because of technology.
So has the agarbatti industry successfully returned to pre-COVID levels?
For two or three months there was no production so we had zero income. But the market saw no contraction because people were lighting agarbattis at home though temples were closed. In fact, with production at a standstill and household consumption continuing there was a huge shortage.
We employ a huge number of daily labour because women who make the agarbattis earn on that basis. The industry was able to take care of its direct employees for two months. We couldn't immediately support our indirect employees. Those two months were really tough for all of us.
Typically in April, May and June the industry builds up its inventory for the festive season which is from August to September to October. From Ganesh Chaturthi to Diwali, consumption increases by 50 percent. We can't produce 50 percent now because the women go back to their villages for the monsoon, for harvesting and festivals. We hope to increase production to 30 percent.
Since there was no demand contraction, unlike many other industries, we were hit only from March 23 to May 9. Once transport got streamlined by July, supplies started to come in. All companies put COVID safety protocols in place to ensure employees would be safe.
Due to mechanization we have been able to structure the shop floor a lot better. Social distancing already existed. The nature of our workplace is such that you can't have a lot of people sitting close together and working because the machine requires space.
What are the challenges you are facing?
The supply chain is still a problem as well as availability of raw material and its quality. Earlier we could travel to check out the quality of raw material, whether wood powder or charcoal. But now we are finding it difficult to validate raw material at source.
Is India still importing bamboo sticks? Has this issue been resolved?
Yes. The Government of India (GoI) and the National Bamboo Mission are localizing bamboo to specific species suited to the agarbatti-making machine. Not all bamboo sticks are feasible. We have started large-scale plantations. We also now locally source raw materials. Imports of agarbatti stopped a year ago completely. A hundred percent of agarbattis are made in India. Some raw materials are imported.
What is your standard increase in demand every five years?
It's directly proportional to population growth. The agarbatti industry has a high penetration of 82 percent. So 85 percent of Indian households use agarbattis. It is among the highest penetrated consumer product categories in the country. The quantity used is less, about two sticks a day, maybe four in some households. This is unlike countries in Southeast Asia like Thailand, where 50 to 100 sticks are lit together.
Has agarbatti manufacture spread across the country? Have new manufacturing clusters come up?
Traditionally, the industry was based in Tanjore and Mysore because the maharajas of Tanjore and Mysore were connoisseurs of art, culture and fragrances. Mysore had sandalwood, the key ingredient for making agarbattis. Till around 1990, the agarbatti industry was concentrated in Mysore and Bangalore and parts of Tamil Nadu across the border.
The industry began to migrate out of Mysore when it started to face labour shortages — first to Andhra Pradesh and then to Maharashtra, Bihar, Odisha, Kannauj in UP and Gujarat around 1999.
Once mechanization came in, productivity and the quality of raw material improved, the agarbatti manufacturers in Karnataka began to predominantly focus on exports. Today 95 percent of the exporters are based out of Karnataka.
The state contributes only 50 percent of the total output of agarbattis instead of 100 percent in 1990. The other companies are based in Gujarat, Maharashtra, Madhya Pradesh, UP and a couple of companies in Delhi, Punjab and Haryana. So that's how the industry spread.
Have exports suffered this year?
Exports are good. Indian agarbattis are exported to 140 countries. There is no competition from Indian agarbattis globally. It's a very vibrant market. We aren't able to meet the total demand because of shortage of raw material. We faced challenges for three months with shipping and ports being closed. But the demand is there.
Has the trend of natural fragrances picked up?
Agarbatti sticks intrinsically use almost 99 percent of natural materials. We follow international fragrance guidelines. In perfumery creation you will have natural ingredients majorly. Bamboo, jigat powder, oils, incenses and some manmade ingredients for fragrance creation are used.
How much is domestic demand and how much is exported?
Exports are 10 percent. Just to give you a ballpark figure, since there are so many unorganized players, AC Nielsen puts the retail value of the branded industry at Rs 7,000 crore. The export figure, based on the customs database, is Rs 900 crore, which is the wholesale value. Our distributors could probably retail it at three times more. So the domestic market is way bigger than the export market.
Who are your buyers globally?
The moment you go out of India, Bangladesh, Sri Lanka and Nepal, it's not Indians who are the biggest consumers, it is the locals. The US is the biggest market for Indian agarbattis followed by South America, countries like Brazil, Argentina, Uruguay, Chile.
Do the countries you export to have any particular demand?
Fragrances are unique and exotic for different markets, close to flowers available locally. We create new fragrances. The challenges are in packaging. Different countries have their own statutory requirements. So packaging has to be customized. Some markets like Africa would want stronger fragrances. For countries like France you would need more subtle fragrances. So fragrances are customized to the market. Quality standards are the same for the domestic and export markets.
Since agarbatti manufacture is now so specialized, do you require technologists?
As manufacturers we are at the cutting edge. The AIAMA represents 800 companies. We are putting in place common R&D facilities so that everyone can develop. We are constantly conducting seminars on perfumery and creativity.
We do workshops on packaging and we work with the Export Promotion Council, which sends us NID graduates to help in design. They are very progressive.
The SME ministry is trying to support us. For GST we conducted workshops since we have many small manufacturers who didn't know. For COVID too we held virtual seminars to explain the protocols to be followed. We have exhibitions too for manufacturers across the country to upgrade their skills.
We make agarbattis that no other country can make. The agarbattis made in China and Vietnam are longer and made of wood powder. They have no fragrance and more smoke. The Indian agarbatti is more about fragrance. We spend a lot of time on fragrance creativity. We use good ingredients, the sticks are small and the smoke emitted incomparable.