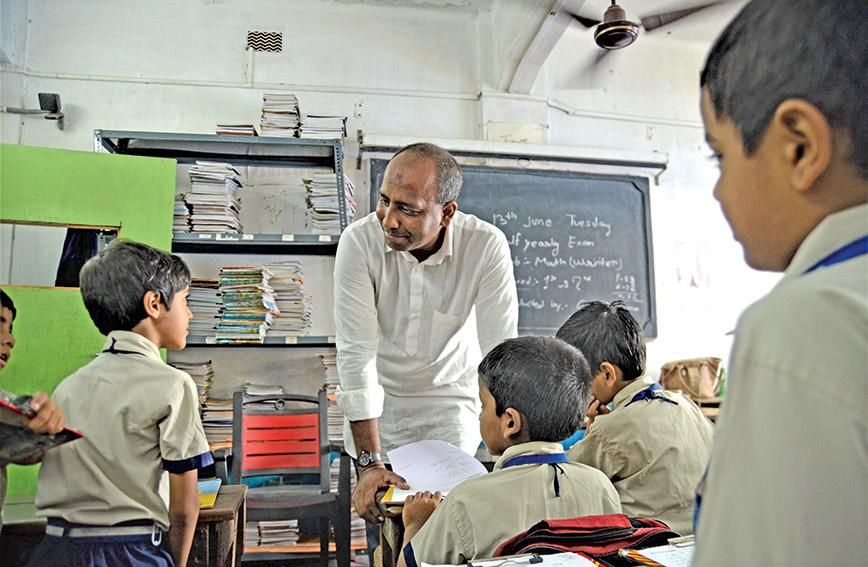 Mamoon Akhtar with students at the Samaritan Mission School in Tikiapara
Mamoon's English medium, co-ed slum school
Subir Roy, Kolkata
Published: Jul. 03, 2017
Updated: Mar. 15, 2019
Innumerable NGOs are helping the needy across the country in different ways. What makes the Samaritan Help Mission in Howrah, which adjoins Kolkata across the Ganga, exceptional is the way in which people of different faiths, nationalities, private initiative, official assistance and corporate help have combined to nurture a vibrant island of hope.
The Samaritan Mission does its work in Tikiapara, a huge slum that runs alongside the railway tracks connecting Howrah Station. It is 80 percent Muslim, poor and intimidated by crime. The mission was founded and is led by Mamoon Akhtar, 46, its secretary, and most of its work is housed on land belonging to the Belilious Trust.
Mamoon's (everybody calls him so) father was a skilled worker and keen that his son get a good education. So he put Mamoon in one of the area's leading schools, St Thomas. But he had to leave after reaching Class 7 under humiliating circumstances because his father was out of a job and could not pay the school fees. Mamoon finished high school through open learning and, with his father departed, supported his family by doing odd jobs and offering private tuition. Not being able to complete his formal schooling, enabling others to do so and in the English medium became the driving passion of his life.
Two incidents shaped him. One day, he found a man beating up a woman because she refused to be a drug pusher. Mamoon tried to stop him and got beaten up himself. He was finally rescued by other locals who knew him and called him "Sir" because he taught children. The little boy whose mother Mamoon had tried to save caught up with him and simply said, "I want to study." He asked the child to come to his house and soon he ...