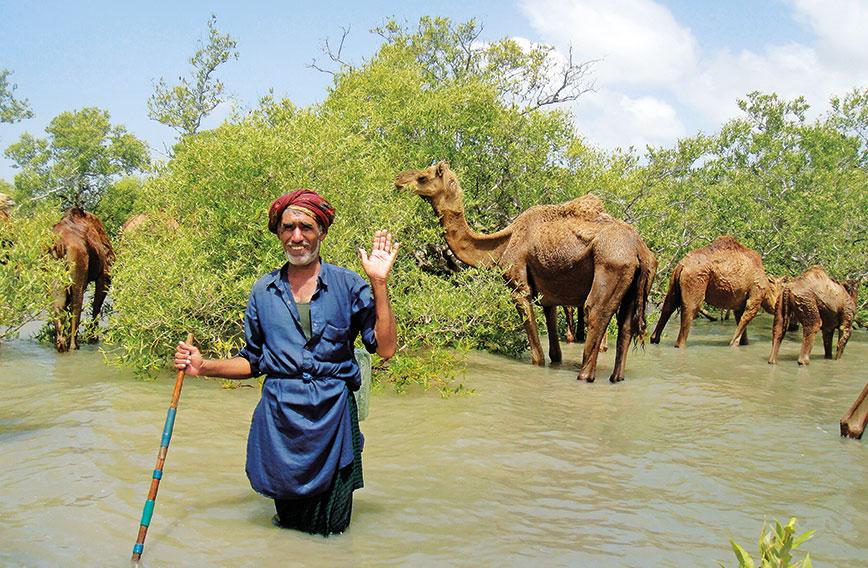 A herder with his Kharai camels grazing in the waters of the Gulf of Kutch
Kharai camel is sinking as mangrove belt shrinks
Tanushree Gangopadhyay, Ahmedabad
Published: Aug. 27, 2018
Updated: Mar. 15, 2019
Go to the Gulf of Kutch and see the famed Kharai camel before it's too late. There are just 2,000 of them left. The only breed of camel that swims, the Kharai camel can live in the desert and swim in the sea, a sight that is truly awesome.
"But only 2,000 Kharai camels now exist in all of Kutch district," confirms Bhikhabhai Vaghabhai Rabari, president of the Kachch Uth Uchher Maldhari Sangathan (KUUMS) or Kutch Camel Breeders Association. "A decade ago we had about 10,000 such camels."
The Kharai camel is starving to death even as the KUUMS haplessly tries to save it. The reasons are beyond their control.
Despite awards, rewards and recognition being heaped on the Kharai camel, the poor animal is on its way to extinction. In 2015, the camel was recognised as a breed, explains Ramesh Bhatti of Sahjeevan Trust, which has helped to organise the KUUMS and works diligently with them.
"The Breed Registration Committee of the Indian Council of Agricultural Research (ICAR) certified the Kharai breed on January 6, 2015, after KUUMS applied for it. The Kharai camel has been registered as the ninth distinct camel breed of India by the ICAR. The KUUMS, the Anand Agriculture University, and my trust put in a lot of hard work to gain this recognition for the Kharai camel," says Bhatt. The KUUMS is officially recognised as the owner of this unique breed.
Soon after, Vadodara's Federation of Group Industries awarded KUUMS for proficiency in marketing camel milk. "Maneka Gandhi herself bestowed on me the award for dairying of camel milk," says Bhikhabhai proudly. "Earlier, no one purchased camel milk. Amul buys 1,500 litres daily and some private dairies. The government has given Amul Rs 3 crore for developing dairying of camel milk," he said.
In ...