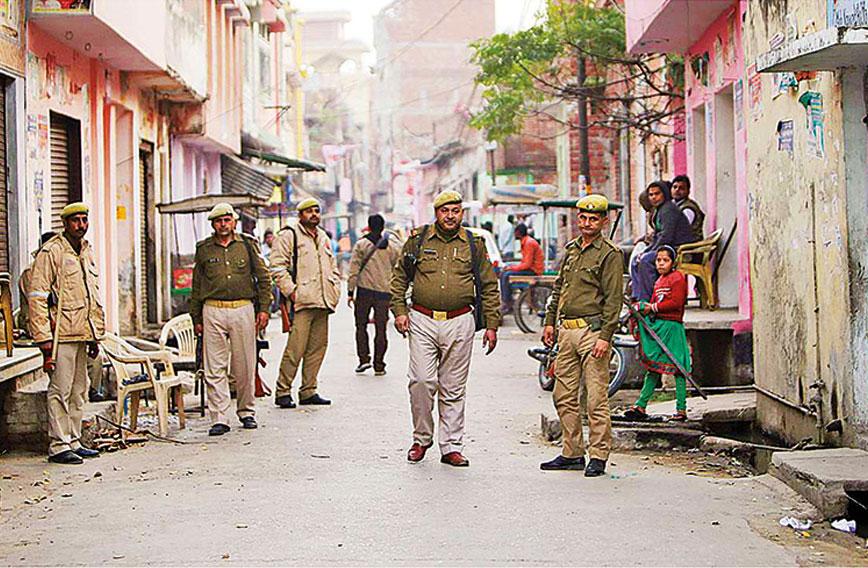 Policemen patrol a tense street
How peace-loving Kasganj went up in flames
Amit Sengupta ,Kasganj
Published: Apr. 04, 2018
Updated: Mar. 15, 2019
Kasganj is a quiet and laidback moffusil city in Uttar Pradesh. It is close to Aligarh and about 220 km from Delhi. There are the aromas of pakoras and gujiyas in its bylanes. People are proud of their friendships and are accustomed to coexisting in shared spaces which they have inherited.
Traditionally, there has been bonding between communities, including Hindus and Muslims. Families know each other and in associations built over time there has been no serious reason for bitterness.
On the contrary it is a city which has celebrated amity. The language is soft and polite, and the people are friendly, eager to talk to reporters like me, share their experiences and listen to stories from Delhi.
It is therefore surprising that Kasganj of all places should suddenly be swamped by communal violence and incidents that took place on 26 January, Republic Day. There was arson, looting and the death of a young man, Chandan Gupta, all of which has left people shocked.
Flag-hoisting ceremonies were being performed in many locations across the small city. Most of the police force was deployed at the official Republic Day function.
At the Veer Abdul Hamid Chowk (named after the famous Indian soldier who was martyred during the 1965 Indo-Pak war), the Muslim community had collected donations and were preparing for a flag-hoisting ceremony, reportedly with permission from the authorities.
It was then that trouble started and the Muslims were taken by surprise. Young men on about 70 motorbikes on a 'tiranga rally' roared aggressively into Veer Abdul Hamid Chowk. They belonged to the Sankalp Foundation and the Akhil Bharatiya Vidyarthi Parishad (ABVP).
How violence began
The motorbikes had set out from Praful Park at around 8 am. The young men were carrying the national flag and saffron flags. They had taken permission for ...