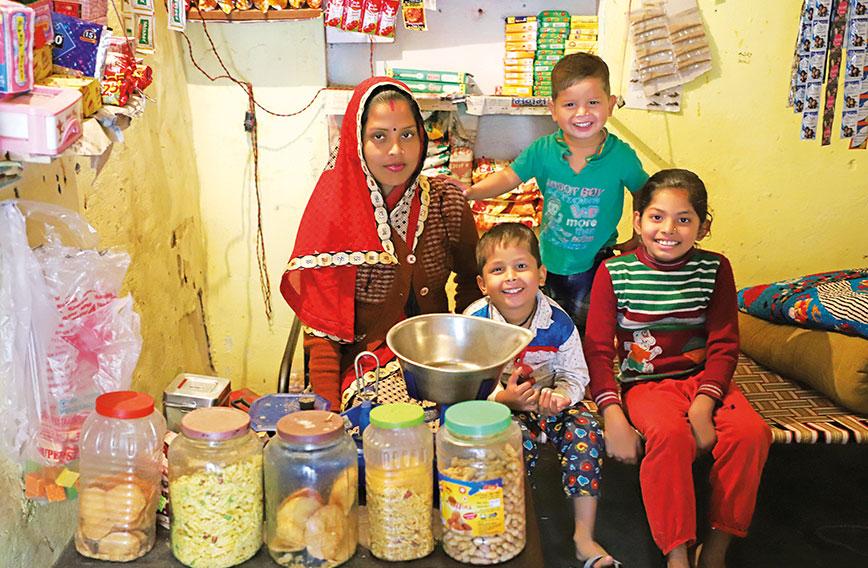 Guddi, a beneficiary of the SOS Family Strengthening Programme, in her small shop with her children
SOS India has been reaching out with success
Kavita Charanji, Faridabad
Published: Feb. 02, 2018
Updated: Jan. 29, 2020
In SOS Children's Villages, homeless children and single mothers are brought together to live as families in a home environment. With 32 projects in 22 states and 25,000 children under its care, SOS's operations in India are its largest internationally.
"In our villages, the focus is on giving every child a caring and loving family and creating a community so that they are not in child care institutions but belong to a family and home," says Anuja Bansal, secretary-general, SOS Children's Villages of India.
The India operation has been successful in tackling numerous new issues from shrinking funding, to bringing up older children, the impact of new technology including social media, and more.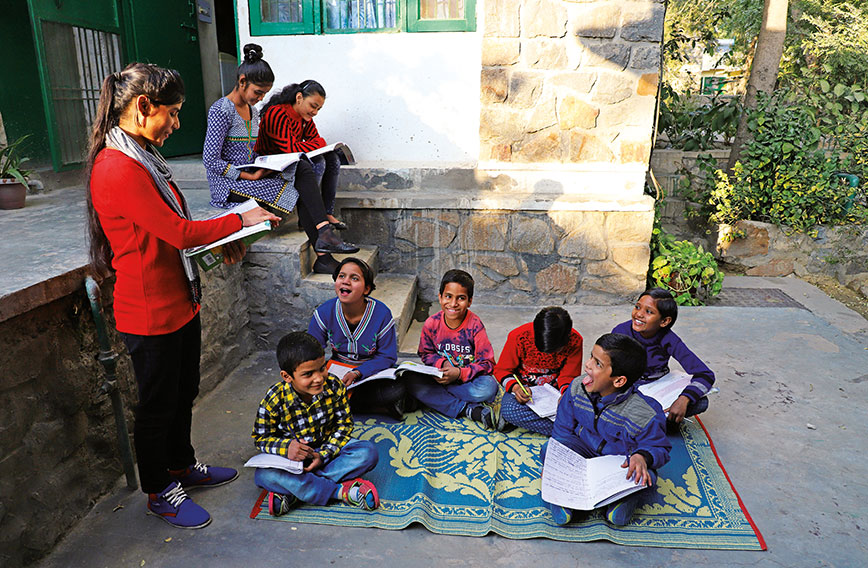 A happy family of nine studying outside their home in the SOS Children's Village
But perhaps the most significant achievement since the villages were first set up in 1964, has been to reach out and boost SOS Children's Villages' Family Strengthening Programme (FSP) which helps vulnerable families take care of their children.
The FSP dates back a decade, but has received an impetus in recent years. It is aimed at preventing abandonment of children by vulnerable sections such as single women, widows and below poverty line (BPL) families.
The FSP runs in slums and rural areas that lie within a 30-km radius of an SOS Children's Village. The programme, which runs for a time span of three to five years, has empowered many families economically and socially.
By strengthening education, health, nutrition, and vocational training, the needs of the children are addressed. Self-help groups (SHGs) of women are organised and are helped to become financially literate and boost their income.
The child's caregiver, usually the mother, sometimes the father or an elder sibling, is helped to earn a livelihood through livestock rearing, tailoring, paper bag production or a grocery shop, to name a few instances.
"We believe that if a woman is empowered and is economically enabled to earn an income, she will be able to take care of her children. So we do the capacity building, creation of market linkages and provide financial support as well. In the second or third year we aggregate the caregivers into an SHG. The SHGs come together and so the corpus starts to build," says Bansal.
She says skilling for youth is also part of the outreach. Currently, 300 girls across the country are receiving IT training so that they can enter the job market.
The showpiece of the FSP is SOS's Anangpur project, which spans 11 locations in Faridabad and Nuh districts of Haryana. The project covers 1,560 children, 501 families and 37 SHGs. On a visit to the Gurukul location, we see an SHG meeting in progress. The women in their red and cream saris are instantly recognisable. A group of 17 women discuss their accounts, individual savings and proudly show off their bank passbooks.
Financial support from SOS as well as the Haryana government, coupled with bank interest, helps the SHG build a corpus from which it can begin inter-loans. "An SHG which started from zero is able to generate lakhs of rupees at the end of a year," says Riyaz Husain, project-in-charge of SOS' FSP in Anangpur. The project, he says, has brought about a dramatic transformation in the lives of beneficiaries. "Enrolment in schools and immunisation is 100 percent, there are no drop-outs and all the children go to balwadis and anganwadis," he says.
Laxmi, who runs a cosmetics shop at Gurukul, says her life used to be an unending struggle. Her husband was a daily wager and she had four little girls to raise in abject poverty. They lived in a small room, food was insufficient and the children were bedraggled.
When she became a part of the FSP in 2011, she received financial assistance for the health, nutrition and educational needs of her children. Supported by the FSP, she opened a small stall selling cosmetics. Now a member of the Maa Saraswati SHG, Laxmi has converted the stall into a shop by taking a loan from the SHG and using her own savings. She has since expanded her business. All her daughters go to school. Expenses for school fees, books, stationery and uniforms were met by the FSP.
"With SOS' support I was able to build a house and give it on rent," says Laxmi, whose family has since exited the FSP. She now plans to help other women set up stalls by selling cosmetics to them at wholesale prices.
Tackling funds crunch
SOS Children's Villages of India also had to grapple with shrinking funds since global donors now perceive India as an economic powerhouse. But in recent years domestic funding has more than doubled as corporates and individuals step in to sponsor children. Online fund-raising has had a measure of success. SOS has used media advocacy also to bring children's issues to the forefront.
SOS India is looking for long-term sponsorship of children as they need to be taken care of till they can become self-reliant. It helps that SOS has positioned itself in a unique manner. "Fund-raising is not so much a challenge for us because we are an implementing organisation. The donor then has a direct connect with the child for whom they are giving money," says Bansal.
First Village
In 1964, the first Children's Village in India was set up at Greenfields, a serene spot in the frenetic industrial hub of Faridabad in Haryana. The Greenfields village is dotted with small, comfortable homes — each with a distinct name.
In a house called Amar Jyoti, K. Chandramouli lives with her brood of nine children. Rajan, a small child, plays happily on her lap. The other children compete for her attention. They are like any other children except that they lost parental care. Chandramouli speaks with pride of her "baby" who came to her as a mere month-old. Now in Class 9 in SOS's Herman Gmeiner School in Faridabad, the talented young girl evidences academic prowess.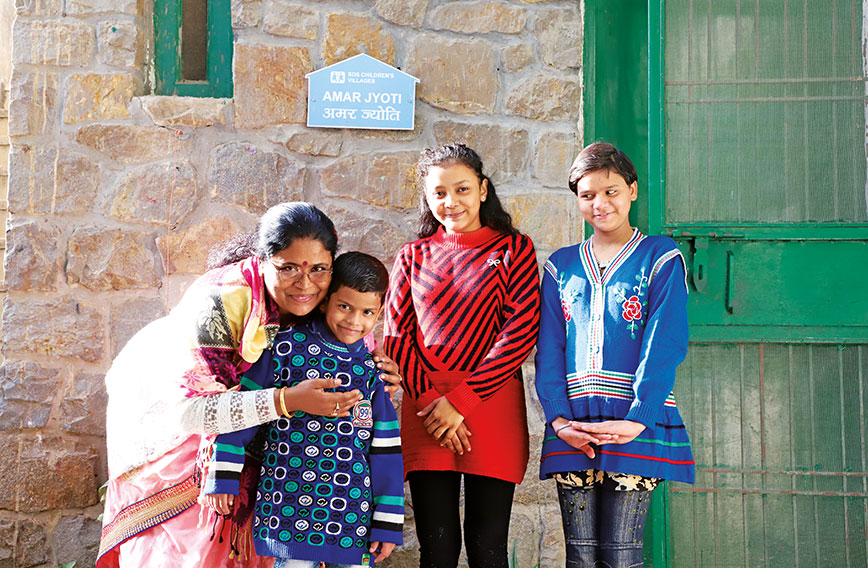 A mother with her family in the SOS Children's Village in Faridabad
Poonam, a Class 12 student in the same school, is a budding poet and class topper. "I write a lot. My drawing teacher motivated me to write a poem. When I wrote my first book of poetry I showed it to the counsellor and village director and they had it published," says Poonam. Her mother calls her an "orator, artist and poet".
Rajni, a Class 9 student, is a talented Kathak dancer and wants to be a teacher or accountant when she completes her education. Many of Chandramouli's older children are grown up and live on their own. One is a fashion designer and the other is becoming a lawyer, "I felt sad when they left home but they still come to see me," says Chandramouli.
Village Director Amar Jyoti Sarmah is a father figure to the children. "I play the role of a parent with a modern outlook," says Sarmah. He works closely with village counsellors and co-workers to ensure that each child grows up emotionally and physically healthy.
Changes in government policies, greater access to technology, social media, cyber abuse, and shrinking funds spelt the need for new directions.
The government has been successfully promoting the adoption of children below the age of six years so now children come to SOS villages when they are older.
"The challenges become different when we work with older children. For them to understand the concept of family and for us to work with them, there has to be a change in capacity building with our mothers. The training and support they need naturally changes," explains Bansal.
It is a different world for SOS children, too. With increased exposure to technology and social media, they are growing up faster. This means that counsellors and co-workers have to be on their toes constantly to create greater awareness about key concerns that affect the children's lives.
"Cyber safety has become an important area of work for us. Now, at a much younger age we educate children about good touch and bad touch and how to keep themselves safe. We also help co-workers and mothers identify risks and prevent child abuse. The dynamics of how to keep children safe has changed from the past," says Bansal.
What is encouraging is a growing partnership with government. An integral part of the recently amended Juvenile Justice Act is the promotion of group foster care and a culture of family-like care. Along with shelter and education, there is recognition that the social and emotional well-being of children be given equal importance.
SOS is working with several state governments to bring family-like care to grim child-care institutions. The organisation has run training programmes for government institutions in Telangana, Chhattisgarh and Meghalaya where they shared their childcare principles.