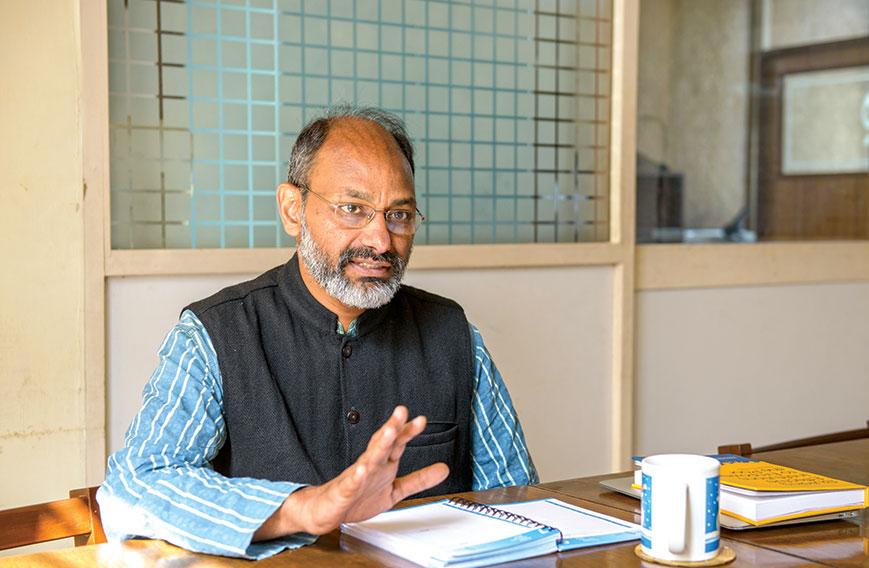 'We need a long-term plan, livelihoods in Bundelkhand'
Civil Society, New Delhi
Published: Sep. 02, 2016
Updated: Jun. 15, 2017
For three years Bundelkhand has been in the news for devastating drought, forcing people to flee their arid land in droves. This monsoon it finally rained copiously. Tanks, ponds and rivers are now brimming with water. The region has received excessive rain this year.
The respite is probably temporary. Inclement weather and the spectre of drought have been haunting Bundelkhand for over a decade. With no jobs to fall back on, migration to the city has become a way of life for villagers.
As a result, Bundelkhand has slipped into being a poor and backward region though it used to contribute 15 per cent of Madhya Pradesh's total food grain production decades ago.
SRIJAN (Self-Reliant Initiatives Through Joint Action) has been working in Bundelkhand since 2002. A non-profit, it promotes rural livelihoods in agriculture, horticulture, dairy and livestock.
SRIJAN recently convened a meeting between NGOs working in Bundelkhand to draw up an action plan that would address the region's chronic water shortages, hunger and unemployment. NGOs have been doing small successful projects with groups of villagers. If they worked together they would probably have more impact.
Civil Society spoke to VedArya, CEO of SRIJAN who has been observing Bundelkhand since 15 years.
Bundelkand has been in the news for three years of drought. Is the problem simply lack of water?
We find that the region has symptomatic problems and deep seated ones. On the surface it seems the issue is an absolute shortage of water. But there is also inequity: access and control to water, the way government funds are distributed and how the Mahatma Gandhi National Rural Employment Guarantee Act (MGNREGA) is carried out.
But let me begin with water. Years of drought have led to almost entire villages getting emptied out. There is distress migration from Tikamgarh even during normal times but it gets much worse during the kharifyears of drought.
When there is no water, there is no kharif crop. Even rainwater structures we have created — like ponds on farmers' fields to capture rainwater — don't get filled.
People often save water during the monsoon and use it to grow the rabicrop after Diwali. But if there is drought at this time people don't have water to grow channa, wheat or Bengal gram. So round the year people are not getting any crops.
This year after the rains, I was told 40-50 per cent of people have not come back. Sixty per cent returned because they want to farm and lead normal lives.
So there is an endemic shortage of water?
Yes, because this area is not part of the Gangetic deep alluvial plain. It has a layer of impervious strata below the ground. So water that is captured does not stay. It flows away to the Yamuna and Betwa rivers. Bundelkhand is a catchment area for bigger rivers. It is part of the Yamuna basin.
What can people do under the circumstances?
Water management is critical. You need to capture rainwater from structures above the surface and not below the ground. Bore wells will be unsuccessful. There are no aquifers here. It's best to promote water harvesting on fields like ponds. Thousands of years ago Chandela tanks were built from where people collected water. We have to promote those and use drip irrigation.
You are suggesting ponds on fields, tanks in the village and an interconnected system between them?
That's right. Instead of wheat, grow pomegranate. Grow crops that require less water per square meter. If you want to generate Rs 1 lakh from land, pomegranate is better. As a farmer if you get Rs 6,000 per acre from wheat you can get Rs 30,000 per acre from pomegranate.
The UP government was keen to promote Bundelkhand as a hub for pulses. Is that possible?
Yes, urad or black gram is grown here. You can grow pulses and high value crops like pomegranate. Lemon and ginger grows in Bundelkhand and guava does well. So we need to grow fruits too.
How will you take your ideas forward? You spoke of NGOs coming together to help the farmers of Bundelkhand and that SRIJAN would play a lead role.
We organised a meeting between NGOs working on both sides of Bundelkhand, the UP side and the MP side. About eight NGOs came. Two themes emerged.
One, we need a long-term plan that works out food security, water security and livelihood security. So you need water-harvesting structures, crops that give high income and then the savings from that can help people tide over.
Then there is the issue of food security. There are communities that are very vulnerable like the Sahariyatribals of Lalitpur district in UP. They live a hand-to-mouth existence and may not have the best quality of land or access to water. They may need work under MGNREGA.
We will be implementing several government schemes but MGNREGA will be one of the most prominent. We are visiting Marathwada and Yavatmal in Maharashtra to see how 150 NGOs worked together and generated `230 crores of wage employment from MGNREGA last summer.
What are the assets that you would like to build under MGNREGA?
We don't just want to dig and fill. We want to create individual assets to secure people's livelihoods. Then they won't have to look for wage employment. If, on a Sahariyatribal's homestead, we can build a pond or recharge his well, then we can hopefully help him grow something.
Putting all this in place are you looking at some kind of concerted action plan? Is the government involved?
We want a concerted plan. We want to make sure quality assets get built under MGNREGA and people get paid on time at the end of the day. People have not been coming to work in some places because they weren't getting paid.
We met the Tikamgarh collector, Priyanka Das. She said she would be happy to support the NGOs in implementing MGNREGA and that money wasn't a problem. She asked us to come up with a plan that would tackle drought, water scarcity, land use, promote drip irrigation, high value crops and provide market linkages. She also wanted the PradhanMantriFasalBimaYojana implemented. We are helping 1,000 farmers to cultivate urad. She is keen to include them in the crop insurance scheme.
Which districts will you be working in?
We are planning to work in Tikamgarh, Sagar, Chhatarpur and Panna in MP and Lalitpur and Mahoba in the UP side.
Will you be tackling food security by improving the public distribution system (PDS)?
We will see if rations are available on time and whether we should do direct benefit transfer (DBT). There was consensus among NGOs that we should use the priorities of the government to scale up the programme. So if the Lohia Gram AwasYojana is a priority for the Samajwadi government, we could tap that. If Swachh Bharat mission is a priority for MP we can draw on that too.
Is there scope for organised employment for the youth? If you start SHGs are there microfinance companies willing to give them loans?
Pradan started a poultry programme years ago and it has been successful. Each farm can be a 300-bird farm or a 500-bird farm. There is an organised poultry system in Bundelkhand.
Six or seven years ago when we started our SHG programme it was hard to give out Rs 2 lakh and recover the money. Today Sanghamithra, a microfinance institution set up by Myrada, is working here. It has given out nearly Rs 60 lakh as loan.
Tikamgarh alone has 5,000 enthusiastic SHG members. In Damoh and Sagar there is a federation of SHGs. So we have five SHG federations in Bundelkhand and they are all ripe for microfinance.