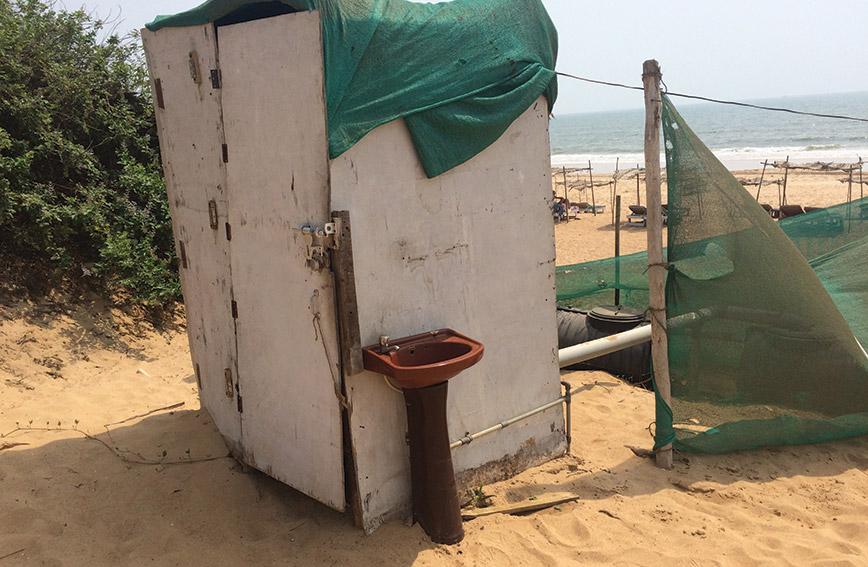 A toilet on the beach in Goa! Where does the waste go after it flows into the tank at the bank?
The small sewage solution is finally here
Civil Society News, New Delhi
Published: Jun. 02, 2017
Updated: Aug. 30, 2017
Localised sewage treatment systems for as little as Rs 1 crore and catering to just a few score households are now a reality, making it possible for rapidly expanding urban areas in India to become cleaner and less prone to diseases caused by faecal contamination.
A Faecal Sludge and Septage Management (FSSM) policy announced by the Union government in February has received little public attention, but it is a major step towards improving urban environments and encouraging state governments and civic bodies to deal with the problem of sewage disposal.
Access to infrastructure funds has been tied to adoption of the policy and distributed solutions envisaged under it. States have been asked to include FSSM in the Atal Mission for Rejuvenation and Urban Transformation (AMRUT), which seeks to provide sewerage facilities and septage management in 500 cities.
With distributed systems in place, it will be possible to handle the sewage of households locally instead of having extensive and costly centralised sewer systems with distant outfalls.
As happened with solar power, this could be a turning point for sewage treatment. Policy prescriptions, new technologies, falling asset prices, entrepreneurial involvement and financing mechanisms could soon be coalescing to deal with the problem of human waste.
The FSSM policy comes in the wake of the Swachh Bharat Mission (SBM) which seeks to end open defecation by promoting the setting up of household toilets. As more and more toilets get built, the problem is what to do with the sewage.
From Census 2011 it is learnt that India's urban population is expected to grow from 377 million in 2011 to 600 million in 2031. The census also says that in 4,041 statutory towns, 7.9 million households defecate in the open because they do not have access to toilets. The SBM expects that 80 percent of these households will get toilets and the remaining 20 percent will use community facilities.
But the huge increase in the urban population will require a corresponding expansion of the capacity to treat sewage. Currently there is capacity to treat just 37 percent of the 62,000 million litres of human waste that is generated in urban India. Of the 816 municipal sewage treatment plants, only 522 are operational in some form. In the absence of sewer systems, 47 percent of urban households depend on septic tanks and pit latrines.
With the urban population rising and more household toilets getting built under SBM, it is expected that, in the absence of sewerage facilities, the onsite disposal of sewage will grow exponentially. So, while SBM might reduce open defecation, it will do nothing for treatment of sewage, which if it is not disposed of safely will continue to endanger public health in much the same way open defecation does.
Standards exist for the construction of household toilets but they largely go unsupervised. Households do not report the cleaning of septic tanks for years together. Since standard design parameters are not enforced, septic tanks get built without soak away and drain fields, which eliminate contamination.
The FSSM policy expects to connect central government programmes like SBM, AMRUT and Smart Cities on the important issue of human waste disposal.
It recognises that urban local bodies lack the expertise to deal with sewage management on their own. But by spelling out priorities, standards and contexts, the FSSM policy expects to be able to mainstream these civic concerns by 2019.
The policy covers all projects of the central government. It also enjoins state governments, local urban bodies and private facilities to ensure that the provisions of the policy are implemented for onsite sanitation services.
The policy does not cover network sewerage systems, but, interestingly, it explores the possibilities of onsite sanitation services and networks. What this essentially means is that waste collected from onsite facilities can be disposed of and treated through the systems of the network.
Tamil Nadu, Odisha and Maharashtra already had their own FSSM policies in place. As frontrunners, these are states to learn from. A central policy, however, has its own heft and importance and brings together all the available experience to fashion a model for the states which do not have policies of their own.
The policy makes technological suggestions which can be easily adopted. But, more importantly, it emphasises the spreading of awareness about the importance of sewage management and its implications for public health. It calls for engagement with communities so that they are supportive of initiatives taken up by local administrations. If people can be helped to understand how harmful open defecation and dumping of sewage is, they will adopt systems that keep their neighbourhoods clean.
The policy stresses the need for standardisation of design and construction. Supervision and regulation are particularly important because the entities involved will range from private players to the government.
A major challenge will be the implementation of the FSSM policy in dense urban areas which are already hooked to sewerage systems, but where the disposal of waste remains a problem. Getting onsite solutions to work in such situations will require innovation.
It also remains to be seen how large urbanised and rapidly expanding areas like Gurugram, which have a serious problem with sewage disposal, can be brought under FSSM. These are areas which have already seen runaway construction without controls. Much will depend on mobilising public opinion and the policy's success will require the involvement of NGOs and community groups.
The FSSM policy has itself come out of a combined effort by civil society such as the Bill and Melinda Gates Foundation, Centre for Science and Environment, the National Institute of Urban Affairs, among others. These organisations combined their efforts to help the government shape the policy. Its future success will depend on more such collaboration.