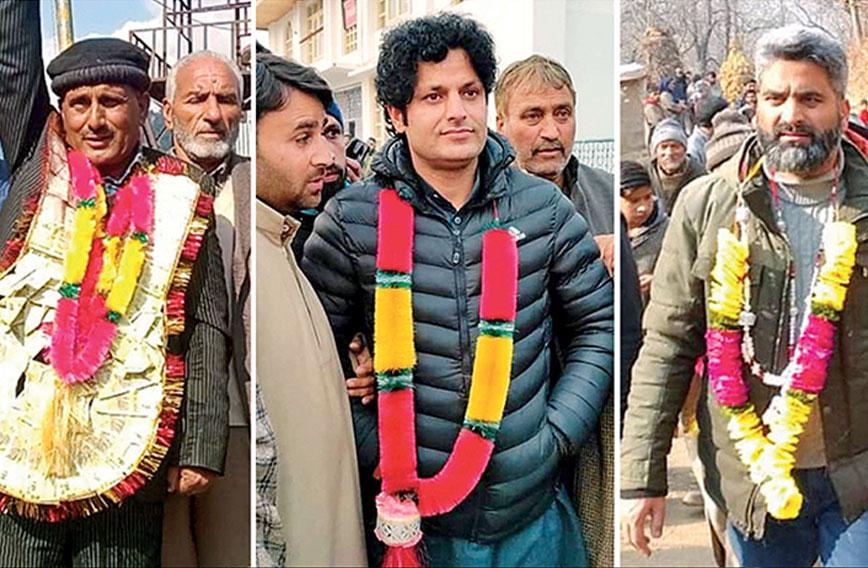 Ismaeel Khan, Muzaffar Ahmad Dar and Mohammad Saleem Parray
Local issues on the table after poll in Kashmir
Jehangir Rashid, Srinagar
Published: Feb. 10, 2021
Updated: Sep. 20, 2021
THE District Development Council (DDC) elections, held in Jammu & Kashmir (J&K) from November 28 to December 19 were unprecedented in many ways. They were the first such elections after the state was made a Union Territory, people overwhelmingly participated, and a whole lot of political parties fought the elections jointly.
The DDCs replace the District Planning and Development Boards in all districts of J&K. These councils with directly elected members will now prepare and approve district plans and capital expenditure.
Most mainstream political parties in J&K are of the view that these elections were held in a surreptitious manner with no time being given to them to campaign. They also said that they were not provided a level playing field and many of their candidates were unduly harassed.
Parties like the National Conference (NC), People's Democratic Party (PDP), People's Conference (PC), Awami National Conference (ANC), CPI(M) and others came together to fight the elections under the platform of the People's Alliance for Gupkar Declaration (PAGD). The elections have been done and dusted and the results are out as well.
The PAGD won 100 out of 280 seats, becoming the single largest group. The Bharatiya Janata Party (BJP) emerged as the single largest party, winning 75 seats including three from the Valley. The PDP's Waheed-ur-Rehman's win in these elections was unique since he is languishing in jail for alleged links with militants.
Most of the winning candidates said that people came out to vote because they are tired of grappling with the lack of basic amenities. They were facing issues like inadequate electricity, drinking water, roads and mobile connectivity.
The winners said they stood for elections since they would like to improve access to such services. Some said they can go beyond their mandate and do 'bigger things' but they were perplexed since the rules and regulations governing the DDCs are not out as yet.
Muzaffar Ahmad Dar, a DDC member from Tujjar Sharief in Sopore in North Kashmir's Baramulla district, believes that the political future of DDC members depends on how much they manage to achieve while discharging their obligations on the ground. He said that people have huge expectations from DDC members since they have suffered a lot.
"If I can solve the basic problems of my people then I can say that I have done justice to them. We have a glaring power problem in my area. There are unscheduled power cuts all the time. The receiving station has been allotted to our area but there has been no upgradation and we await wires and poles," says Dar. His area does not have the requisite number of electricity transformers either, he says.
He also said irrigation facilities in Cheth-I-Kak village need to be improved so that five nearby villages can also benefit. He added that an eight-km Watlab–Cheth-I-Kak road must be completed at the earliest since it connects Baramulla with Kupwara and Bandipora districts of North Kashmir.
Also included in his agenda is local tourism. "There is tremendous scope for pilgrimage tourism in Tujjar Sharief since it is the birthplace of the famous Kashmiri saint, Makhdoom Sahib. Some time ago, Baseer Khan, adviser to Lieutenant Governor Manoj Sinha, visited our area and we placed this demand before him. He was very positive so we are hopeful," said Dar. But he also added a note of warning. If his agenda is not implemented due to government indifference, he and locals will take to the streets.
Mohammad Saleem Parray, an advocate and DDC member from Sagam-Kokernag in South Kashmir's Anantnag district, said that he too will be focusing on development issues plaguing his area — lack of water, roads and electricity.
"It may take some time for the people and the DDC members to understand the situation that emerges after the DDCs are formally constituted with a chairman or chairperson. We are not sure about the protocol so far. Once we understand the processes involved, we will be able to provide some relief to the people," said Saleem Parray. He said he was keen to work on innovative measures in education. He has drawn up some plans and proposals which he will unveil to the people in due course.
"In the past, development could not take place in the panchayats and wards since the elected representatives were not given enough money," said Mohammad Ismaeel Khan, DDC member from Boniyar-Uri. With the formation of DDCs, he hoped that adequate money will be allocated for the development of panchayats, wards and villages.
"It is ironical that today an executive engineer of the Jal Shakti department has no money to issue a single pipeline for drinking water in any village. After the DDC elections we are hopeful that funds will be allocated," said Ismaeel.
Ismaeel said that roads in his area were in the worst condition possible and needed to be fixed under the Pradhan Mantri Gram Sadak Yojna (PMGSY). At least six villages in Bagna and adjacent areas did not have any road connectivity whatsoever. Besides, Limber village had no mobile network. Overall, mobile connectivity needs to be much better.
Sheikh Javed Ahmad, a lawyer and a DDC member from Anantnag district, said that the role and responsibilities of a DDC member would be known in due course of time. He claimed that he was well aware of his mandate. "The broader picture will emerge once the DDCs take practical shape," he said.
"The people want better drinking water, power facilities and road connectivity. I hope to make a difference," he said.
The DDC member from Sogam-Kupwara, Nasir Lone, also said his area had very irregular supply of electricity, making the lives of people unbearable due to the gruelling winter, the worst in decades.
"Unscheduled power cuts have become routine. Electricity transformers need to be upgraded. Electric wires and poles have worn out," he says. "Many households don't even have piped water connections. In winter, water pipes get frozen so people have no water supply."
Sogam-Kupwara also suffers from a shortage of doctors, technicians, laboratory staff, para-medics and other staff. Also, payments due to the beneficiaries under the Swachh Bharat Mission (SBM) are pending for long.