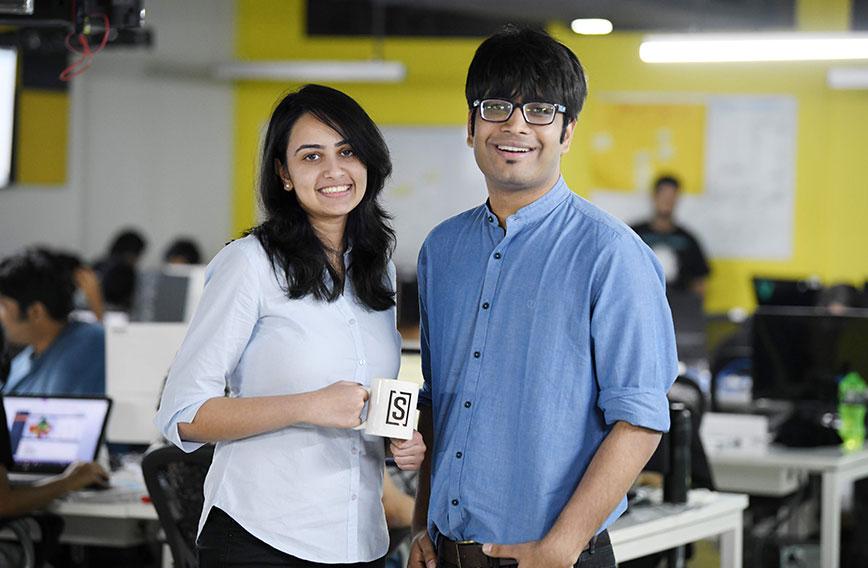 How SocialCops put BPL women on LPG list
Kavita Charanji, New Delhi
Published: Aug. 27, 2018
Updated: Dec. 05, 2018
About 150 organisations across 26 countries turn to SocialCops, a data intelligence company in New Delhi, for data solutions. Their list of clients includes Singapore Zoo which wants to monitor a rare species; an NGO trying to find out whether its funds are being used to construct quality toilets; an Indian company grappling with sales management; and the Union ministry of rural development, tasked with monitoring 42 flagship schemes.
In fact, SocialCops was named Technology Pioneer 2018 by the World Economic Forum, sharing the limelight with 61 companies including Airbnb, Google, Mozilla and Twitter. "Our work helps build a world with smarter cities, happier citizens, better policies, and a brighter future," reads their tagline.
SocialCops helps its clients to make quick decisions by collecting primary data, collating it with their data repository, merging data and, finally, making it easy to visualise data on an interactive dashboard. Dirty data is weeded out.
"Our goal is to build products that are as simple to use as WhatsApp for the entire data journey — from data collection to data visualisation, to using alternative data processes that can help decision-making," says 26-year-old Prukalpa Sankar who, along with Varun Banka, founded SocialCops in 2013. The idea was to use data for tackling critical problems, whether in health, education or the environment.
Their work in helping to implement the Pradhan Mantri Ujjwala Yojana has aroused interest because of the scale involved and the speed with which it was done. The scheme was launched on May 1, 2016, and its aim was to provide free LPG (liquefied petroleum gas) connections to 50 million BPL (Below Poverty Line) women by 2019.
SocialCops partnered the ministry of petroleum and natural gas and three public sector oil companies, Indian Oil Corporation, Hindustan Petroleum (HPCL) and Bharat Petroleum (BPCL), to deliver the LPG connections. In 11 months, 20 million LPG connections were installed; the beneficiaries were happy and so is the ministry.
The LPG scheme is a massive exercise. It involves dealing with three oil companies in 13 states, 18,000 LPG distribution centres, 640 districts, and over 50,000 field mechanics. The data was mind-boggling and so were the bottlenecks. Delivery processes within government are slow-moving, hierarchical, inefficient and dogged by leakages. The end result is that the real beneficiaries get left out.
SocialCops' first objective was to find the best locations for 10,000 new LPG distribution centres. The location had to be such that the maximum number of BPL women, who needed clean cooking fuel, would be able to access the centres and get their LPG connections.
Their second objective was to track the thousands of applications for LPG connections that poured in. Lastly, they had to ensure that new connections were installed efficiently and safely.
"We wanted to ensure, first of all, that the bureaucracy and cabinet minister sitting in Delhi had information at their fingertips on a daily basis, so that they knew what was happening on the ground," says Sankar.
To begin with they got the 17,000 existing distributors of the three oil companies to download SocialCops' Collect app and provide their geolocations. SocialCops also sifted through available data on sales, profitability and marketing from the internal data systems of the three oil companies.
Then SocialCops pulled out data from its own data repository. It mapped each of India's 640,000 villages in terms of LPG penetration, income, population growth and so on. To make sense of this data, the company used its data transformation engine. Finally, this data was brought together on one common platform so that it could be visualised by government officials on a dashboard with state, district and village-level comparisons, geo-clustering and the 10 best locations for an LPG centre in every district.
To monitor applications for LPG connections, SocialCops put up a real-time interactive tracking dashboard which kept tabs on the applications received, accepted or rejected, and the number of women who finally got LPG connections at state, district and village levels.
The dashboard had green, yellow and red source codes that enabled Dharmendra Pradhan, minister of petroleum and natural gas, and senior officials to track developments on the ground, view bottlenecks and pull up district nodal officers whose performance was marked red, or commend others.
The dashboard, says Sankar, improved the delivery mechanism of the scheme. One day a chart on the dashboard showed the ministry that many applications for LPG connections were being rejected by distributors. The SocialCops team analysed the data and found out that rejection rates were high because the women did not have bank accounts, a mandatory requirement for a new gas connection.
Pradhan asked why Jan Dhan Yojana camps could not be held in areas where the rejections occurred. So an order was passed to create convergence between Jan Dhan Yojana and the Ujjwala scheme. "This was such a simple thing that we were able to drive," says Sankar.
The ministry and SocialCops also had to track whether the beneficiaries were actually getting the LPG connections and whether they were being installed safely.
So whenever a mechanic was sent to instal new connections, he was required to download the Collect app on his phone by the distribution centre to access the beneficiary's data. He then had to take photographs of the beneficiary with the cylinder and provide evidence that the connections had been installed safely.
Sankar has an interesting story to relate about her team's field visit to a small district in Uttar Pradesh. "One of the women told a member of the team that because of Ujjwala, for the first time she had her own identity, her own bank account and an LPG connection in her own name. It was the first time she felt empowered! When we looked at the data or numbers we never thought that this could happen. Small decisions at the national level can change so many things," says Sankar.