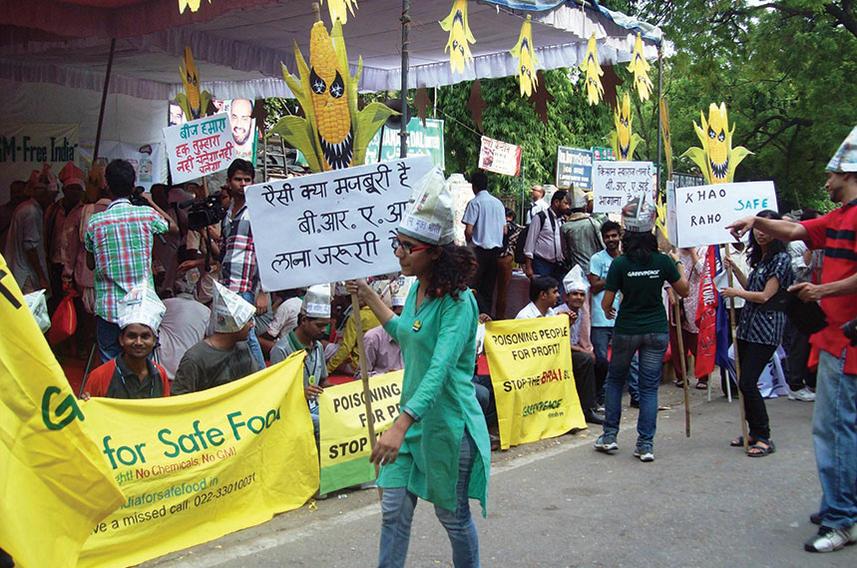 Govt says NGOs are public servants under Lokpal Act
Civil Society News, New Delhi
Published: Aug. 02, 2016
Updated: Jun. 15, 2017
The relationship between the government and the NGO sector is steadily worsening. Hostility between the two isn't new. A low-intensity battle went on even during the days of the UPA regime between the Ministry of Home Affairs (MHA) and the NGO sector.
Now, a new notification issued by the government on 20 June has further riled the sector, which was already smarting after the licences of several NGOs were cancelled for not following Foreign Contribution Regulation Act (FCRA) norms.
The notification places NGOs, charities and trusts receiving annual government grants of Rs 1 crore and more, or receiving foreign funds of Rs 10 lakh or more, under the ambit of the Lokpal and Lokayuktas Act, 2013.
It designates those working for NGOs as 'public servants'. Under Section 44 of this law they are required to declare their assets and those of their spouses and dependants to MHA every year.
"The government is no longer neutral when it comes to the right to association or the voluntary sector," says Mathew Cherian, chairman of Voluntary Action Network of India (VANI), a grouping of 700 grassroots NGOs. He is also CEO of Helpage India.
"They first cancelled the licences of 10,700 NGOs for flimsy reasons like somebody submitted a report a day late. No showcause notice was served. Even a common criminal is served a showcause notice."
"The licences of Lawyers Collective and Sabrang Trust were cancelled on thin grounds," says Cherian. "The government continues to de-register NGOs in the FCRA list. They are using the Intelligence Bureau to go after the NGOs."
At a meeting held in Delhi by VANI and FMSF (Financial Management Service Foundation) it was decided to challenge the 20 June notification in court.
The sector is upset that members of their boards who work without taking a fee are included as 'public servants' in the notification and will therefore have to make public their assets. Some are high-net individuals. NGOs feel that their board members will resign and they will lose valuable advice. At the VANI-FMSF meeting it was felt that such disclosure should be made at the organisational level and not at the individual level.
Designations like director, manager and secretary are not clearly defined in the Lokpal Act. These are terms used by companies and not NGOs. "In most NGOs people are designated as project managers, programme managers, finance managers and so on. Some of them work for a very nominal fee or as volunteers. Should they also be treated as public servants?" asks Nosher Dadrawala, CEO of Centre for Advancement of Philanthropy.
The office-bearers of NGOs can now be prosecuted for corruption under the Prevention of Corruption Act (PCA), 1988. "But corrupt actions as described by this law don't apply to NGOs because they don't wield the kind of power and discretion that officials, elected representatives or employees of public sector undertakings (PSUs) have," says Venkatesh Nayak, advocator of Transparency and Accountability.
"So unless the PCA defines clearly which actions of NGO officers and employees will amount to corruption, prosecuting them for offences other than for abetting corruption would amount to a violation of their fundamental rights," says Nayak.
Also, disclosure of assets has been held up for nearly two years. The asset disclosure form for public servants was notified in July 2014. Then the wife of a public servant challenged Section 44 and approached the Delhi High Court.
Subsequently, the Parliamentary Committee for Personnel, Public Grievances, Law and Justice looked into this issue and recommended that Section 44 of the Lokpal Act be amended so that the assets of spouses and dependants which have nothing to do with the income of the public servant don't have to be disclosed. Information about the assets of public servants should be kept confidential, said this committee.
"If a company has a right to receive FDI, an NGO also has a right to receive money from foreign sources. We want a level playing field. We provide training and skilling to people. We have worked for eradicating leprosy. We are involved in building toilets," says Cherian.
NGO leaders say they don't fear transparency. Already, those receiving foreign funds are filing their returns with the MHA and uploading information about their finances on their websites every quarter.
But these norms are applied only to them, they point out, whereas companies and political parties always manage to slip away.
"The new Finance Bill tried to exempt foreign companies from this onerous Bill and passed the Bill to exempt foreign companies as both the Congress and BJP had received donations from foreign companies and violated the FCRA Act in 2013-14," says Cherian.
The problem is that political parties, by and large, see foreign funding as a destabilising factor and aid as an insult. The thinking within government is that foreign funding is used to stymie development, spread canards about India and support dubious groups.
At the same time many NGOs are doing outstanding work in health, education, the environment, grassroots democracy and so on. But nothing has been done to bridge the trust deficit between the two so accusations continue to fly back and forth.
"They have blocked 17 European NGOs and the Ford Foundation from giving money to India. They have been acting strange with foreign funders also. NGOs used to get Rs 13,500 crore as FCRA. This has come down to Rs 7,600 crore. Tell me, can this amount destabilise a government? It is not possible," counters Cherian.
"The government's problem is that NGOs are more popular with the people than political parties. That is why none of the state or regional leaders like NGOs at local level," he says.
Within the NGO sector the thinking is that the government wants to do away with foreign funding entirely so that it can depict the country as a rising power. According to Cherian, the G-7 countries did not support India's bid for a seat in the UN Security Council because it receives aid.
"NGOs predominantly work with the poor. So, when you cancel the licence of an NGO, those affected are the poor and the marginalised," says Cherian. But so long as the war of words between NGOs and the government is restricted to foreign funding the stalemate will continue.