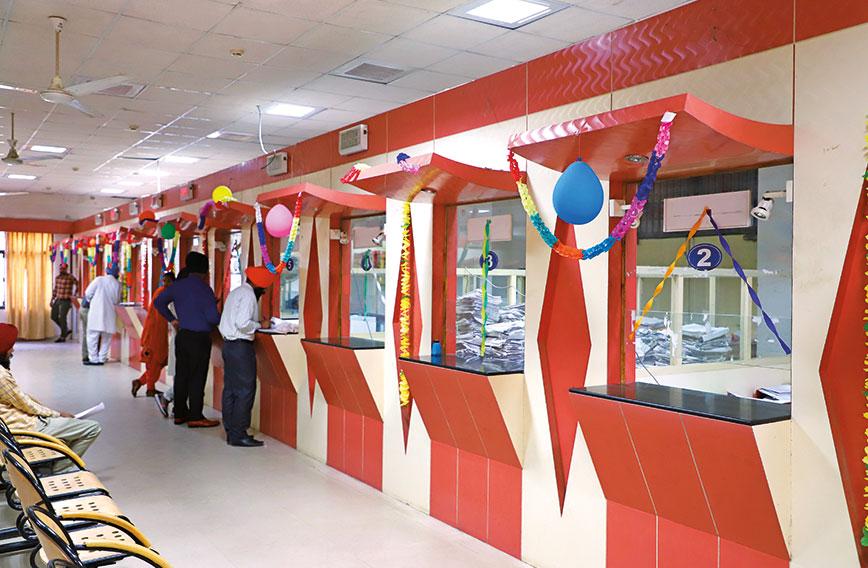 The Sewa Kendra provides public services in a time-bound manner
How Sangrur cuts red tape, takes services online
Raj Machhan, Sangrur
Published: Nov. 29, 2019
Updated: Apr. 23, 2020
Sarabjit Singh has come to the Sewa Kendra in Sangrur, a town in southwest Punjab, to apply for a birth certificate for his new-born grandson. "This centre is a real boon," he says with a smile. "Last month I got my gun licence renewed within 22 days and that too without any fuss."
Fifty-year-old Sarabjit owns a small piece of land in town. He says his late father bequeathed him an old double-barrel gun in the 1990s. Sarabjit says he has little use for it, but he is very particular about maintaining his father's legacy. So he faithfully renews his gun licence every three years.
"It was a real pain doing the rounds of various offices. Renewing the licence often took more than six months. I had to grease palms and put up with all kinds of touts to get it done," he said.
The Sewa Kendras are a Punjab government initiative to provide public services to citizens across the state in a time-bound manner under an e-Sewa project. These centres are digitally connected. Each request is logged online, sent to the concerned department for resolution and subsequently monitored for delivery within a dedicated time-frame decided beforehand.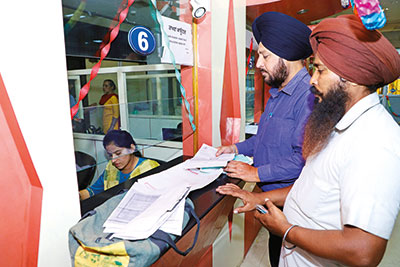 The Sewa Kendra is designed like a bank floor
Sangrur has stolen a march over the other 21 districts of Punjab. In October, the district had a pendency rate of just 0.52 percent of the total requests for services through the Sewa Kendras, which means that 99.48 percent of the applications were addressed within the stipulated time-frame.
Sangrur is the second largest district in Punjab in terms of size. A part of the Malwa region, the district is traditionally considered a backward area. It is predominantly rural and divided into sub-divisions. Sangrur town has a population of just over 100,000. Its lead over the other more developed districts is therefore significant.
The Punjab government provides 252 citizen services out of which 143 are online, and 95 are still offline. Thirteen services are related to independent entities. The services being delivered under the Punjab Transparency and Accountability Act include birth and death certificates, mutation of sales deeds, arms licences, caste certificates, and others related to animal husbandry, agriculture, mandis, excise and taxation, food, civil supplies and consumer affairs, forest and wildlife, welfare of freedom fighters, health and family welfare, home, housing and urban development, industries and commerce, labour, local government and so on.
Each service has a designated timeline for completion. Officials need to ensure delivery happens. For example, approval of a water connection has a timeline of seven days, whereas renewal of registration certificates for ultrasound centres has to be dealt with within 90 days. The district has 31 Sewa Kendras to cater to a population of over 1.9 million.
So what makes Sangrur a success in delivery of public services? The answer seems to lie in getting officials to deliver through an effective organisation, strict monitoring, regular reviews and fixing of accountability. The Sewa Kendra located on the deputy commissioner's office premises is organised into workstations like a bank floor dominated by tellers. Each applicant is issued a token at the reception and needs to watch small digital monitors above the designated service windows to avail of his turn. At the service counter, application formalities are discussed and, if all is in order, the person is told by when the work will get done.
The Sewa Kendras are staffed and run by a private company operating out of Mohali. Data generated on a daily basis is stored in a central server and monitored by a senior official in the Chief Minister's Office (CMO), who keeps a tab on the performance of all districts. The CMO has created a WhatsApp group for faster communication.
At the district level the effort is driven by the deputy commissioner. Operationally, the Sewa Kendras are handled by a district manager appointed by the private company and the additional district e-governance coordinator from the government side.
In Sangrur, the e-Sewa project is led by Deputy Commissioner Ghanshyam Thori, a data-driven officer who has a simple management mantra: "Whatever gets monitored gets done." Thori constantly supervises, reviews, and acts on the reports generated by the MIS system.
In what could be termed 'WhatsApp governance', he has a core WhatsApp group for service monitoring in the Sewa Kendras and 25 to 30 WhatsApp groups that have all concerned officials from various departments as members. Data is shared with all, and officers found lagging in request resolution get three follow-up calls from various levels. Weekly review meetings are the norm.
"I follow a simple strategy to ensure that work is done in the given time-frame. I call a 9 pm meeting. All officers found lagging are invited to this meeting every Tuesday to discuss the situation. Must say, it has been very effective. People work just to avoid the invitation," says Thori.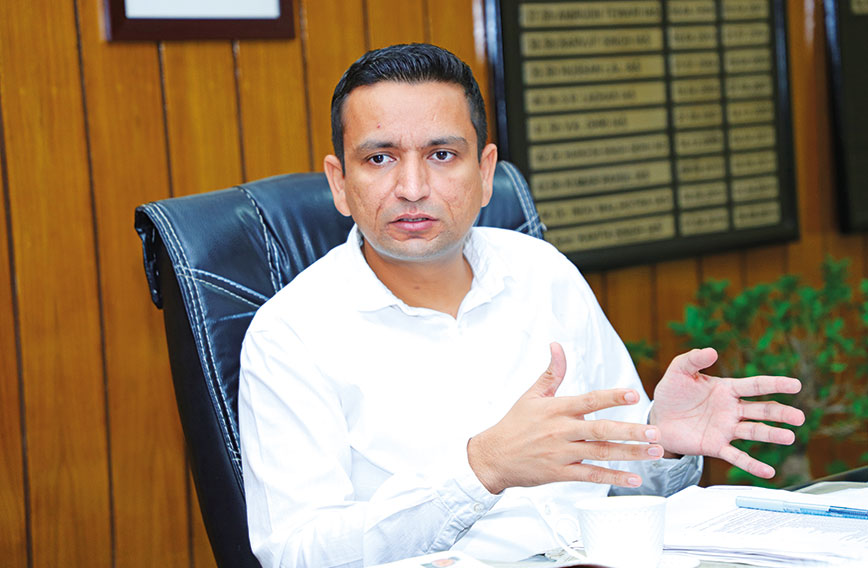 Deputy Commissioner Ghanshyam Thori
Sangrur Public Grievance Officer Ankur Mohindroo says, "We are essentially trying to shift the equilibrium. Officials are generally occupied with new applications on a day to day basis. But it is critical to deal with the pending ones."
The deputy commissioner cites as an example mutation of property sale deeds, which have a turnaround time of 45 days, to illustrate how pending applications can mount over a period of time. "In my first monthly meeting, officials informed us that out of 300 cases for the month, 200 had been dealt with. The remaining 100 would be taken up in the remaining 15 days. However, when I called for the yearly data, I found 3,000 cases pending. In all, there were 15,000 cases pending since 2012 when the online function began. It took me eight months to bring pendency down to its present level."
Thori was posted to Sangrur in March 2018. A management graduate from Narsee Monjee Institute of Management Studies, he worked in the private sector for three years before joining the civil services.
"Eighty percent of people come for routine services like renewal of driving licence, arms licence, birth and death certificates. Only 15 to 20 percent of matters are those where the individual would be required to meet an official. So the focus is on Sewa Kendras where we can make a difference to the general public. Secondly, we are able to monitor the service delivery carefully as the data captured at these centres is centralised and cannot be tampered with," says Thori.
Constant follow-up and communication is another tool the Deputy Commissioner has deployed effectively. He has also fixed timelines for government schemes, like release of MPLAD funds for various projects, which lie outside the ambit of Sewa Kendras. Thori's priorities for the state include increased focus on government schemes, his core areas of work including land revenue, and reducing e-Sewa pendency at the top. "Doing away with e-Sewa pendency has become competitive among districts in the state," he remarks. He does not have direct administrative control over other departments, but through Sewa Kendras he is able to hold officials accountable for non-delivery.
Sangrur has topped in the Punjab government's Har Ghar Rozgar Yojana, Mahatma Gandhi Sarbat Vikas Yojana, and the central government's Jal Shakti campaign for which it has received awards. The cash-strapped Punjab government has renewed its focus on implementation of efficient citizen service delivery channels, given the limited room for maneuver in implementing new projects.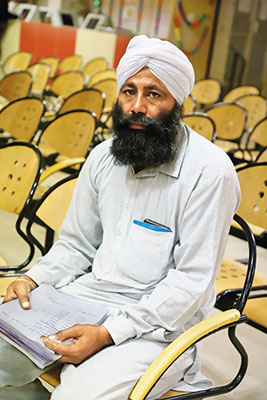 A farmer waits with his application
Due to the obvious advantages, people have been flocking to the Sewa Kendras like never before. By October 18, the Kendras in Sangrur district had received 495,000 applications for online services, 601,843 offline. For services that are still offline, the Kendras help to track the status of individual files and their resolution with various departments.
The dissonance in delivery of citizen services has been a major problem for people across the country. Sangrur could show the way.