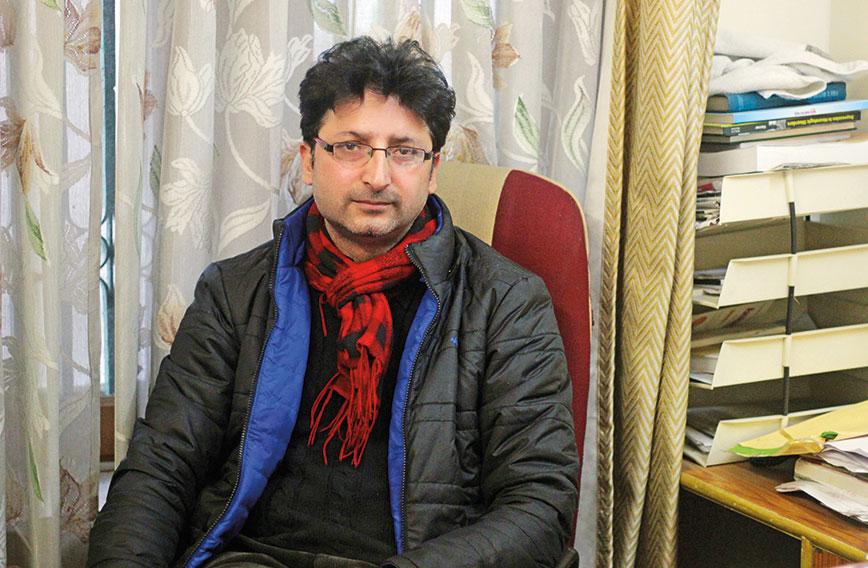 Drug policy in J&K seeks to tackle addiction
Jehangir Rashid, Srinagar
Published: Dec. 05, 2018
Updated: Apr. 23, 2020
A new drug policy to check rising cases of addiction has been drafted in Jammu and Kashmir (J&K) and made public so that people can read it and provide suggestions. The never ending conflict in the Valley has impacted the youth and most drug users are between 17 and 35 years of age.
The new drug policy's focus is on prevention. It aims to reduce behaviour in individuals that leads to substance abuse, by making early interventions and preventing complications in cases where substance use does occur. The policy also aims to tackle relapse of successfully treated cases and assist their rehabilitation in the community.
Known as the Draft Policy Document for Drug De-Addiction, the document has been drawn up by the Institute of Mental Health & Neurosciences (IMHANS), Government Medical College (GMC), Srinagar, in collaboration with the Department of Psychiatry, SKIMS Medical College, Srinagar, and the J&K State AIDS Control Society with inputs from the Department of Psychiatry, Government Medical College, Jammu, and psychiatrists from the Directorates of Health Services of Kashmir and Jammu, respectively.
Explaining the draft policy, Dr Arshad Hussain, reputed psychiatrist at GMC, says that it does not favour opening of de-addiction centres in a large-scale manner across the state."We are not advocating opening of a multitude of de-addiction centres. Two existing centres are already doing a wonderful job at the Government Medical Colleges of Srinagar and Jammu. Since five medical colleges are coming up we propose to set up de-addiction centres at these colleges," said Dr Hussain.
"The drug policy aims to tackle drug addiction in integration with society and not in isolation. We want to involve the different stakeholders in society so that the results are excellent. It is necessary to tide over this crisis. Even the prime minister of the country talks about it," added Dr Hussain.
The three important aspects of the policy are prevention, integration and community participation. Dr Hussain says these aspects are closely related and cannot be treated in isolation while tackling the menace of drug addiction.
Existing de-addiction centres in GMC, Srinagar, for instance, will be upgraded in terms of infrastructure and manpower to enhance care levels and provide links to the community.
District hospitals too will be improved. In all such hospitals a psychiatrist, a de-addiction centre, treatment services along with manpower for the psychiatrist will be provided. Community leaders like teachers, preachers and social activists need to be sensitised about substance abuse.
"Training of medical doctors, para-medical staff and other para-clinical staff in identification, intervention and referral of patients with substance use disorders should be done. Utilisation of mass media in spreading awareness across schools by making and broadcasting movies and internet-based informative videos are also needed," says the policy document.
The document says that para-social and para-health workers like village-level workers, ASHAs, ANMs and para-legal field workers need to be sensitised about substance use and steps to curb it. It says that the Narcotics, Drugs and Psychotropic Substances (NDPS) Act should be implemented in letter and spirit and, after discussions, more drugs should be brought under its purview.
"Reorientation of the literacy mission into an educational mission, focusing on the overall development of children with special focus on outdoor sports and playing activities along with moral education must be encouraged. This can contribute to building society. It is also important that content on the internet is regulated and curbs are imposed on glamourising smoking, alcohol, cannabis or other items used for substance abuse," states the document.
The new drug policy also recommends that medical insurance and medical leave benefits cover the de-addiction treatment period just like any other medical condition. Schools should conduct health check-up camps particularly for adolescents so that screening for substance abuse is done.
The policy says that there is a need for introduction of self-help communities on the lines of Narcotics Anonymous and Alcoholics Anonymous in the state. The controlling agencies need to reorient their modus operandi to counter-balance the availability of substances. Extension of after-care in the form of rehabilitative care within the community, and ensuring a life of dignity and purposefulness by empowering former users socially and economically, are also to be done.
"Once a child steps into the dangerous web of drug addiction it becomes difficult for him to return. It is important that prevention is given due importance. The drug policy proposes to reduce the demand for drugs but it is equally important to ensure that these drugs are not available in the open market," said Dr Hussain.
He said that doctors posted at primary level health institutes in the state should have knowledge of drug addiction so that they can counsel and guide an addict towards proper de-addiction centres.