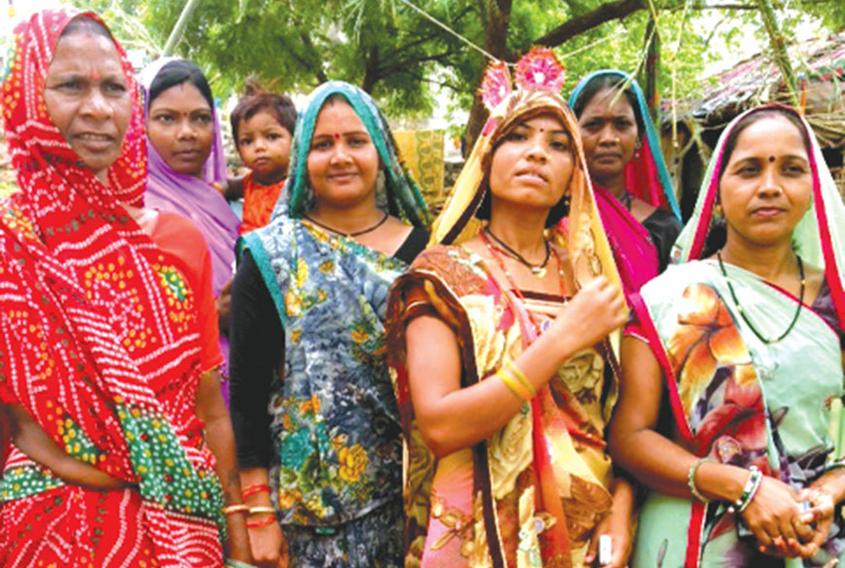 Elected Sahariya women swing into action
Swapna Majumdar, Bundelkhand
Published: Sep. 28, 2016
Updated: Jun. 15, 2017
IT is the wedding season in Gugar, a village dominated by the Sahariya tribe in the Lalitpur district of Uttar Pradesh. But Jayanti has no time to participate in the festivities. She has to resolve problems related to the midday meal in the Bhadora primary school, two kilometres from her village. After that, she needs to meet government officials in the block office in Talbehat regarding old age pension cards. This means walking another eight kilometres. But nothing deters Jayanti from carrying out her duties as gram pradhan. She has never shied away from hard work, even when she worked as a daily wage labourer until a year ago.
This change would not have been possible had Jayanti not shown the courage to withstand pressure, particularly from powerful castes in villages here. Jayanti stood her ground despite threats and coercion to withdraw from the elections. Even the announcement that she had lost by four votes did not break her spirit. She exercised her right to a recount and was vindicated when she was declared the winner by a thin margin of six votes.
Jayanti's journey from a daily wage labourer to a pradhan symbolises the growing political empowerment and coming of age of many marginalised women. In feudal and backward Bundelkhand region, these women are now more willing to participate actively in the electoral process.
Being a part of Self-Help Groups (SHGs) has given the women confidence. They have realised that their collectives are their strength. The women are now stepping out of their homes and standing up for their rights. "Had I not been a part of the SHG, I would never have had the courage to contest for the panchayat elections," said 30-year-old Jayanti.
In fact, it took almost seven years for these women to take this big step. When the first SHG was formed in Bundelkhand in 2008 by the Rajiv Gandhi Mahila Vikas Pariyojana (RGMVP), a non- profit working to empower women and alleviate poverty in the state, the women were shy, many having never ventured out of their homes. Even while thrift and borrowing remained a prime objective of many members, information of their rights and entitlements, disseminated in their weekly SHG meetings, helped women learn about the importance of their vote, their gram panchayats and how local political institutions could facilitate development. In 2015, this learning encouraged the 11,435 SHGs in Bundelkhand, each comprising 10-15 members, to play a pivotal role in ensuring members not only voted but stood for elections.
In October 2015, when it was announced that panchayat elections would be held in two months, about 200,000 women belonging to SHGs formed by RGMVP, met under the aegis of their federated village organisations to take one of their biggest decisions. Had the time come to test the political waters? The unanimous answer was, yes. The women decided they had to be the change they wanted.
Just how right their decision was would be proven when 23 of the 52 women fielded by the SHGs would emerge victorious, with the districts of Lalitpur and Jhansi leading the way. Of the 16 candidates fielded in Lalitpur, nine won. In Jhansi, 13 of the 21 nominees were victorious.
In Lalitpur district's Rajawan gram panchayat, 10 SHGs decided it was time to plunge into the election fray. "We had been governed by a male pradhan all these years and seen the lack of development. We knew Jayanti, our candidate, would do a better job", said Lalita Dubey, the coordinator of the SHG.
The women launched their campaign. Jayanti was the only woman among 10 male candidates. Pamphlets were printed, all from personal contributions made by the women members of the SHGs, and distributed by them. Night meetings were held to review and strategise. Door-to-door visits were also initiated.
The first hurdle they had to cross was in their homes. "When I told my family to vote for Jayanti, my father-in-law refused. He said the family had always voted for the men. There was a lot of resistance. It took some days to convince him that it was time to give women a chance," recalled Lakmi, an SHG member.
The women were frugal and banked on their collective strength to run the campaign. Each member was given the task of spreading the word in their hamlet. The momentum created by the women jolted the male candidates and their supporters, many of whom were from powerful communities. Jayanti was not surprised when she received threatening feelers to withdraw. Backed by the SHGs, she weathered the storm. Jayanti also became her own counting agent to ensure that no tampering or forcible voting took place.
However, an attempt to overwhelm her was made by telling her that she had lost. "The officials told me to sign a paper accepting the results. I came out and discussed this with the SHG members and decided to demand a recount," said Jayanti.
Apprehensive that local officials would not entertain their request, the women went to the district magistrate's office. "Being a part of SHGs had given me the confidence and courage to articulate my rights. I requested the district magistrate for a recount and he agreed. My victory was a collective effort," said a smiling Jayanti.
This fighting spirit was the leitmotif of all the women. Victory in the panchayat elections has been a huge shot in the arm for the women and their communities.
They have used their political empowerment to get roads repaired, secure job cards and work under the Mahatma Gandhi National Rural Employment Guarantee Act (MGNREGA). Most importantly, they took measures to tackle the perennial drought plaguing the region.
But even where they lost, the women are not disheartened. They have learned the process and are now politically wiser as candidates, campaigners and as voters.