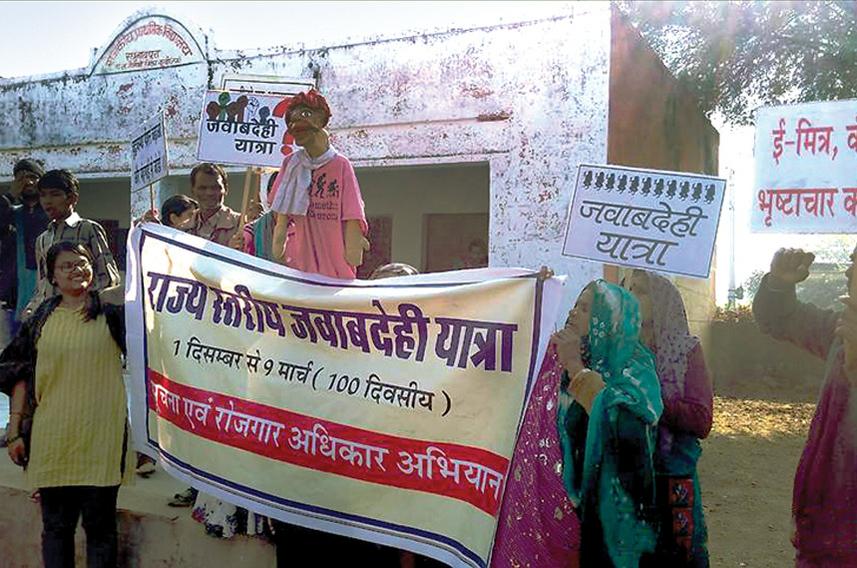 Dead come back to life in Rajasthan
Civil Society News, New Delhi
Published: Aug. 05, 2016
Updated: Sep. 02, 2016
The 100-day Accountability Yatra across Rajasthan led by the Mazdoor Kisan Shakti Sangathan (MKSS) has had an impact. The state government has issued orders to re-verify all one million pensions that had been stopped, including the 688,875 pensions that had been cancelled.
From December 2015 to March this year the yatra had travelled to 33 districts in Rajasthan to assess how government schemes were functioning, find out people's grievances and raise awareness of rights.
The yatris found that the second highest grievance — 1,626 out of 9,297 — was of people not getting their social security pensions.
In 2012 former Chief Minister Ashok Gehlot of the Congress had awarded pension of Rs 500 a month to all men over 58 and women over 55 who were earning less than Rs 48,000 annually in a rural area or Rs 60,000 in an urban centre. A pensioner over 75 years of age gets Rs 750.
This money was a lifeline for the very poor, particularly the elderly, disabled, widowed and single women. However, suddenly their pensions stopped coming and they were haplessly running to banks, panchayats and e-mitra kiosks to find out why, they told the yatris.
The MKSS and the Soochna Evam Rozgar Abhiyan (SR Abhiyan) decided to investigate. They found out from the Department of Social Justice and Empowerment that, out of a total of 6,845,252 pension accounts, the government had first stopped transferring money to one million accounts and then out of these had cancelled 688,875 accounts as of 16 June. The reasons cited included death, duplication, incorrect application and so on.
It is difficult to find out if forms were really duplicated or incorrect but one can surely find out if someone is alive or dead. The MKSS and SR Abhiyan did a quick survey in three revenue villages of ...