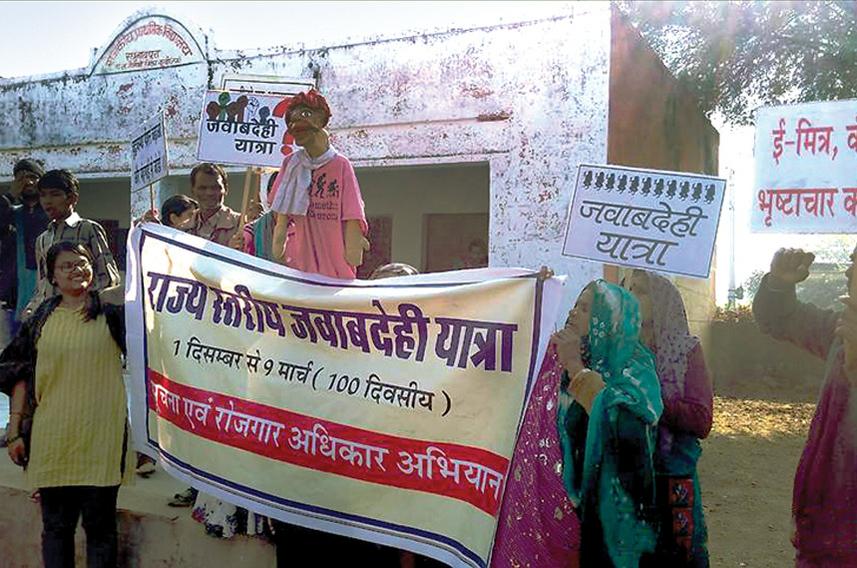 Dead come back to life in Rajasthan
Civil Society News, New Delhi
Published: Aug. 05, 2016
Updated: Sep. 02, 2016
The 100-day Accountability Yatra across Rajasthan led by the Mazdoor Kisan Shakti Sangathan (MKSS) has had an impact. The state government has issued orders to re-verify all one million pensions that had been stopped, including the 688,875 pensions that had been cancelled.
From December 2015 to March this year the yatra had travelled to 33 districts in Rajasthan to assess how government schemes were functioning, find out people's grievances and raise awareness of rights.
The yatris found that the second highest grievance — 1,626 out of 9,297 — was of people not getting their social security pensions.
In 2012 former Chief Minister Ashok Gehlot of the Congress had awarded pension of Rs 500 a month to all men over 58 and women over 55 who were earning less than Rs 48,000 annually in a rural area or Rs 60,000 in an urban centre. A pensioner over 75 years of age gets Rs 750.
This money was a lifeline for the very poor, particularly the elderly, disabled, widowed and single women. However, suddenly their pensions stopped coming and they were haplessly running to banks, panchayats and e-mitra kiosks to find out why, they told the yatris.
The MKSS and the Soochna Evam Rozgar Abhiyan (SR Abhiyan) decided to investigate. They found out from the Department of Social Justice and Empowerment that, out of a total of 6,845,252 pension accounts, the government had first stopped transferring money to one million accounts and then out of these had cancelled 688,875 accounts as of 16 June. The reasons cited included death, duplication, incorrect application and so on.
It is difficult to find out if forms were really duplicated or incorrect but one can surely find out if someone is alive or dead. The MKSS and SR Abhiyan did a quick survey in three revenue villages of Bhim block in Rajsamand district. In one village alone, Chak Hirat in Kushalpura panchayat of Bhim tehsil, they discovered that nine out of 11 people declared dead were alive and were wondering why their pension had been stopped. The government had officially declared six of them dead on the same day — 3 March 2016. They were old and needy. Apart from the pension, other government schemes for them were also not being delivered.
Kalu Ram is 45 years old and disabled. He lost his hand when he was 12 while working in a factory in Gujarat. He runs a small tea stall now. Kalu Ram's pension was stopped four months ago. He also wasn't getting his rations ever since the biometric POS (Point of Service) machine had been introduced in his local ration shop.
Meghram, 81, hadn't been getting his pension for six months. He got only one instalment of the Indira Awas Yojana, a rural housing scheme for the very poor, so his house is in a pathetic state.
Varadi Devi, 79, too wasn't getting her pension. Her Aadhaar card got rejected because of a 'data process error' so she wasn't getting the 35 kg wheat her Antyodaya card entitled her to. She spent Rs 500 trying to get her Aadhaar troubles fixed. She doesn't have a bank account since Aadhaar is mandatory for opening a bank account. And she can't get employment under the rural employment scheme since that too needs a bank account.
Dalu Devi, 75, had not been getting pension for six months. She doesn't get rations from the public distribution system either because her name was spelt wrong on her ration card.
Nol Singh, 75, can hardly walk. He lives in a dilapidated house with no door. He has somehow managed to go three times to the tehsil to find out why his pension has stopped coming for six months.
Altogether, out of 40 people deemed dead in Kushalpura, 22 were alive.
The MKSS brought eight of these people, whom the government had declared dead, to Delhi in early June to prove to the media and the authorities that they were alive and had been running from pillar to post to find out why their pension had been stopped.
The Rajasthan government acknowledged that it had blundered and restored their pension with arrears. The SR Abhiyan demanded that the Rajasthan government reopen and re-verify all the 688,875 cancelled pension accounts. The government has now issued an order to do so.
But the goof-up over the pension scheme reveals a larger malaise: the government's e-governance and financial inclusion initiatives, heavily reliant on technology, are leaving out the poorest.
"Technology has become a minefield and the internet a nightmare for the poorest people on the edge of survival," says Nikhil Dey of the MKSS.
A number of pension accounts were arbitrarily dropped while seeding Aadhaar numbers to bank accounts.
E-mitras, set up on a public-private partnership model to provide government services, cannot verify people in villages. If an elderly and poor person's pension is arbitrarily cancelled, it's a long and costly process to get it rectified. The pensioner has to apply afresh within 90 days.
"The elderly have a tough time opening bank accounts and using ATM cards. Their pin numbers aren't private but printed on the card itself. They say they can change it but then that's again another process," explains Dey.
Technology can't replace processes. So it's important for the government to verify carefully, door-to-door.
To expect a frail and elderly person to navigate the new-fangled system of various smart cards and devices and systems is unjust.
The SR Abhiyan has demanded an accountability law. It has asked that every department have job cards and a citizens' charter. A Janata Information System is needed so that people know what the government is doing and whether they are being excluded from schemes. Counselling along with feedback from the people would be one way of avoiding problems. There should be compensation for those who are denied their dues. Finally, information and facilitation centres should help people lodge complaints and find answers to their confusions with the system.