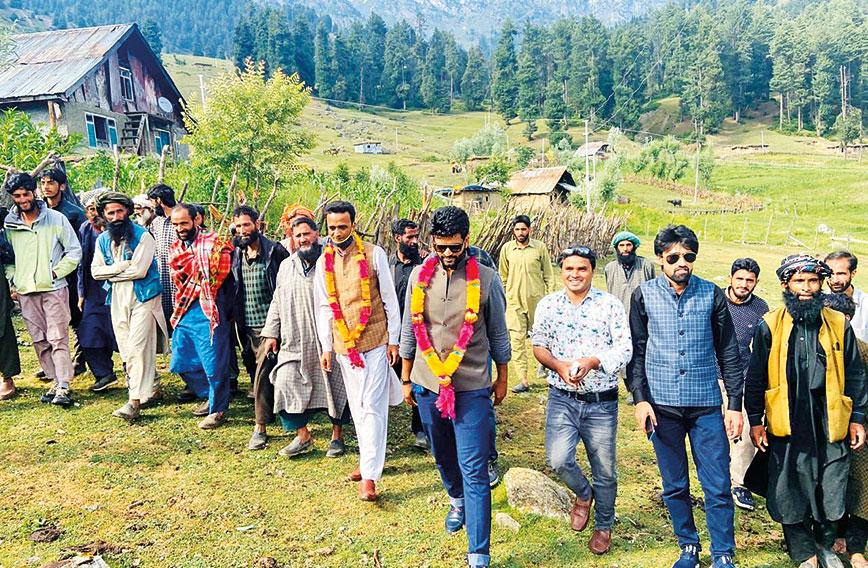 Zahid Parwaz Choudhary (centre) has been working consistently for tribal communities in Kashmir
In Kashmir, forest rights after a long time
Jehangir Rashid, Srinagar
Published: Sep. 20, 2021
Updated: Sep. 20, 2021
WHEN Articles 370 and 35A were abrogated in 2019, most central laws were implemented in the new Union Territory of Jammu & Kashmir (J&K). However, some were not. Among them was the Forest Rights Act (FRA).
It was finally implemented at the end of 2020, after a struggle, which actually began in 2006, when the law was passed by Parliament but could not be introduced in J&K because of the special provisions under which the state was governed.
The law gives forest dwellers rights over their homesteads and minor forest produce and recognizes that they have an important role to play in the protection of forests.
The driving force behind the demand to implement the FRA has been Zahid Parwaz Choudhary, president of the J&K Gujjar Bakerwal Youth Welfare Conference (JKGBYWC).
He is a Ph.D. student at the University of Kashmir. He was born in the village of Dodasan Balla of Rajouri district where he spent his childhood studying in the local school.
He then completed graduation in Srinagar. He has a postgraduate degree in Persian and a B.Ed. and M.Ed. But it is to the uplift of tribal communities that he has dedicated himself.
"The government of J&K had a very lackadaisical attitude regarding this law. Due to this we were forced to hit the streets and carry out protests in support of our demands. The eviction of forest dwellers was going on in full swing, especially in Jammu division," says Choudhary.
It has been a longstanding demand of forest dwellers that their rights be recognized. They have all along wanted to play a role in the protection of forests and manage the resources on which their livelihoods depend.
He said community members have been raising their demands through different means such as protests, rallies, dharnas and conferences. Hundreds of young people have got involved and become robust activists for the cause.
"During our struggle we got a chance to visit Delhi and meet some forest rights activists. They told us to draft legislation on forest rights in J&K and then get it introduced in the state assembly.
This advice fired up Choudhary and his team. They worked on getting the bill drafted and it was introduced in the assembly by Chaudhary Qamar Hussain, the legislator from Rajouri, and a member of the People's Democratic Party (PDP). Hussain has since joined the Apni Party led by Syed Mohammad Altaf Bukhari.
"When the bill got introduced in the assembly, we were upbeat. We thought it would be passed and become a law. But that was not to be. The PDP's ally, the Bharatiya Janata Party (BJP), opposed it tooth and nail. The BJP's Bali Ram Bhagat was given the forest ministry portfolio and there was no let-up in the eviction of forest dwellers. He was replaced by Lal Singh, also of the BJP, and members of our community continued to suffer," recounts Choudhary.
Disappointed, the forest dwellers came out on to the streets of Jammu and carried out a protest along with their livestock. They tried to march towards the Civil Secretariat but were stopped by police. The then chief minister, Mehbooba Mufti, ordered the eviction drive to be stopped.
It was at this time that the Asifa rape and murder case made headlines and the implementation of the FRA was put on the backburner.
When Articles 370 and 35A were abrogated, people assumed all the central laws would be implemented. But that was not to be and the FRA was one of the central laws that was not implemented.
It was only at the end of last year that the law got implemented when a drive to evict forest dwellers became an issue before the District Development Council elections.
Choudhary explains that the FRA guarantees protection of forests and alongside empowers village committees to take stern action against people who cause damage to a forest in any way. He says that village committees have been empowered to such an extent that forest smugglers cannot get away scot-free any longer.
"Under the FRA, tribals can use dried and useless timber for domestic purposes. They are also entitled to pick up dry grass, leaves and medicinal herbs found in abundance in the forests. Community members can also cut branches of trees and this, in turn, will ensure longevity of trees in forests," says Choudhary.
He points out that denudation of the forest cover could have been minimized had the FRA been implemented in 2006. He has also been instrumental in ensuring hassle-free sanctioning of scholarships for Gujjar students.
Choudhury says the FRA agitation in the J&K owes much to the support it has got from Dr Ghulam Rasool, who has been a driving force behind the right to information movement in the state.
However, implementation of the law has been poor across India. It remains to be seen whether people get such rights in J&K.