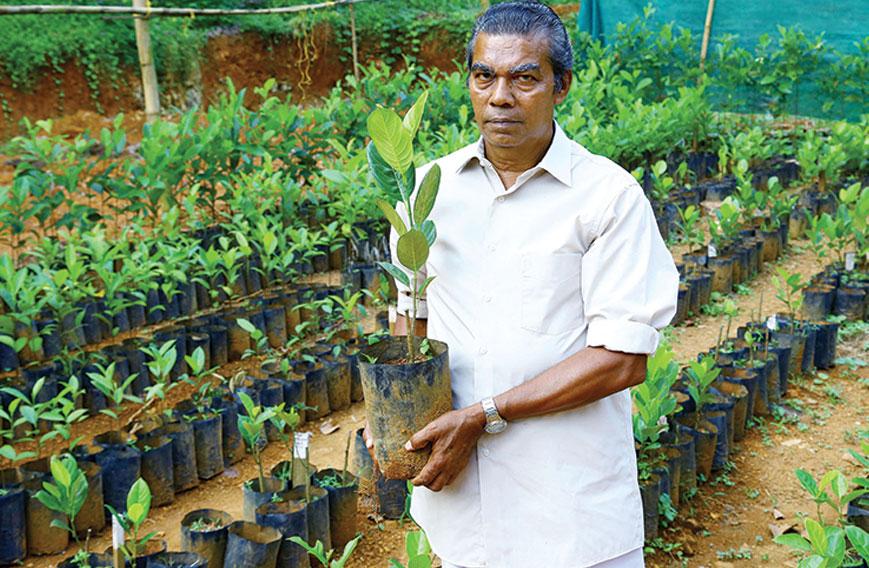 Thomas Kattakkayam has collected 114 varieties of jackfruit and plans to get to 200
Tracing the many relatives in the jackfruit family
Shree Padre, Kottayam
Published: Jan. 06, 2017
Updated: Jun. 15, 2017
Jackfruit was born and cultivated in India but how many varieties do we have? Nobody really knows. But ask Thomas Kattakkayam, a 71-year-old farmer in Kottayam district, and he can provide a few clues. Kattakkayam has collected 114 varieties of jackfruit and plans to stop at 200.
Throughout last year Kattakkayam was away from home, scouting around for good jackfruit varieties. Most of his selections are from his own district, Kottayam. He has not selected any variety without first tasting the fruit. "Only 40 percent of what I ate could be shortlisted," he says.
Kattakkayam is actually a rubber farmer. His 10-acre estate near Pala in Kottayam district is thick with rubber trees. Recently, he cleared one acre of rubber to make room for the jackfruit plants he had painstakingly collected. On that land he planted 100 jackfruit grafts. Kattakkayam is carefully watching them grow, assessing their qualities and picking out the best varieties for propagation.
"In five or six years, I hope to be able to harvest jackfruit throughout the year. Then I'll make it my staple crop," he says. It is not without reason that this seasoned farmer is keen to grow jackfruit 365 days of the year.
Jackfruit isn't easily available in Kerala in October and November, its traditional off-season. Yet, Kattakkayam has already consumed two jackfruit. One has passed his taste test and will be propagated shortly.
Kattakkayam has two very valuable all-season varieties of jackfruit trees. "I have been observing both for the past 18 months. At least once in three or four months, I visited the trees to check their performance," he recalls.
Kattakkayam says these two mother trees yield fruits of an average weight of 12 kg. About 50 fruits are currently growing on them. The lowest yield he observed was about 20 fruits per tree. In terms of taste, he said, the yield from both trees was succulent.
Another two cultivars he has grown yield fruits for nine to 10 months in a year. Kattakkayam has already planted 10 all-season cultivars and six 10-month bearers. When they start producing fruits, he will have jackfruit every day, he says.
Another unique feature of Kattakkayam's collection are 12 then varikka cultivars. Then in Malayalam means honey and varikka means firm-fleshed jackfruit.
"There is diversity in my then varikka cultivars. A few secrete sweetness akin to honey. Some lack this but have an attractive honey-like smell. The quantity of this honey-like secretion varies from two drops to six," explains Kattakkayam with the enthusiasm of a high school boy.
One of the then varikka varieties has two special features. It is red-fleshed with bright red carpels. This type is called chembarathi varikka in Malayalam. The other cultivar has the aroma of ginger.
Kottayam is the rubber district of Kerala. Pala, Kattakkayam's region, is full of rubber trees. Many farmers haven't kept aside even a bit of land to grow anything else. In fact, they cut many trees including some of the best jackfruit trees in the district to make room for rubber.
HEALTH BENEFITS
What made Kattakkayam plunge into selecting jackfruit varieties and conserving the best ones?
He says that last year, during the jackfruit season, he started eating the fruit regularly. He noticed an improvement in his health. Kattakkayam ate jackfruit as a traditional dish called Chakka Pulukk and as fresh fruit.
"My eight-year-old blood pressure problem got completely cured. I was convinced that jackfruit is such a healthy food it should be regularly eaten. I used to take Ayurvedic pills regularly to keep my blood pressure in check. Now I have completely stopped medication. I am, of course, getting my blood pressure checked regularly."
It was jackfruit's positive impact on Kattakkayam's health that prompted him to 'undo' the mistake of yesteryears. He decided to clear one acre of rubber and replace it with jackfruit. "In the 1970s the government gave us a subsidy of Rs 3,000 per acre to shift to rubber. It was a tempting incentive. Now we have to work hard to retain our valuable jackfruit cultivars and spread them around," he says.
His 100 jackfruit grafts have been planted with a distance of 20 feet between them. Kattakkayam himself does the budding. His earlier experience of running rubber nurseries made him an expert in budding.
"About 25 percent of the varieties I have collected are outstanding," he says. Kattakkayam is producing budded plants of these in big numbers. The all-season variety is now highly sought after. All the grafts are sold within a few days. Kattakkayam plans to develop a bud bank of mother trees so that he can produce jackfruit plants in a big way. Next year's target is to produce 15,000 plants.
THE SEARCH
How does Kattakkayam get information about the best varieties of jackfruit? His reply is disarming. "While travelling by bus," he says. He makes it a point to befriend people on the bus and ask for help after explaining his mission. Fellow travellers have helped in a big way.
Kattakkayam has pursued his passion zealously for quite some time. At first his family wasn't impressed. There was even silent resentment. Slowly, recognition started coming his way. "Farm Society, a farmers' organisation, and Safalam, a local publication, honoured him at a public function recently.
News began to spread and now a number of farmers call on Kattakkayam. Tip-offs of good jackfruit varieties are pouring in. Kattakkayam plans to propagate and spread the best ones among farmers.
His mission doesn't stop with selling these plants. "If you stick to jackfruit, other local fruits and honey, you can keep most illnesses away," he explains. "No harm if we keep the rice out. Through my example and through the plants I sell, I want to spread this message too."
Contact: Thomas Kattakkayam – 94952 13264 (8 – 10 pm)